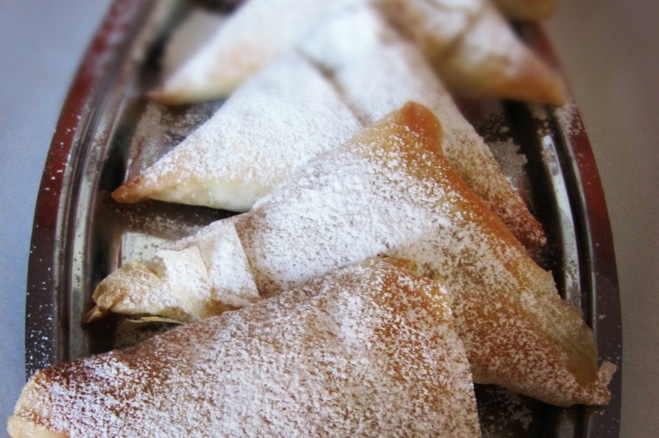 So last week I made an appearance on a Greek cooking show called Chef ston aera (Chef On Air). I presented some diabetic friendly recipes made with Mediterranean ingredients such as tahini, phyllo dough, couscous and soft Greek cheese. You can see it here, but it is in Greek, so I will post the recipes here in the next few days, starting with the dessert today.
Of course the traditional Greek diet is diabetic friendly: moderate carbohydrates, whole grains, plenty of vegetables and fruits and rich in monounsaturated fats. Plus as I mentioned in an older post,  research showed that a Mediterranean style diet may actually help prevent the need for drugs for newly diagnosed diabetics.
Many people with diabetes believe that they can't eat any desserts. Well the fact is that you do want to avoid sugar, but in small amounts it can be OK. The following recipe has a very small amount of sugar, corresponding to less than 1/4 teaspoon per turnover, these turnovers also contain a good amount of protein from the low fat cheese and the Greek yogurt and the phyllo dough has a fairly low glycemic index.
And no, these are not only for people with diabetes but for everyone, I make these all the time for us and it's a great treat with very little sugar for my son.
Fruit and Cheese Phyllo Turnovers
INGREDIENTS
1/2 cup +1 tablespoon low fat cream cheese
1/3 cup anthotiro or you may use ricotta
3 tablespoons low fat Greek yogurt
2 tablespoons sugar
1 teaspoon vanilla
1 large apple cut in small cubes or other fruit. In the summer you can use apricots or cherries
6 sheets of phyllo dough
1/2 cup whole wheat bread crumbs
1 teaspoon cinnamon
Olive Oil
Powdered sugar
DIRECTIONS
1. Preheat the oven at 350 F (180C).
2. In a bowl mash the cheese, yogurt, sugar and vanilla with a fork. Then add the fruit and mix well.
3. In another small bowl mix the bread crumbs and cinnamon.
4. Spread out 1 sheet of phyllo, brush a small amount of olive oil and then sprinkle with the bread crumb mix, place on top a second sheet of phyllo and brush with a small amount of olive oil.
5. Cut in 3 strips lengthwise.
6. Place on the top corner of each strip 1 1/2-2 teaspoons of the fruit-cheese mixture.
7. Start folding in a small triangle. Do the same for the other 2 strips.
8. Repeat 2 more times with the rest of the phyllo dough sheets until you have a total of 9 turnovers.
9. You can sprinkle some of the breadcrumbs on top.
10. Bake for 12-15 minutes until golden.
*If you don't sprinkle with breadcrumbs at the end, you can use some powdered sugar.