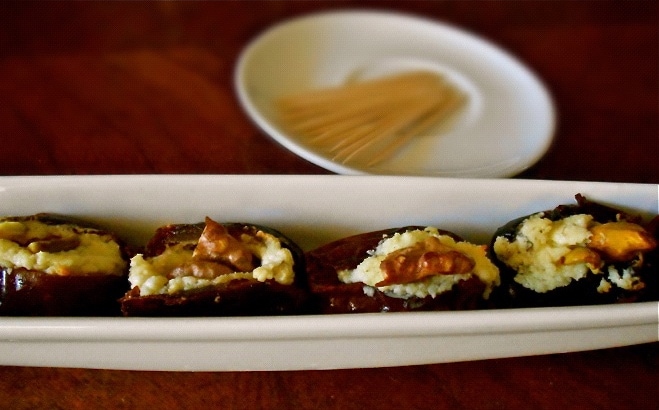 While dry fruit are popular in the Mediterranean, dates in particular are very popular in the Middle East. During the conference I attended in Israel, I had the opportunity to hear about the research on dates. Dr. Michael Aviram, Head of the Lipid Research Laboratory and Professor at the Technion Faculty of Medicine in Haifa, Israel explained how dates protect against cardiovascular disease.
Dates basically have a double effect: by reducing cholesterol levels, but also by reducing oxidative stress. Oxidative stress is a process that can cause cell damage and is associated with many chronic diseases. Dates are not only rich in fiber but also in antioxidants which explains the health benefits. In addition they are source of minerals, which can potentially be beneficial for individuals with high blood pressure, since these minerals can help keep blood pressure in control.  Dr. Aviram, however did stress that dates may not be appropriate for individuals with diabetes.
So now that we know how great dates are for our health, how can we incorporate them in our diet? Well there are plenty of ways: eating them as they are, chopping them and adding them to cereal, cakes, cookies, salads, rice, meat, sauces and one my favorite ways is as an appetizer.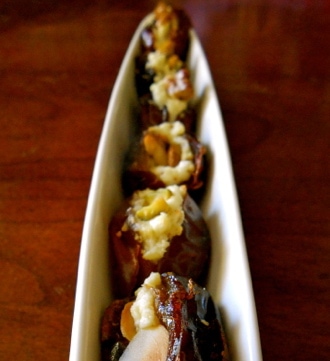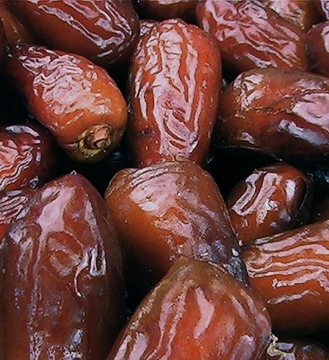 I usually mix some feta along with some sort of soft cheese such as anthotyro or cream cheese and top with a nut, or you can just use a tiny cube of parmesan. It is common to wrap a thin strip of bacon but I would rather avoid the extra salt and fat. These go great with wine or cocktails as they have this sweet and salty combination, and I don't feel so guilty eating them since I am getting plenty of antioxidants and fiber along with the cheese. Oh, and my almost 4 year old son loves them.
Feta Stuffed Dates
INGREDIENTS
20 dry dates
3 tablespoons crumbled feta
3 teaspoons anthotyro or low fat cream cheese
3 teaspoons grated parmesan
1 ½ teaspoon olive oil
Pepper
Walnuts, Pistachios, Almonds
DIRECTIONS
1. Preheat oven at 375 degrees Fahrenheit (190 degrees Celsius).
2. Make a small cut lengthwise on the date and remove pit with tip of pairing knife.
3. In a bowl, mash the feta with the cream cheese and parmesan. Add olive oil and pepper.
4. Fill the dates with cheese mixture-you may have to use your fingers.
5. Top with a little piece of walnut, or sliced almond or chopped pistachio.
6. Bake in a pan brushed with a bit of olive oil for about 10 minutes.
7. Serve warm-if the get cold they get chewy.