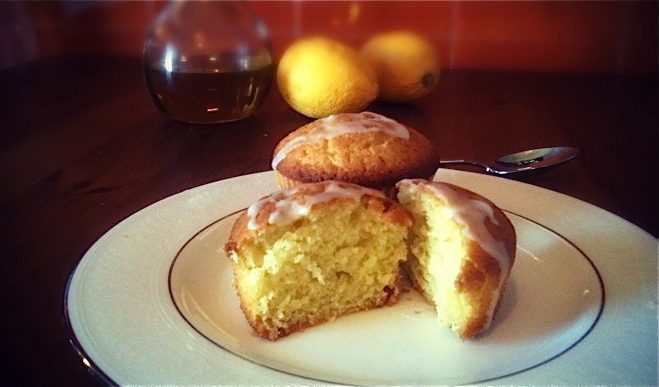 These cupcakes are based on a Greek cake made with yogurt called yiaourtopita, which translates into yogurt pie but is basically a syrupy yogurt cake. My version is lighter; has fewer eggs and does not contain butter (as the original yiaourtopita) I replaced it with olive oil and there is no syrup, but it is equally delicious and ideal with coffee or tea and a healthier cupcake for kids.
These are light, fluffy and very lemony cupcakes, using ingredients that everybody has in their kitchen, and the best part: they only take 10 minutes to prep.
Don't be afraid of the olive oil, you won't notice it taste-wise but you will notice it nutrition wise; this cupcake has almost no saturated fat, but mostly the good monounsaturated ones.
I use plenty of lemon juice and lemon peel, but you can use less, and you can also add poppy seeds too.

Greek Lemon Cupcakes with Greek Yogurt and Olive Oil.
INGREDIENTS
2 cups flour
4 teaspoons baking powder
1 cup sugar
1 cup olive oil
7 ounces low fat Greek yogurt
2 eggs
Lemon juice from 1 ½ -2 lemons
Lemon peel from 2 lemons
For Lemon Glaze
Lemon juice
Powdered Sugar
DIRECTIONS
1. Preheat oven at 350 degrees F (180 degrees Celsius)
2. Line a muffin pan with muffin liners.
3. In a large bowl mix sugar and olive oil
4. Add the eggs and mix.
5. Add the yogurt, lemon peel and lemon juice and mix well.
6. In another bowl blend flour with baking powder.
7. Add the flour ½ a cup at a time to the batter while mixing.
8. Fill the muffin cups 2/3 full.
9. Bake for 30 minutes, until an inserted toothpick comes out clean.
10. Let them cool in the pan for about 5 minutes and remove and let them cool completely.
Lemon Glaze
Add powdered sugar to lemon juice stirring with a spoon until you have a thick consistency that is pourable. The ratio is about ½ cup powdered sugar for every tablespoon of lemon juice.
Photo by Olive Tomato