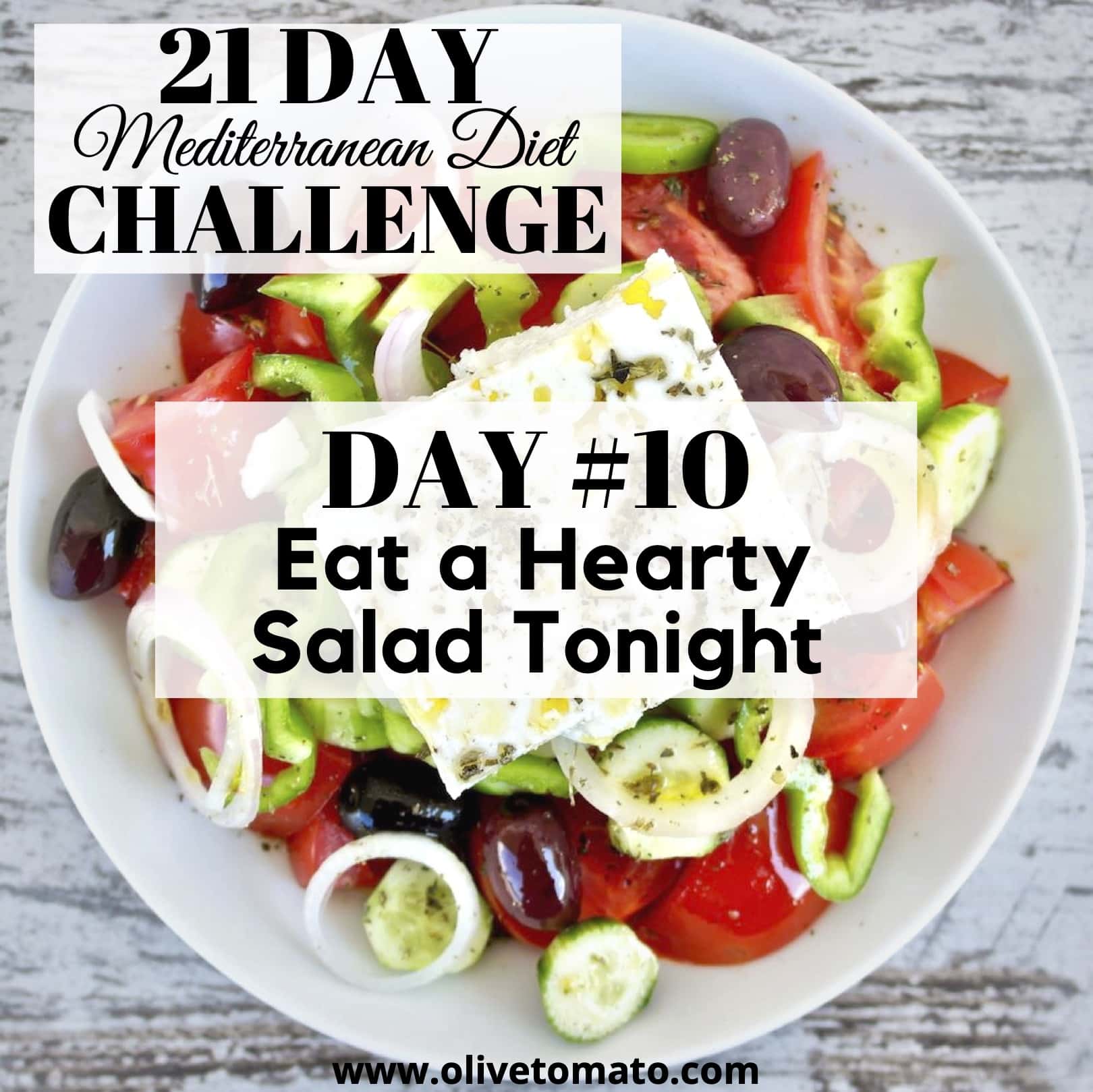 *For those who are new here, please note that you can click here and check the previous days. Also, this challenge is not a strict diet plan but a series of mini-challenges to establish healthy Mediterranean diet habits. I do include links and suggestions for recipes, if you want a menu plan you can go here for a 5-day mix and match plan. For a longer comprehensive 14-day plan along with 100 recipes you can consider my new book.
Hello everybody! Welcome to Day #10 of the 21 Day Mediterranean Diet Challenge! Hope you are all doing well! Today, we'redoing salads!
Every night I have a large hearty salad for dinner. I accompany it with a glass of wine. I look forward to this meal every day! Why? Because it is satisfying, delicious and I feel good after eating it.
In the past salad had the reputation of being a "diet" food. I find salads a wonderful way to incorporate vegetables in your diet, but you have to make them craveable. Remember those salads that only had greens, tomatoes and a fat-free dressing? Well this is the opposite. A hearty Mediterranean salad is served in a big bowl and can include ingredients such as nuts, dried and fresh fruit, avocado, beans, cheese and a dressing made with good extra virgin olive oil. It's a complete meal with moderate to low carbohydrates, rich in fiber and good fats.
The great thing about it is that you feel full, but not heavy after a salad meal. In the evenings or when I'm looking to lighten up a bit, I generally stick to vegetable salads and don't add too much starch. If I'm having salad for my main meal (which is lunch) than I'll add beans or even some of my homemade olive oil croutons.
6 Steps for Making a Great Salad
Use fresh, seasonal vegetables. There is nothing worse than having a salad with tasteless tomatoes and lifeless greens. Eat with seasons and locality.
Add some non-meat protein. Some easy addition includes nuts such as walnuts or almonds, small amounts of cheese, eggs or beans.
Add herbs, depending on the vegetables you use add dry oregano, basil and dill.
Make your own olive oil-vinegar dressing. Buying a pre-made olive oil vinaigrette or other salad dressing made with olive oil is not as good as you may think. The beneficial olive oil compounds such as oleocanthal and oleacein which have anti-inflammatory and antioxidant properties are very sensitive to water. So those salad dressings that may contain extra virgin olive oil will have very little -if any- of these protective substances. Make your own salad dressing and use it right away if you want to get all those good antioxidants.
Add fat to your salad. I cannot stress this enough; a salad needs fat to be filling and satisfying. Good fats are necessary to provide flavor and satiety. In addition, extra virgin olive oil gives you a good dose of antioxidants and studies have shown that you also absorb more vitamins and antioxidants from your produce when served with fat.
Make it easy to prepare salads. I love my salad spinner because I can dry my salad quickly. Have your ingredients ready, but don't pre-cut your vegetables and greens as they lose nutrients.
Here is a selection of my favorite salads. For more salads you can also check out my new cookbook, I have a whole chapter dedicated to salads!
5 Mediterranean Salads to Try Today!
Hearty spinach and feta salad with Mediterranean flavors that will please everyone.
An authentic recipe for the famous Greek Salad: Summer tomatoes, crisp cucumber, sharp onion, green peppers, Kalamata olives, olive oil and of course feta make up this popular salad.
An easy salad with lentils and greens with a honey dressing sprinkled with feta and walnuts
Tabbouleh, a wonderful salad that includes all the great ingredients of the Mediterranean: tomatoes, cucumbers. herbs (parsley, mint), olive oil and lemon.
This potato salad inspired by the Greek islands includes summer vegetables along with a creamy olive oil – Greek yogurt dressing
---