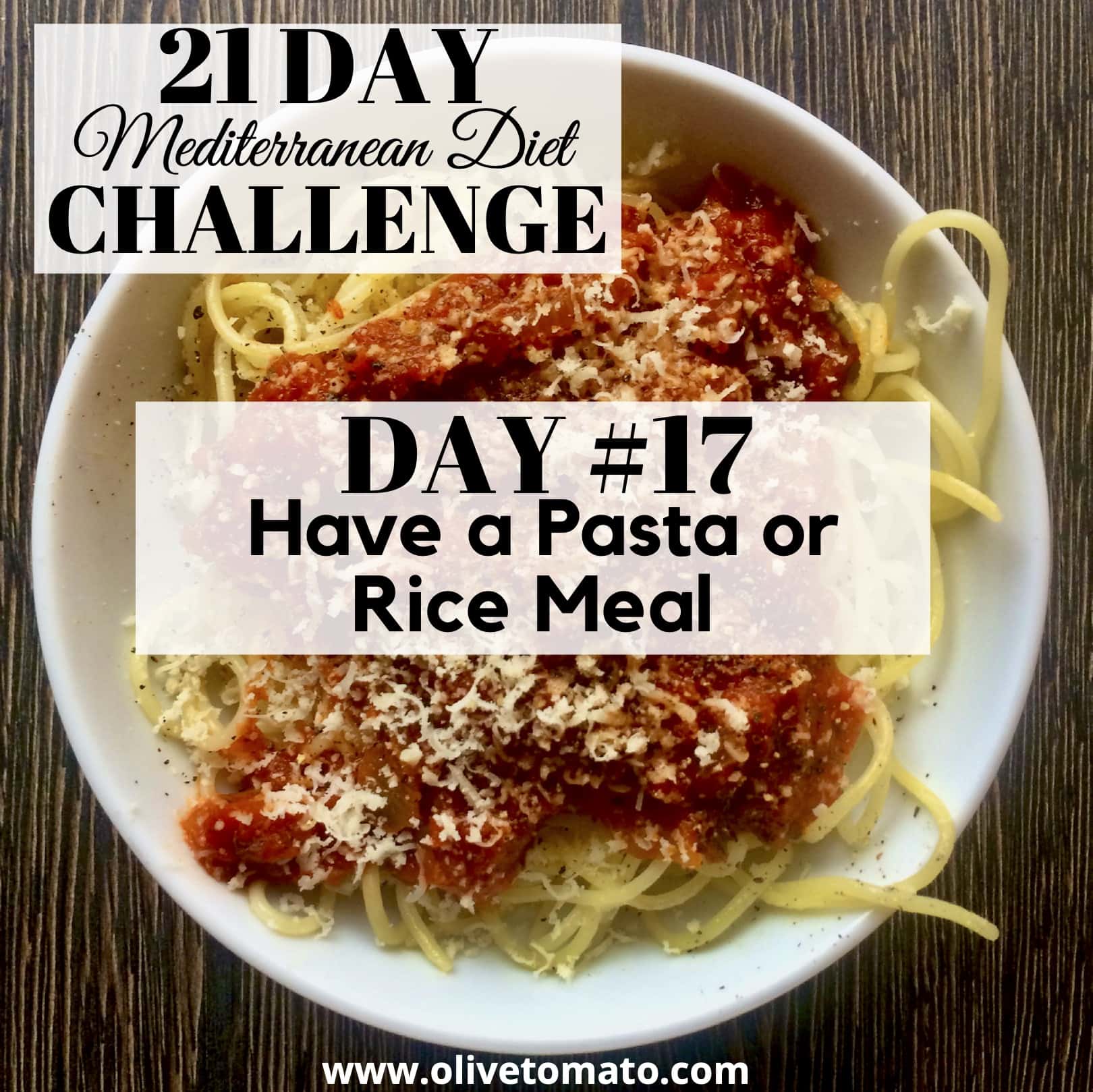 *For those who are new here, please note that you can click here and check the previous days. Also, this challenge is not a strict diet plan but a series of mini-challenges to establish healthy Mediterranean diet habits. I do include links and suggestions for recipes, if you want a menu plan you can go here for a 5-day mix and match plan. For a longer comprehensive 14-day plan along with 100 recipes you can consider my new book.
Pasta and starches generally are part of the Mediterranean diet, however that does not mean jumbo servings of pasta with creamy sauces, but pasta with mainly vegetable based sauces. Everyone can enjoy a moderate amount of pasta and still maintain their weight or blood sugar levels, as long as it is consumed appropriately and within a balanced Mediterranean meal. So, in other words not too much and always accompanied with vegetables.
In Italy pasta is consumed in a small amount as a first course, while in Greece, we do not eat pasta everyday but more like once a week. I would say the same holds for bread. Bread in itself is not fattening, but if you dip bread in tons of olive oil than the caloric value goes up.
So bottom line: yes, you can eat pasta or rice in moderate amounts, make sure you accompany it with plenty of vegetables in the form of a tomato sauce or consumed with a large salad.
*Continue drinking 2 herbal beverages and have a leafy salad for dinner tonight (or lunch depending on when you eat your pasta dish)
Mediterranean Pasta Recipes
Ripe flavorful tomatoes, along with crispy cucumber, Kalamata olives, tender pasta, sprinkled with good feta and a simple dressing made with extra virgin olive oil come together for a pasta salad everyone will enjoy.
---
This lighter version of Mac and Cheese is creamy, tangy and delicious. Plus it is versatile, you can add any vegetables you have on hand.
---
You get a lot of flavor with this effortless pasta dish made with juicy capers and golden breadcrumbs crisped in olive oil.
Mediterranean Rice Recipes
The quintessential Greek Mediterranean dish: Roasted summer vegetables stuffed with rice and herbs. The famous Gemista or Yemista.
---
In this one-pot recipe zucchini and rice are cooked together along with herbs for this creamy and velvety dish that will become a favorite in your house!
---
This traditional recipe is creamy and comforting. A rice dish rice dishes in which all the flavors meld beautifully together.
---
An easy, traditional Greek vegetarian recipe. Rice cooked with vegetables and rice, Flavorful, filling and good for you.
---
*If you like please share your accomplishments, suggestions, tips, experiences on the site in the comments or on social media , I'll be using the hashtag #21daymeddiet. You can find me at @greekdiet on instagram and at facebook.com/OliveTomato on facebook.
Looking forward to connecting with you. If you have questions or concerns please let me know!
Yia sas!
Elena
See you tomorrow!