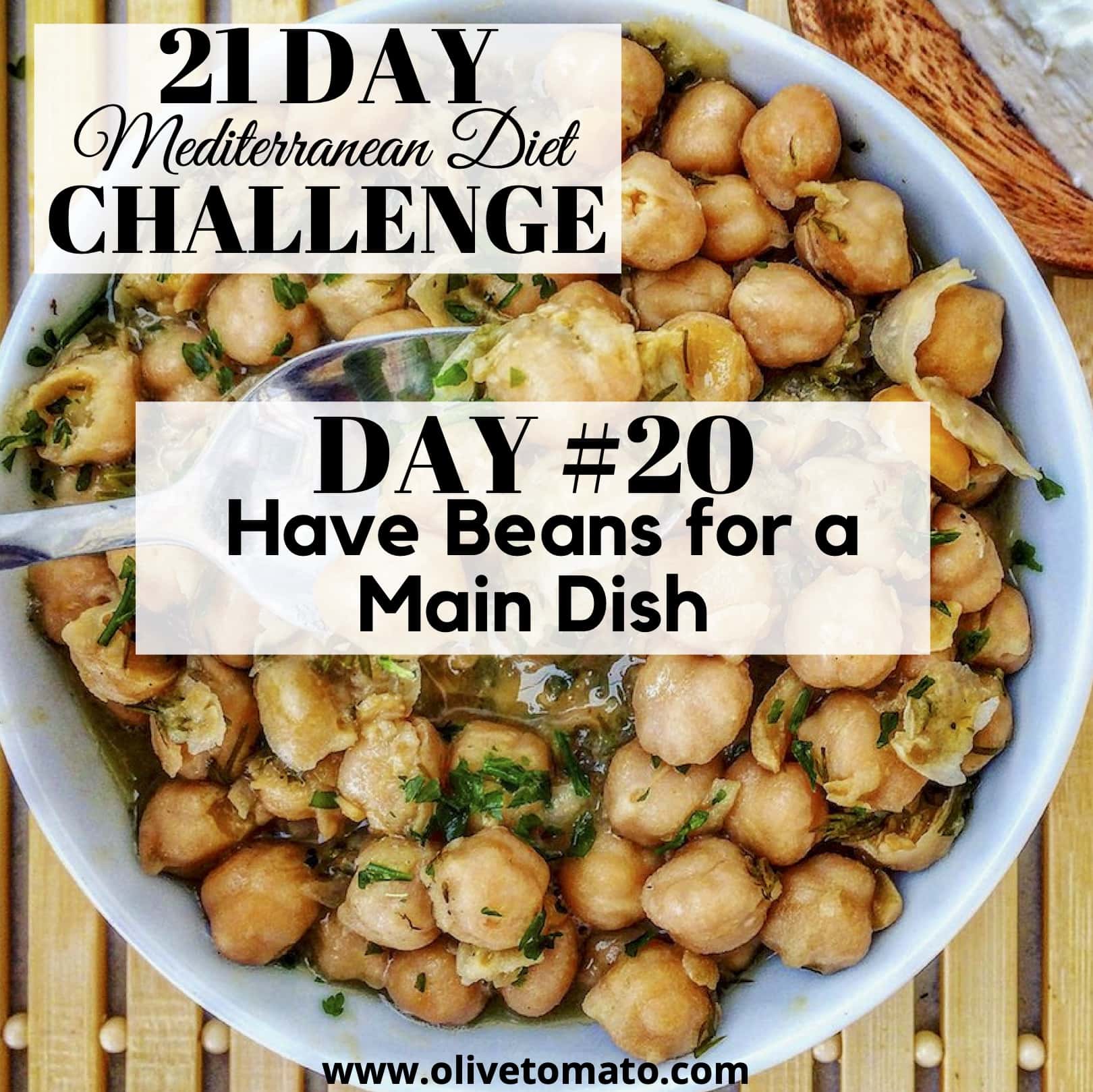 Happy Saturday everybody! I think most of you love beans. Beans play a significant role in the Mediterranean Diet. They have so many benefits: they contain fiber, minerals, antioxidants and protein. Beans are associated with longevity; reduced risk of cancer and diabetes and are effective in lowering cholesterol levels. They are also great for weight maintenance and weight loss as they provide a feeling of fullness and satiety.
Do you eat enough beans? Ideally, within the Mediterranean diet you should be eating beans every other day, however a good goal is to have 2-3 bean main courses a week.
How to Eat More Beans
I often see recommendations to eat hummus, or add beans to salads and quesadillas, these are fine suggestions but realistically how much hummus can somebody eat in one sitting? And how many beans can one manage to fit in a quesadilla? Not much. With a Mediterranean diet beans were consumed as a main course, and this is really the easiest and best way to get the beans in your diet without feeling like it is a chore. A basic way would be to roast them or boil them and cook them with tomato, drizzle some olive and accompany with a piece of cheese (if you consume dairy).
The way Mediterranean style beans are prepared it increases their nutritional value even more: Olive oil is used adding the good monounsaturated fats and additional antioxidants. The tomato that is added either in the form of fresh tomatoes or tomato paste/sauce helps us absorb more iron from the beans, and if tomato is not used lemon juice is added, also a source of vitamin C aiding in the absorption of iron.
Making bean dishes may require a bit of preparation, certain beans need soaking overnight and most bean dishes that are cooked with other ingredients work best with dry beans not canned beans. Canned beans work well for dips or adding as is in other dishes.
Easy Mediterranean Bean Dishes
Luscious, tender baked beans in a tomato-herb sauce. A traditional Greek dish bursting with flavor and nutrients.
---
A Mediterranean staple, rich and hearty stewed one pot black eyed peas with onion, tomato and herbs.
---
This soup /stew is another one of those comfort foods served during the winter. Nourishing, warm, flavorful and filling this Greek Chickpea soup or rather stew hits the spot.
---
Yes, lentils can be very yummy, especially when they are paired with olive oil, feta, olives and grapes.
---