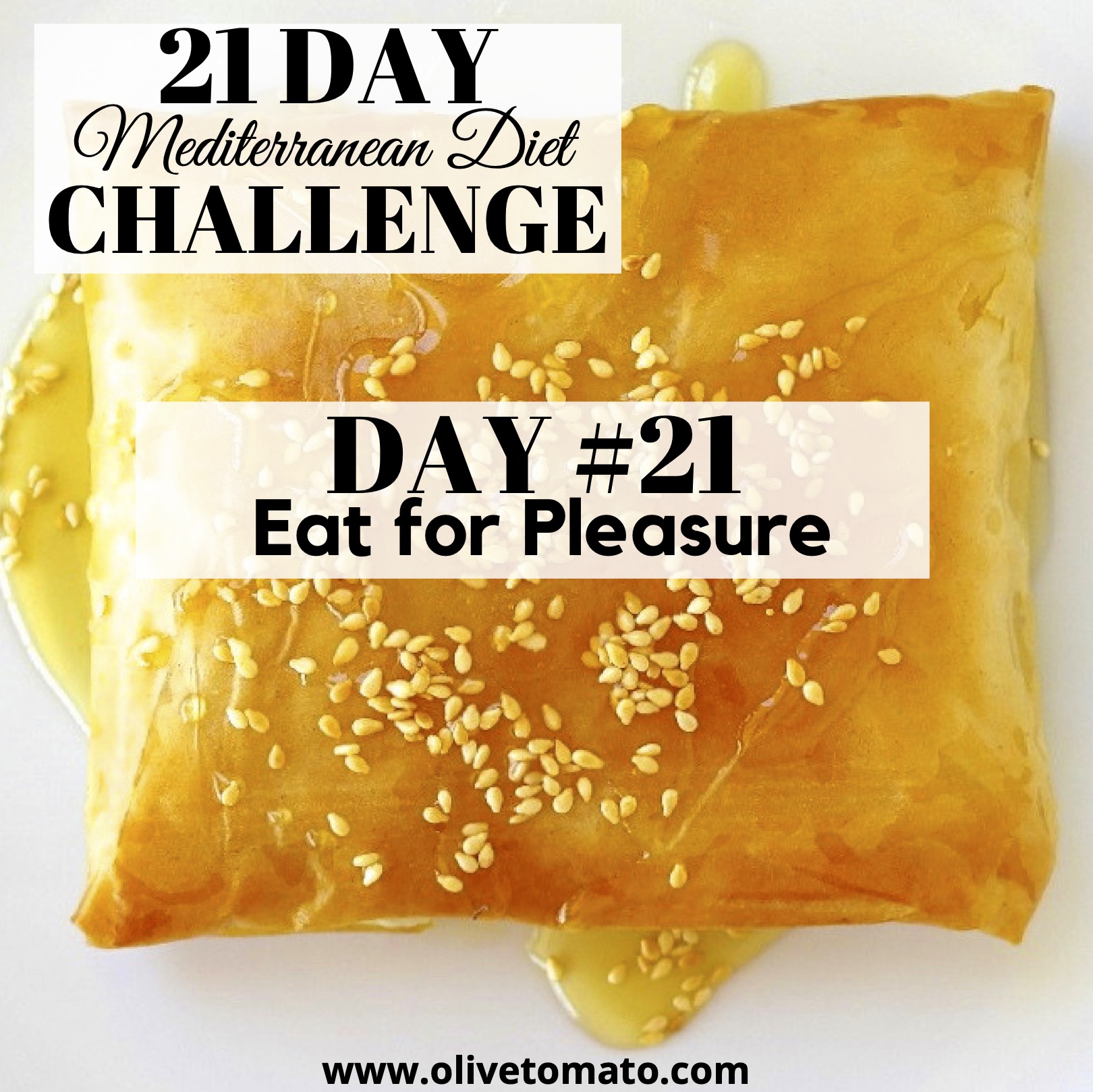 Day #21 is here!
You made it!! Congratulations!
It's been such a great journey! I hope you were able to gain and establish new Mediterranean habits! Thank you for sharing your meals, ideas and experiences! I truly appreciated this daily connection I had with all of you.
I also want to thank everybody who has enjoyed my newly released, very first cookbook! I am so happy you have found it helpful! I am overwhelmed by the support and reception of the book. We are already moving forward with additional printings! If you want to learn more about my cookbook just click here.
Eat for Pleasure
Today, I would like to focus on the aspect of satisfaction and enjoyment of food. The Mediterranean diet may be called a "diet", but it really isn't, in the true sense of the word. It is a way of eating, an attitude, a philosophy and most of all it is pleasure.
Diets make you feel restricted, with the Mediterranean diet food is meant to be enjoyed.
You shouldn't feel hungry, but you should be eating based on your hunger.
Eat until you are comfortably full and eating when you are hungry not because some diet plan tells you to eat every 2 hours even if you are not hungry.
You don't have to eat artichokes (or whatever food you hate) if you don't like them, eat the vegetables you DO like.
Eat a small breakfast if you are not hungry in the morning, that's ok.
Your diet should be customized for you and your lifestyle, not the other way around.
I also want to note that the Mediterranean diet is attainable and easy to follow from any part of the world. You do not need to eat "special" foods. It's quite simple really; eat vegetables everyday by sautéing them with a bit of olive oil and cooking them with tomatoes and herbs, eat red meat once a week (or less), eat beans 2-3 times a week, eat fish twice a week and avoid processed foods and stop feeling guilty when you eat something "bad". Aim for eating well about 80% of the time, the 20% is up to you.
Check out some of my favorite "20%" recipes, I make them on special occasions and sometimes when there is no special occasion.
My Favorite "Indulgent" Mediterranean Recipes
Tzatziki, the popular Greek yogurt garlic dip is a favorite at Greek tavernas and restaurants. Creamy, spicy with cool cucumber and garlic, this dip is delicious and addictive!
---
The authentic Greek cheese appetizer: Crunchy on the outside, melted cheese on the inside and warm.
---
Potatoes roasted in olive oil and feta make this dish a great accompaniment to any meal.
---
These Greek traditional crispy and light pastries called Diples are fried in healthy olive oil, drizzled with honey and sprinkled with chopped walnuts.
---
Brownies made with olive oil and Greek yogurt. The result is a moist, chocolaty, yummy and healthier brownie with less fat than a regular brownie.
---
Bite-size meatballs seasoned with Greek aromatic herbs, make the perfect appetizer.
---
Easy to make baked feta wrapped in phyllo dough drizzled with honey baked until soft inside, crunchy on the outside.
---
Let's Stay Connected!
In the bottom of this email you will see a link that say's unsubscribe, click on this to unsubscribe and you will no longer receive any emails from me. If you do not unsubscribe you will receive my monthly newsletter and my newest recipes straight to your inbox (about once a week). And again, you are free to unsubscribe anytime you wish.
I hope you stay onboard and I'm looking forward to connecting online through comments on olivetomato.com or through social media, or just drop an email and I will do my best to answer all your questions.
Be Well,
Elena