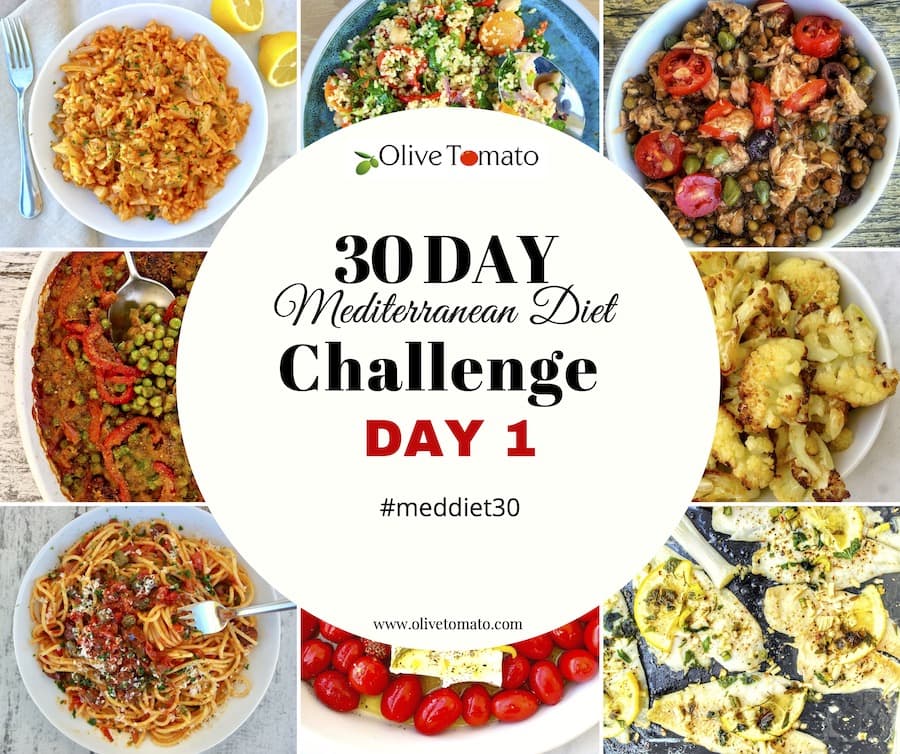 Day 1
*For those who are new here, please note that you can click here and check the previous days. Also, this challenge is not a strict diet plan but a series of small challenges, tips and nudges to establish healthy Mediterranean diet habits. I do include a dinner suggestion every day with links for the recipes.
Today is the Day!
For the first day of our challenge I have a very easy task: I want you to start using lemon juice liberally.
Why? Lemons and lemon juice are such an important part of Mediterranean cuisine and the Mediterranean diet. Not only because of the flavor it imparts, (there is nothing better than squeezed lemon over grilled fish!) but nutrition-wise lemon juice is amazing! It is a great source of vitamin C which is an antioxidant with antimicrobial qualities that can reduce bacteria and strengthen our immune system. The beneficial phytochemicals protect from various chronic diseases. Vitamin C is essential for skin health too! Vitamin C increases iron absorption when consumed with foods rich in iron such as meat and beans.
Do It Today
Add lemon juice to water and tea. Add it on meats (chicken, beef, fish), beans and vegetables. Also, it is great in yogurt for a dip, in dressings such as the ladolemono dressing we will have on Friday, as well as soups such as the famous Greek Avgolemono soup.
*When adding it, just make sure it is fresh, juice loses a lot of its vitamins as it is exposed to air, so just keep your kitchen stocked with lemons.
Today's Dinner: Greek Spinach and Rice- Spanakorizo
A favorite and one of the most popular recipes on my site. The ultimate winter comfort food. The rice is creamy and blends perfectly with the spinach. Add plenty of dill and don't forget the lemon juice, it makes all the difference!
Spinach is full of antioxidants and fiber, the lemon helps with some absorption of the iron in the spinach and the rice is a source of carbohydrates to provide sustenance. The actual recipe has little olive oil during the cooking stage but adding some olive oil while serving makes it even more delicious and the addition of fat helps with the absorption of antioxidants.
Enjoy a generous serving along with a chunk of feta cheese (or omit it for a vegan version) and some hearty whole grain bread.
**Click here for the recipe >> Greek Spinach and Rice – Spanakorizo
​
Challenge FAQ's
When will I get the recipes?
​Recipe links and challenges are sent the day before.
How many servings?
The amounts in the shopping list correspond to 2 servings
What does the shopping list include?
​The shopping list includes only ingredients for the dinners
Are there vegetarian options?
​Most meals are vegetarian, on the days where there is meat or fish, it can ideally be substituted with a bean or peas dish. I recommend the following:
​White Beans with Tomato Sauce and Feta Cheese​
​Black-Eyed Peas and Spinach​
​Chickpea Patties with Thick Tomato Sauce ​
*If you like share your photos, accomplishments, suggestions, tips, experiences on the site in the comments or on social media, I'll be using the hashtag #meddiet30
Looking forward to connecting with you! If you have questions or concerns the answers may be in the previous posts or emails, if not please let me know and I'll do my best to reply.
Yia sas!
Elena Paravantes, RDN
See you tomorrow!