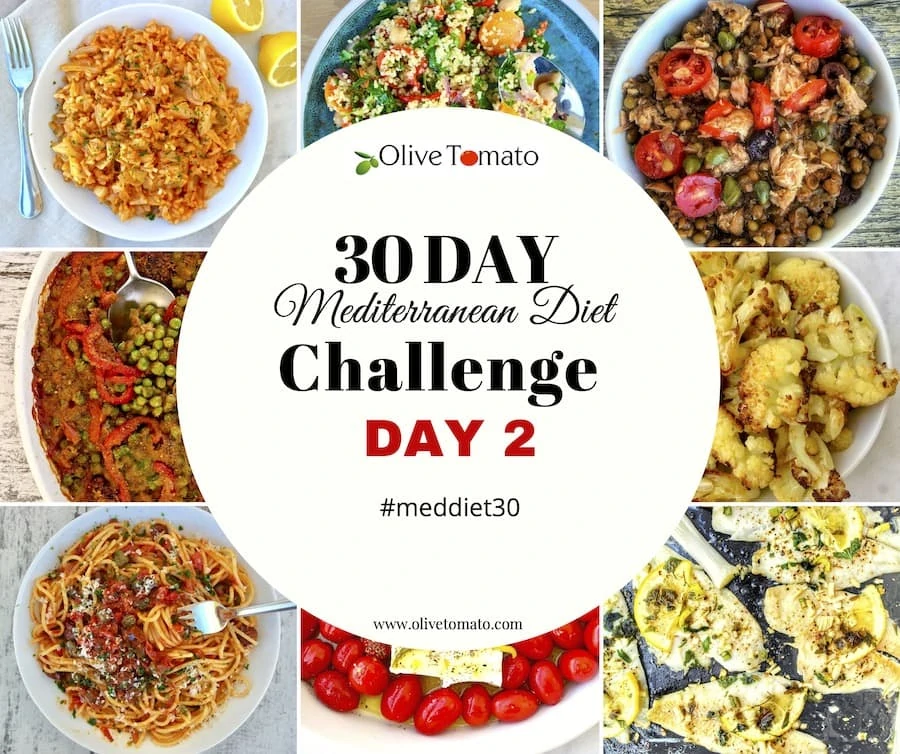 ​Welcome to Day 2 Prep
Before I start, I just wanted to let you know that the Mediterranean Diet was just ranked Best Diet for 5th Year in a row!
You are at the right place!
For tomorrow try this: I want you to start treating herbs like vegetables. In other words, use larger amounts than you normally use, not just a sprig here and there. In the Mediterranean, herbs are used in abundance.
Herbs are defined as plants whose leaves, stems, roots, and flowers are used in food or therapeutically. In the Mediterranean, herbs are consumed daily raw and cooked or steeped for a tea. Numerous studies have shown that they are quite rich in protective micronutrients and antioxidants. They are considered one of the factors associated with longevity that is seen in some of the Mediterranean cultures.
Do It Today
Herbs are underused generally in western cuisines, rethink herbs as part of the meal rather than a decoration or condiment. Some examples:
Tabouleh a large part of the salad is made from parsley and mint.
​Get the recipe here>> Classic Tabbouleh (Tabouli Salad)-A Favorite Mediterranean Salad​
Pesto, a dip made exclusively with basil leaves
​Get the recipe here >> Classic Basil Pesto
Greek Greens Pie, a crispy delicious pie like spinach pie that includes a mix of herbs
​Get the recipe here >> Hortopita: Greek Spinach and Greens Pie with Herbs and Feta Cheese
Other ways to add herbs:
Drink them
Add extra herbs to you soups, stews and sauces
Add extra herbs to salads
Cook meats and fish with herbs
Tomorrow's Dinner: Roasted Peas with Sun-Dried Tomatoes and Peppers
Luscious roasted peas with tomato sauce and sweet red bell pepper along with sun-dried tomatoes. This easy dish makes a delicious and satisfying, Mediterranean main course. The peas are roasted until they are rich and thick, infused with all the flavor from the peppers and sun-dried tomatoes.
The dish uses frozen peas, and the active prep time is only 15 minutes, a perfect dish for busy weekdays.
Peas are generally an underestimated legume, something to give to babies or as a side to kids, but in the Mediterranean, they are used quite often and contrary to what is believed they are quite nutritious. A cup of cooked peas has about 130 calories, 8 grams of protein and 9 grams of fiber (the type that lowers your cholesterol). They are also a great source of folate, vitamin A, C, K, and iron, copper, and manganese. In addition, peas are one of the top vegetable sources of phytosterols, a group of natural compounds found in plants which may block the absorption of cholesterol. And they are good source of antioxidants, specifically lutein, and zeaxanthin, which play an important role in maintaining the health of skin and eyes.
Click here for the recipe: Roasted Peas with Sun-Dried Tomatoes and Peppers
***PLEASE NOTE: THE SHOPPING LIST INCLUDED AMOUNTS FOR 2-3 SERVINGS WHICH IS HALF OF THE ORIGINAL RECIPE SO JUST ADJUST SERVINGS TO "3" ON THE RECIPE CARD.
Want More Mediterranean Diet Guidance and Detailed 2 Week Menu Plan?
Get my Cookbook and Guide!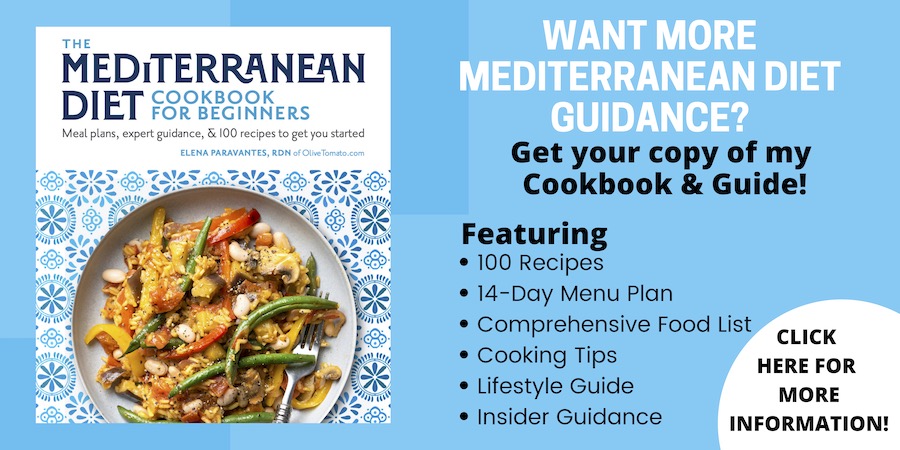 Challenge FAQ's
When will I get the recipes?
​Recipe links and challenges are sent the day before.
How many servings?
The amounts in the shopping list correspond to 2 servings
What does the shopping list include?
​The shopping list includes only ingredients for the dinners
Are there vegetarian options?
​Most meals are vegetarian, on the days where there is meat or fish, it can ideally be substituted with a bean or peas dish. I recommend the following:
​White Beans with Tomato Sauce and Feta Cheese​
​Black-Eyed Peas and Spinach​
​Chickpea Patties with Thick Tomato Sauce ​
*If you like share your photos, accomplishments, suggestions, tips, experiences on the site in the comments or on social media, I'll be using the hashtag #meddiet30
Looking forward to connecting with you! If you have questions or concerns the answers may be in the previous posts or emails, if not please let me know and I'll do my best to reply.
Yia sas!
Elena Paravantes, RDN
See you tomorrow!