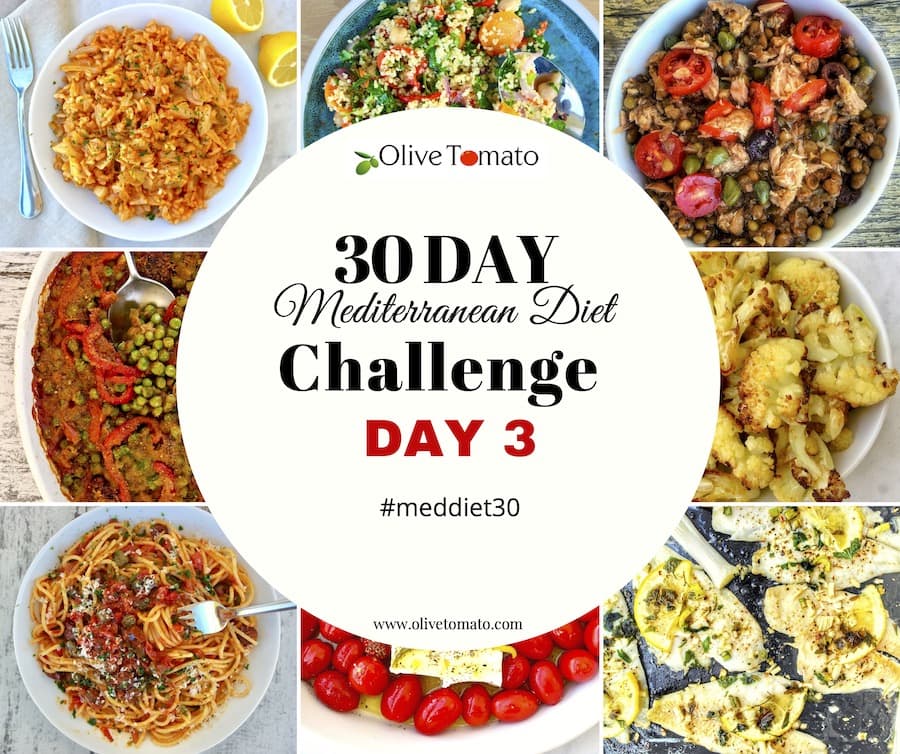 Day 3
*For those who are new here, please note that you can click here and check the previous days. Also, this challenge is not a strict diet plan but a series of small challenges, tips and nudges to establish healthy Mediterranean diet habits. I do include a dinner suggestion every day with links for the recipes.
Welcome to Day 3 Prep
For tomorrow let's embrace simplicity in meals! What does that mean exactly? Well one glaring mistake I see in many so-called Mediterranean diet menus is the complexity of the recipes. Recipes with dozens of ingredients, often very hard to find. These may make a wonderful recipe, but they are not authentic Mediterranean. The authentic Mediterranean diet has its roots in Greece and Southern Italy, the cuisines are simple, clean with few spices but plenty of herbs (remember yesterday's challenge). I also see those so-called bowls which while they look beautiful, they require a lot of prep work. So, on this journey let's focus on easy. You will be surprised how delicious food can be when you are not adding so many ingredients and cooking up so many recipes. And it will make your life so much easier.
Do It Today
Here are some easy suggestions:
Breakfast
Boiled egg + a few tomatoes and a slice of whole grain bread
Greek yogurt + nuts + fruit
Oatmeal or barley or bulgur wheat + dates + tahini
Whole grain bread + cheese + fruit
Meals
Omelet with seasonal vegetables + whole grain bread
Chickpeas (use canned) mixed with olive oil, parmesan, and herbs Leafy green salad with dry fruits, cheese, nuts
Meze plate including sliced tomatoes, cucumbers, carrots, olives, cheese, and whole grain toasted bread or Cretan barley rusks
Mediterranean vegetable casseroles (vegetables cooked in tomato and olive oil)
Today's Dinner: Greek Lentil Stew
This lentil dish reflects the simplicity I am talking about. Brown lentils cooked with a bit of garlic and onion. In Greece, surprisingly enough this stew is a favorite among children. The addition of the vinegar really brings out the flavor. For a thicker stew I add water gradually and cook it until I have the consistency that I like. This is typically made with brown lentils, if you choose red, it will have a different consistency.
Traditionally this stew is served with something salty such as sardines or anchovies, feta, or olives. For tomorrow I recommend accompanying it with a few sardines or anchovies (as noted in the shopping list).
Nutritionally, this is a great dish obviously. Protein, antioxidants as well as fiber are key components of lentils, this not only makes them healthy but very filling. The addition of the fatty fish provides a good dose of omega-3 fatty acids.
**If you avoid fish, you can accompany with a few olives or cheese such as feta or parmesan.
Click here for the recipe >> Greek Lentil Stew​
***PLEASE NOTE: THE SHOPPING LIST INCLUDED AMOUNTS FOR 2 SERVINGS WHICH IS HALF OF THE ORIGINAL RECIPE SO JUST ADJUST SERVINGS TO "2" ON THE RECIPE CARD.
Want More Mediterranean Diet Guidance and Detailed 2 Week Menu Plan?
Get my Cookbook and Guide!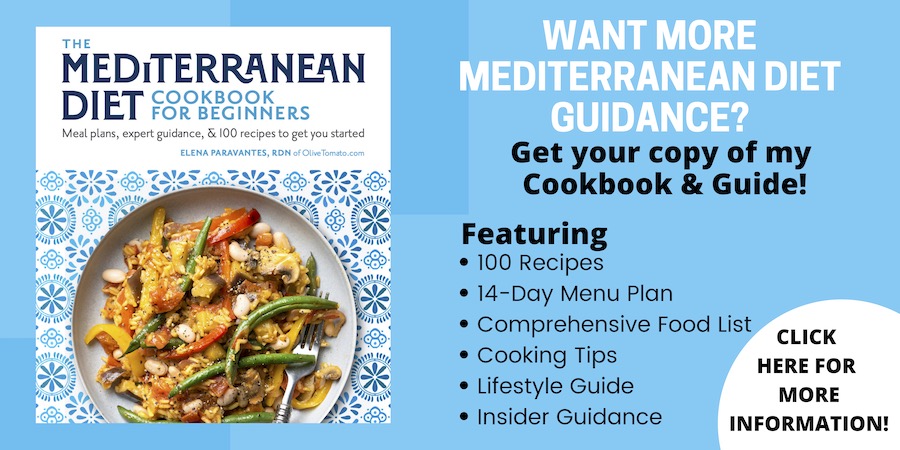 Challenge FAQ's
When will I get the recipes?
​Recipe links and challenges are sent the day before.
How many servings?
The amounts in the shopping list correspond to 2 servings
What does the shopping list include?
​The shopping list includes only ingredients for the dinners
Are there vegetarian options?
​Most meals are vegetarian, on the days where there is meat or fish, it can ideally be substituted with a bean or peas dish. I recommend the following:
​White Beans with Tomato Sauce and Feta Cheese​
​Black-Eyed Peas and Spinach​
​Chickpea Patties with Thick Tomato Sauce ​
*If you like share your photos, accomplishments, suggestions, tips, experiences on the site in the comments or on social media, I'll be using the hashtag #meddiet30
Looking forward to connecting with you! If you have questions or concerns the answers may be in the previous posts or emails, if not please let me know and I'll do my best to reply.
Yia sas!
Elena Paravantes, RDN
See you tomorrow!