Welcome to the 30 Day Mediterranean Diet Challenge!! Are you ready to start off the year feeling great? Well, you are at the right place!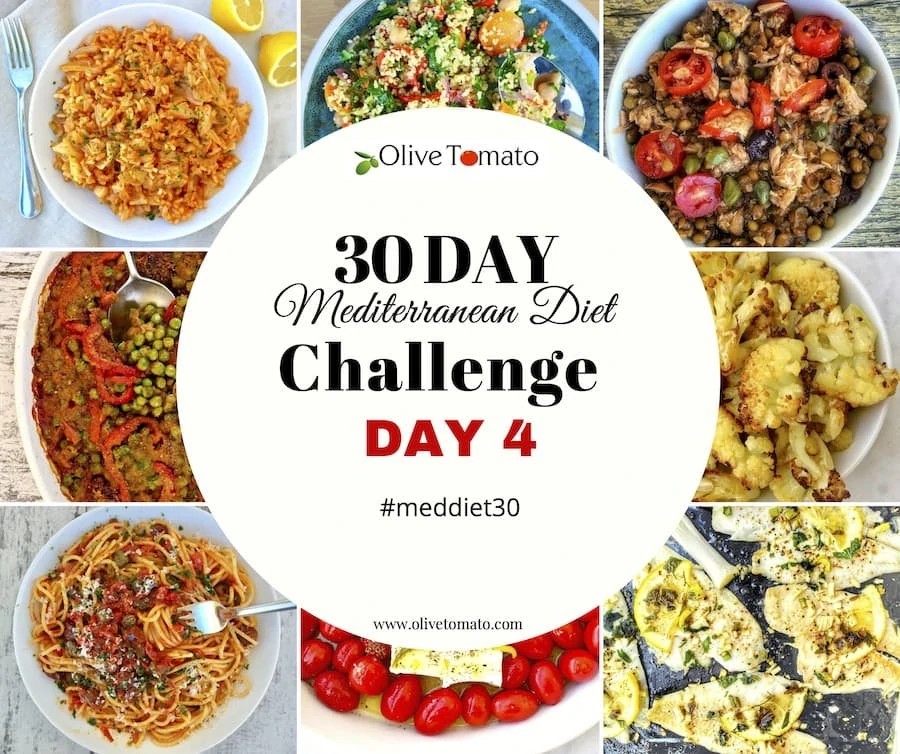 Day 4
*For those who are new here, please note that you can click here and check the previous days. Also, this challenge is not a strict diet plan but a series of small challenges, tips and nudges to establish healthy Mediterranean diet habits. I do include a dinner suggestion every day with links for the recipes.
To subscribe click here >> 30 Day Mediterranean Diet Challenge
Welcome to Day 4 Prep
Hello!
For tomorrow try this: Call a friend for no reason. It's easy right? We know that the Mediterranean diet is not only about food, but also a lifestyle which includes many non-food practices which we will explore during these 30 days.
A "social life" in the Mediterranean doesn't mean necessarily going to parties and events (although that too), but rather an informal social connection with your community. This helps us feel needed and connected to the world reducing loneliness and depression. This can sometimes be difficult as we don't all live in small communities or villages where we can just walk out the door and talk to our neighbor. But there are ways to connect.
Do It Today
Set a time each week to call friends. Developing friendships needs consistent actions. Sometimes we stray apart from friends because we simply dedicate no time to them, so put in the time.
Join groups that are of interest to you. If you have things in common with others it will be easier to make friendships.
Call you family members, this is especially important during these times where we may be limited. In Mediterranean countries, it is common for kids to be calling and checking in on parents and grandparents almost every day.
​
Tomorrow's Dinner: Mediterranean Baked Sole with Greek Ladolemono Dressing and Steamed Vegetables
For this easy and delicious sheet pan fish recipe, sole fillets are baked with the flavorful Greek ladolemono dressing and herbs.
As you are moving away from meat in your diet, fish can act as a great and healthier substitute. Fish fillets are an easy way to get some more fish in the diet. I'll either bake them with tomatoes and onion like in this cod recipe or do a lemony dish such as the one I'm sharing today.
Grilled or plain roasted fish is always served with plenty of lemon, specifically with this tasty ladolemono sauce. The word ladolemono comes from the Greek words "Ladi" which means olive oil and "lemoni" which means lemon. Ladolemono is a thick dressing that is made with lemon, olive oil, a touch of salt and sometimes oregano. It is simply delicious when poured over fish.
Typically fish is served with boiled greens and/or steamed vegetables, most commonly carrots and zucchini.
For the steamed vegetables, just steam the 3 carrots and 3 zucchini (keep skin on for the zucchini) and served with a drizzle of olive oil and lemon juice or you can use some of the ladolemono sauce.
Click here for the recipe >> Mediterranean Baked Sole with Greek Ladolemono Dressing
Want More Mediterranean Diet Guidance and Detailed 2 Week Menu Plan?
Get my Cookbook and Guide!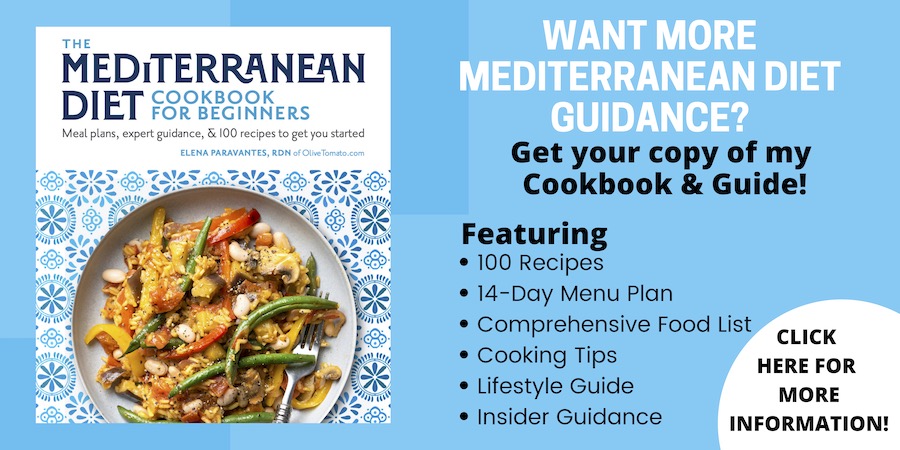 Challenge FAQ's
When will I get the recipes?
​Recipe links and challenges are sent the day before.
How many servings?
The amounts in the shopping list correspond to 2 servings
What does the shopping list include?
​The shopping list includes only ingredients for the dinners
Are there vegetarian options?
​Most meals are vegetarian, on the days where there is meat or fish, it can ideally be substituted with a bean or peas dish. I recommend the following:
​White Beans with Tomato Sauce and Feta Cheese​
​Black-Eyed Peas and Spinach​
​Chickpea Patties with Thick Tomato Sauce ​
*If you like share your photos, accomplishments, suggestions, tips, experiences on the site in the comments or on social media, I'll be using the hashtag #meddiet30
Looking forward to connecting with you! If you have questions or concerns the answers may be in the previous posts or emails, if not please let me know and I'll do my best to reply.
Yia sas!
Elena Paravantes, RDN
See you tomorrow!