Welcome to the 30 Day Mediterranean Diet Challenge!! Are you ready to start off the year feeling great? Well, you are at the right place!
Day 5
*For those who are new here, please note that you can click here and check the previous days. Also, this challenge is not a strict diet plan but a series of small challenges, tips and nudges to establish healthy Mediterranean diet habits. I do include a dinner suggestion every day with links for the recipes.
To subscribe click here >> 30 Day Mediterranean Diet Challenge
Welcome to Day 5 Prep + Shopping List
Hi there!
Today is Shopping List Day-please see below. As promised you will receive on Friday the shopping list for the upcoming week.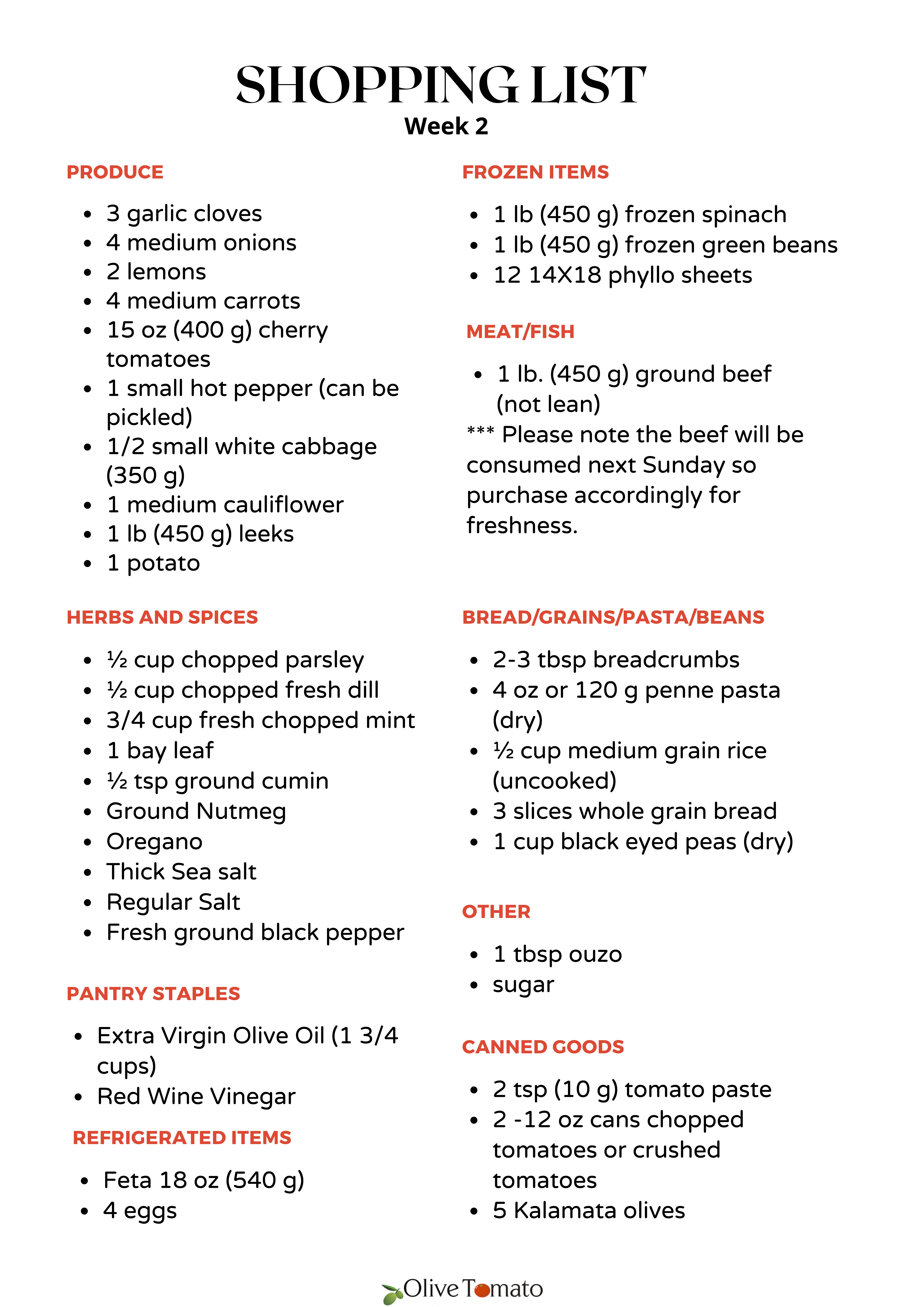 Day 5 Prep
For tomorrow try this: Embrace the 80/20 mentality. The 80/20 rule in the diet world basically says that you should aim to make healthier choices 80% of the time.
Now, I should clarify here that the authentic Mediterranean diet is a way of eating based on a real diet that people followed naturally and that happened to be very healthy. It is not a "man-made" diet that someone developed. The reason I mention this is because many people are surprised to see authentic Mediterranean recipes with white pasta and white rice. We must remember that white flour in general was prized, and the rest of the diet was made up basically of vegetables. There were no ultra-processed foods. So having white rice in an otherwise vegetable heavy, unprocessed diet is fine.
If you are eating rice or pasta everyday (which you shouldn't actually) then yes, you should consider using whole grain pasta or brown rice, but again I should note that the authentic Mediterranean diet is based mostly on vegetables, not starches. Going back to the 80/20 rule, go ahead and have a pasta dish or rice dish, made as it should be. Remember, this way of eating is for life, you need to enjoy it.
** If you prefer brown rice and whole grain pasta, go ahead, and use it, just be aware that many of the traditional Mediterranean recipe techniques use white rice and white pasta.
Tomorrow's Dinner: Pasta with Capers, Garlic and Toasted Breadcrumbs and Classic Greek Green Salad
You get a lot of flavors with this effortless pasta dish made with juicy capers and golden breadcrumbs crisped in olive oil.
Pasta (in smallish amounts) is part of the traditional Italian Mediterranean diet, but not western style in huge amounts, but as an accompaniment to a meal. I've calculated about 2½ ounces of uncooked pasta per person for a main dish, which is a good amount.
Accompany this with a big green leafy salad (I recommend Classic Greek Green Salad with or without feta).
Click here for the recipe >> Pasta with Capers, Garlic and Toasted Breadcrumbs​
Click here for the salad recipe >> Classic Greek Green Salad with Feta – Maroulosalata
Want More Mediterranean Diet Guidance and Detailed 2 Week Menu Plan?
Get my Cookbook and Guide!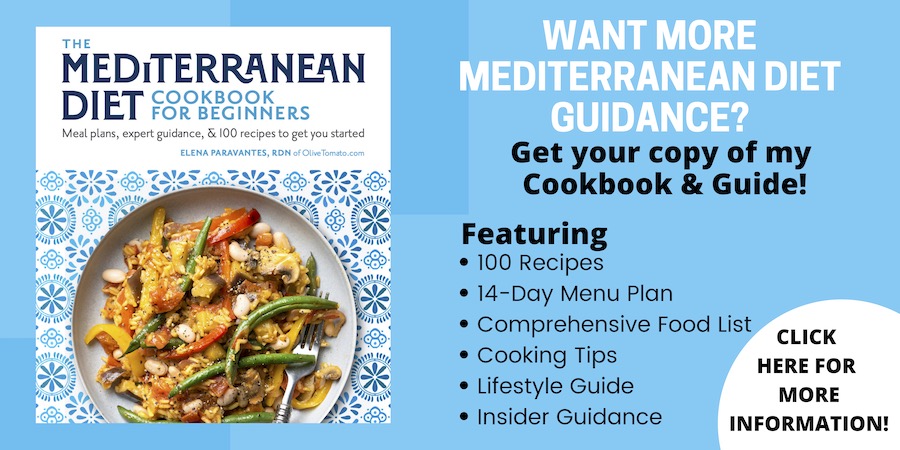 Challenge FAQ's
When will I get the recipes?
​Recipe links and challenges are sent the day before.
How many servings?
The amounts in the shopping list correspond to 2 servings
What does the shopping list include?
​The shopping list includes only ingredients for the dinners
Are there vegetarian options?
​Most meals are vegetarian, on the days where there is meat or fish, it can ideally be substituted with a bean or peas dish. I recommend the following:
​White Beans with Tomato Sauce and Feta Cheese​
​Black-Eyed Peas and Spinach​
​Chickpea Patties with Thick Tomato Sauce ​
*If you like share your photos, accomplishments, suggestions, tips, experiences on the site in the comments or on social media, I'll be using the hashtag #meddiet30
Looking forward to connecting with you! If you have questions or concerns the answers may be in the previous posts or emails, if not please let me know and I'll do my best to reply.
Yia sas!
Elena Paravantes, RDN
See you tomorrow!