Welcome to the 30 Day Mediterranean Diet Challenge!! Are you ready to start off the year feeling great? Well, you are at the right place!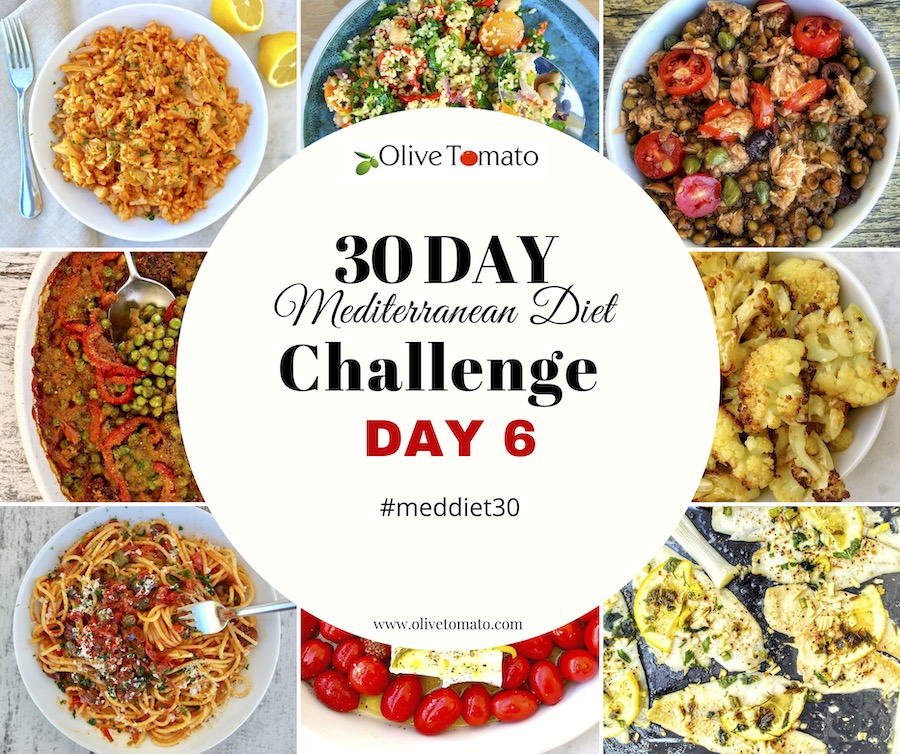 Day 6
*For those who are new here, please note that you can click here and check the previous days. Also, this challenge is not a strict diet plan but a series of small challenges, tips and nudges to establish healthy Mediterranean diet habits. I do include a dinner suggestion every day with links for the recipes.
To subscribe click here >> 30 Day Mediterranean Diet Challenge
Welcome to Day 6
For today I want you to pay attention to what you drink. Walk into a convenience store or gas station, it is astounding how many choices of beverages there are. The truth is you don't need them, and they can be harmful. Many beverages including fruit juice are a source of liquid calories, and research shows us that soft drinks (even ones with sugar substitutes) can affect your health negatively. Your main beverage should be water. Ideally you want to consume 6-8 cups of liquids, this can be water and herbal beverages.
Other beverages that are consumed in the Mediterranean diet is wine (always with food), coffee (Greek style coffee has been associated with longevity seen in the blue zone of Ikaria) and the herbals teas (chamomile, thyme, sage, mountain tea etc.).
Do it Today
Accompany coffee with a glass of water. It is common practice in Greece to receive a glass of water at a café or restaurant with your coffee.
Focus on having 2 herbal teas a day all year round, not only do they provide antioxidants, they also count toward your liquid needs.
Have your coffee. Coffee has gained a bad reputation, but it's a myth that coffee is not good for you. In fact, all types of coffee are a source of antioxidants.
Greek coffee contains much higher amounts of cafestol and kahweol, substances that appear to have anti-inflammatory and antioxidant properties. If you want to try out a Greek Coffee, check out this post for all the details>>How to Make and Drink Greek Coffee
If you are going to have alcohol have wine and have it with food. There is no binge drinking in the traditional Mediterranean diet, people accompany food with wine because it makes it more pleasurable.
Tomorrow's Dinner: Quick and Easy Authentic Chicken Souvlaki in the Oven with a Tomato-Cucumber Salad
Easy to make Greek chicken souvlaki at home. This chicken souvlaki is easy to make, tender (thanks to the marinating) and delicious seasoned with lemon and oregano.
The chicken is marinated for a few hours before so make sure to account for the time.
Make sure you check the secrets to making the best souvlaki. I like accompanying this with some pita bread, a dollop of Greek yogurt and a simple tomato and cucumber salad.
To make the salad: Cut the tomato and cucumber in bite size pieces, drizzle with a bit of olive oil and a few drops of red wine vinegar, sprinkle with thick sea salt and a pinch of oregano.
Click here for the recipe >> Quick and Easy Authentic Chicken Souvlaki in the Oven
Want More Mediterranean Diet Guidance and Detailed 2 Week Menu Plan?
Get my Cookbook and Guide!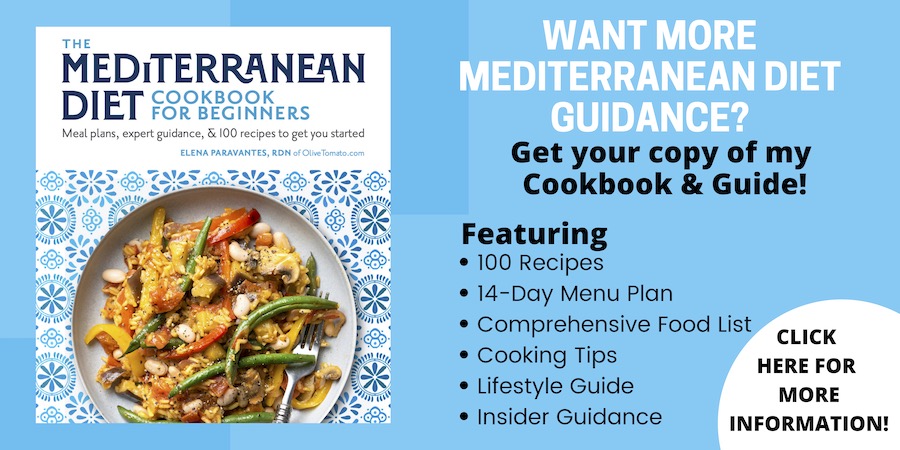 Challenge FAQ's
When will I get the recipes?
​Recipe links and challenges are sent the day before.
How many servings?
The amounts in the shopping list correspond to 2 servings
What does the shopping list include?
​The shopping list includes only ingredients for the dinners
Are there vegetarian options?
​Most meals are vegetarian, on the days where there is meat or fish, it can ideally be substituted with a bean or peas dish. I recommend the following:
​White Beans with Tomato Sauce and Feta Cheese​
​Black-Eyed Peas and Spinach​
​Chickpea Patties with Thick Tomato Sauce ​
*If you like share your photos, accomplishments, suggestions, tips, experiences on the site in the comments or on social media, I'll be using the hashtag #meddiet30
Looking forward to connecting with you! If you have questions or concerns the answers may be in the previous posts or emails, if not please let me know and I'll do my best to reply.
Yia sas!
Elena Paravantes, RDN
See you tomorrow!