Welcome to the 30 Day Mediterranean Diet Challenge!! Are you ready to start off the year feeling great? Well, you are at the right place!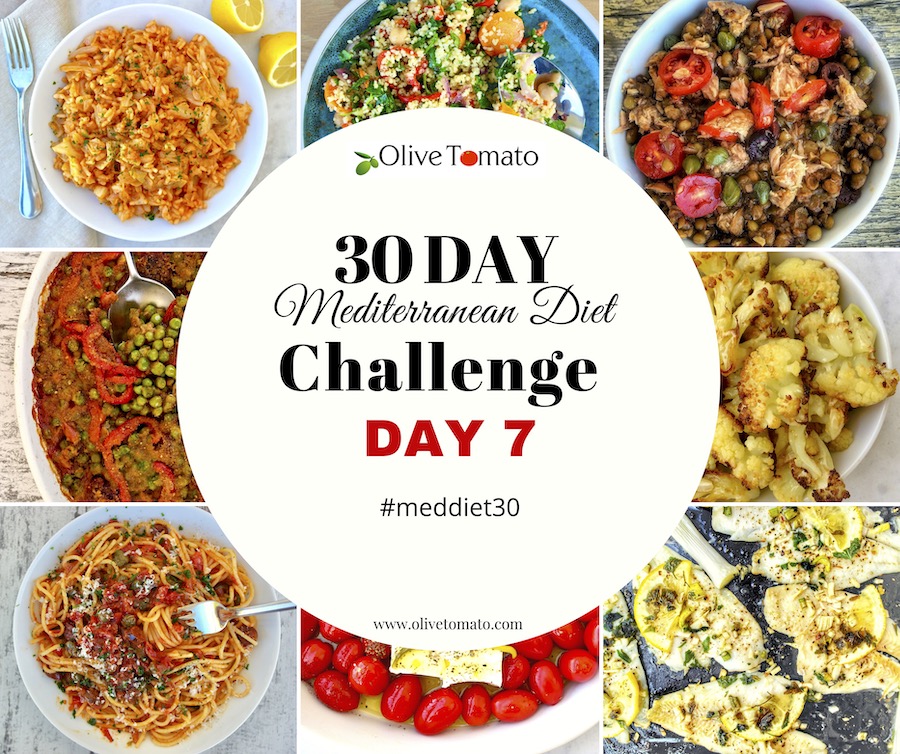 Day 7
*For those who are new here, please note that you can click here and check the previous days. Also, this challenge is not a strict diet plan but a series of small challenges, tips and nudges to establish healthy Mediterranean diet habits. I do include a dinner suggestion every day with links for the recipes.
To subscribe click here >> 30 Day Mediterranean Diet Challenge
Welcome to Day 7
For today let's try to include more allium vegetables in your eating plan. Allium in Latin means garlic, so I think you know where I am going with this. The vegetables that belong to the allium family include onions, garlic, leeks, scallions (spring onions), chives, and shallots.
Onions and garlic may be common today, but even as recent as 50-60 years ago they were considered an undesirable ingredients due to its odor.
Apart from providing wonderful flavors, allium vegetables are rich in sulfuric compounds that can protect against cancer and other chronic diseases as well as several antioxidants such as quercetin which has anti-inflammatory and antimicrobial action. These vegetables are also effective at protecting the heart by controlling blood pressure and raising good cholesterol. They are also a good source of fiber, vitamin C, potassium and other vitamins and minerals.
Do it today
Always start your sauces with sautéed onions and/or garlic. Most sauces, stews and one-pot meals in the Mediterranean cuisine start with sauteing onion with a bit of olive oil.
Add some onion to your salads. To mellow the flavor of onions soak them in a bit of vinegar for a few minutes. White onions tend to have a milder flavor than red or yellow.
Try a few garlicky dips such as
-Homemade Pesto: Recipe >> Classic Basil Pesto​
-Tzatziki: Recipe >> Authentic Tzatziki – Garlic Yogurt Dip​
-Skordalia: Recipe >> Best Authentic Skordalia Recipe- Greek Garlic Sauce
Tomorrow's Dinner: Greek Leeks and Rice – Prasorizo
This leek and rice dish is rich, creamy, and sweet thanks to the caramelized leeks and the medium grain rice. The beauty in this dish is in its simplicity, yes you could add many other ingredients, but if you want to enjoy the flavors stick to just the basic ingredients: leeks, rice, olive oil.
It is usually served as a main dish. If you are not avoiding cheese, it pairs great with some feta cheese or a piece of parmesan cheese.
It's ready in 30 minutes and tastes even better the next day.
Click here for the recipe >> Greek Leeks and Rice – Prasorizo
Want More Mediterranean Diet Guidance and Detailed 2 Week Menu Plan?
Get my Cookbook and Guide!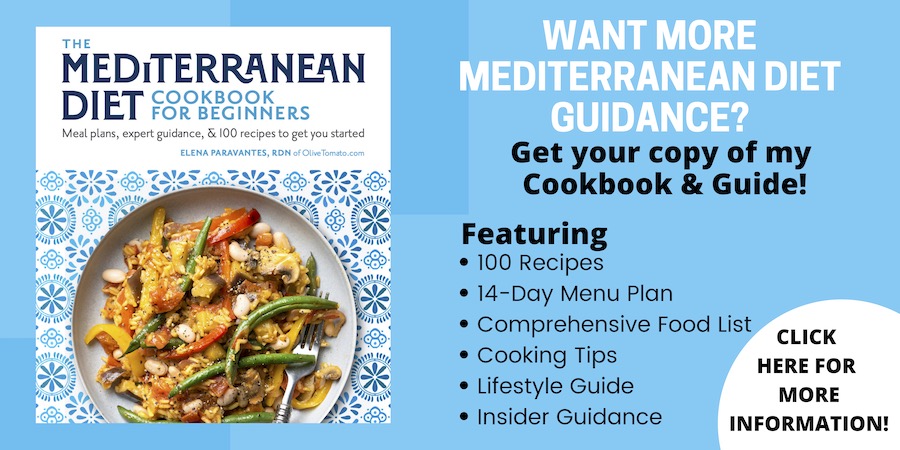 Challenge FAQ's
When will I get the recipes?
​Recipe links and challenges are sent the day before.
How many servings?
The amounts in the shopping list correspond to 2 servings
What does the shopping list include?
​The shopping list includes only ingredients for the dinners
Are there vegetarian options?
​Most meals are vegetarian, on the days where there is meat or fish, it can ideally be substituted with a bean or peas dish. I recommend the following:
​White Beans with Tomato Sauce and Feta Cheese​
​Black-Eyed Peas and Spinach​
​Chickpea Patties with Thick Tomato Sauce ​
*If you like share your photos, accomplishments, suggestions, tips, experiences on the site in the comments or on social media, I'll be using the hashtag #meddiet30
Looking forward to connecting with you! If you have questions or concerns the answers may be in the previous posts or emails, if not please let me know and I'll do my best to reply.
Yia sas!
Elena Paravantes, RDN
See you tomorrow!