Welcome to the 30 Day Mediterranean Diet Challenge!! Are you ready to start off the year feeling great? Well, you are at the right place!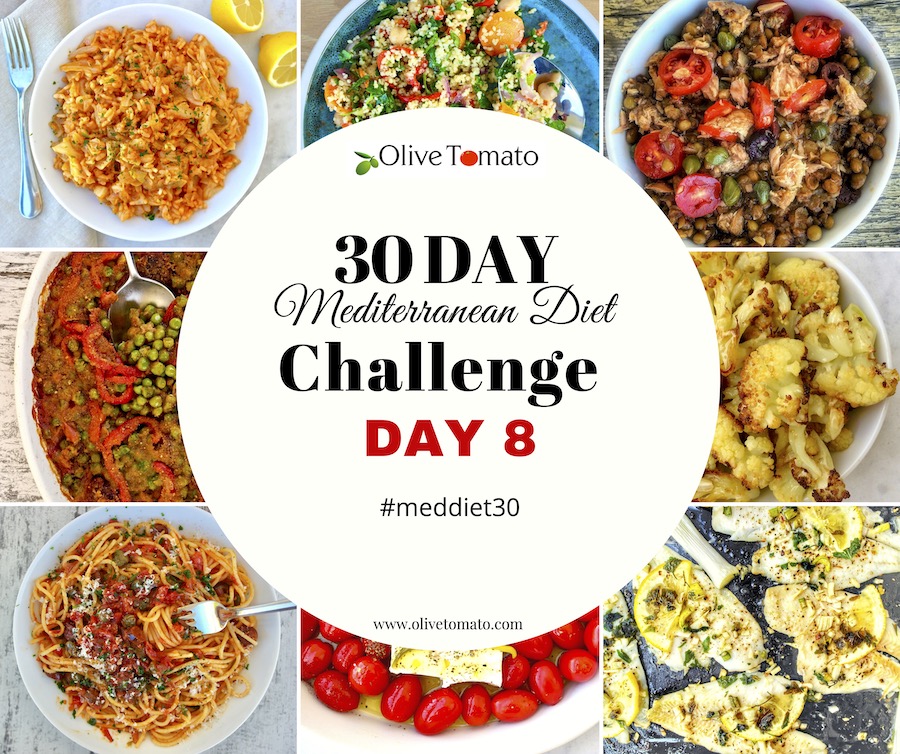 Day 8
*For those who are new here, please note that you can click here and check the previous days. Also, this challenge is not a strict diet plan but a series of small challenges, tips and nudges to establish healthy Mediterranean diet habits. I do include a dinner suggestion every day with links for the recipes.
To subscribe click here >> 30 Day Mediterranean Diet Challenge
Welcome to Day 8
Hi there!
Today we will focus on a cooking technique, cooking the Mediterranean way. As you may have noticed, many of the Mediterranean dishes especially the ones cooked in a pot, start with some basic ingredients.
In Greek cuisine there is a category of dishes that are called "lathera" which roughly translates to "the ones with oil" referring to olive oil. Lathera are a home-cooked, comfort food where vegetables are cooked in olive oil, onion, herbs, and most of the time some form of tomato. These are typically one-pot recipes (and some roasted ones) and they are a delicious way to eat large amounts of vegetables as a main course.
A similar sauce is the sofrito and the Spanish version, resembles the Greek one. It also contains tomato, olive oil, garlic and onions but also peppers and is prepared the same way: lightly sautéing the ingredients in a pan and then slowly simmering with tomato.
I consider this cooking preparation the secret to the Mediterranean diet, not only because you are able to eat so many vegetables but because the nutritional value of these simple dishes is very high. Spanish researchers analyzed sofrito and were able to identify over 40 types of polyphenols (types of antioxidants). In addition, when tomato is heated along with olive oil, we absorb more antioxidants from both ingredients.
Do it Today
Today's Dinner: Authentic Greek Green Beans
The original recipe for Greek green beans – smooth and velvety green beans with potatoes stewed in tomato, herbs, and olive oil. They will melt in your mouth! Perfect as a main course or a side. And they are vegan and gluten free.
This recipe is a classic. Green beans stewed in olive oil, tomato, onions, and herbs. We call them fasolakia lathera (pronounced fah-soh-LAH-kiah). It is typically served as a main dish along with feta and bread.
For this recipe I recommended that you use frozen green beans. Nothing beats the taste of fresh green beans, but in the winter months I make this using frozen. If you are in the southern hemisphere and can find fresh, use them! Also do not try and use less olive oil, you will just end up with a watery and tasteless green bean dish. The oil is what makes this dish delicious and healthy.
Click here for the recipe >> Authentic Greek Green Beans-Fasolakia Lathera
Want More Mediterranean Diet Guidance and Detailed 2 Week Menu Plan?
Get my Cookbook and Guide!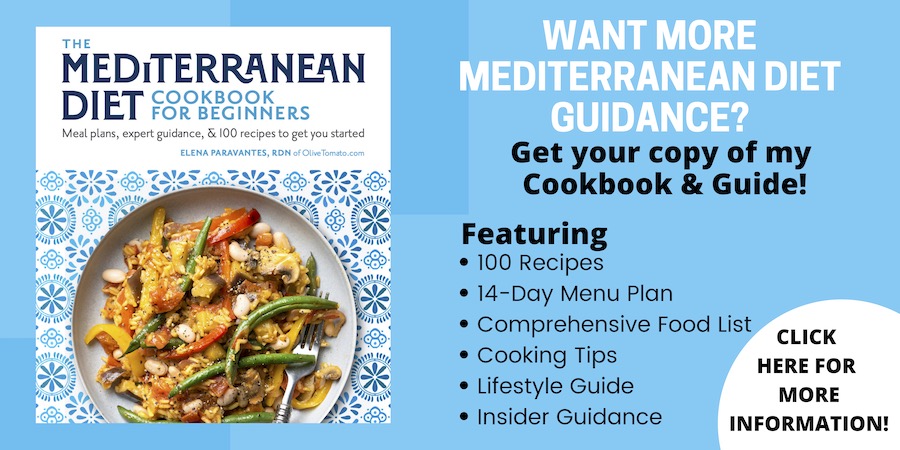 Challenge FAQ's
When will I get the recipes?
​Recipe links and challenges are sent the day before.
How many servings?
The amounts in the shopping list correspond to 2 servings
What does the shopping list include?
​The shopping list includes only ingredients for the dinners
Are there vegetarian options?
​Most meals are vegetarian, on the days where there is meat or fish, it can ideally be substituted with a bean or peas dish. I recommend the following:
​White Beans with Tomato Sauce and Feta Cheese​
​Black-Eyed Peas and Spinach​
​Chickpea Patties with Thick Tomato Sauce ​
*If you like share your photos, accomplishments, suggestions, tips, experiences on the site in the comments or on social media, I'll be using the hashtag #meddiet30
Looking forward to connecting with you! If you have questions or concerns the answers may be in the previous posts or emails, if not please let me know and I'll do my best to reply.
Yia sas!
Elena Paravantes, RDN
See you tomorrow!