Welcome to the 30 Day Mediterranean Diet Challenge!! Are you ready to start off the year feeling great? Well, you are at the right place!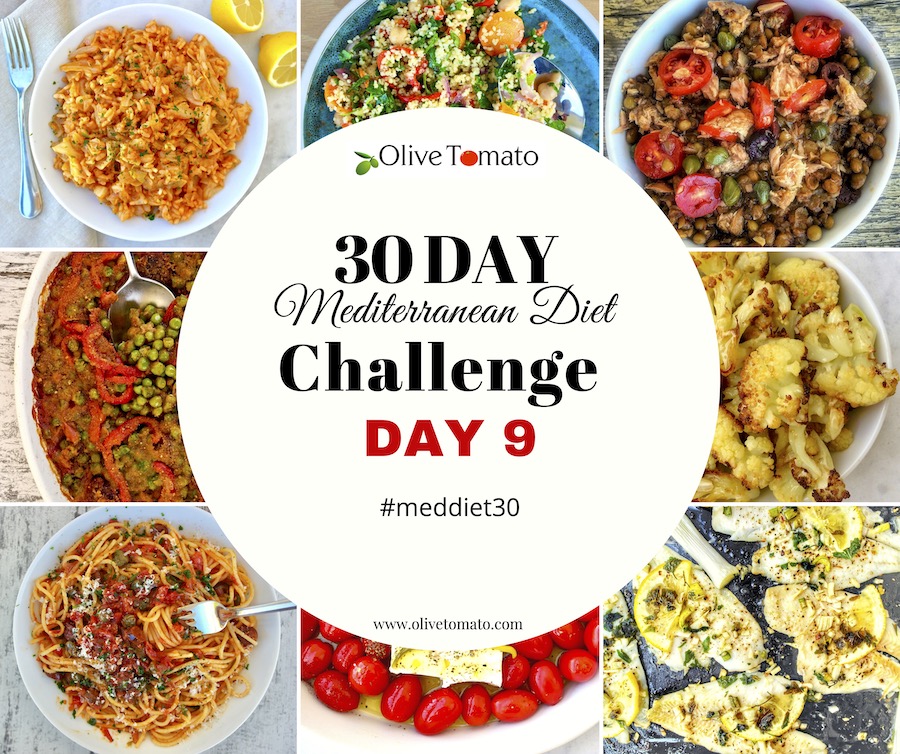 Day 9
*For those who are new here, please note that you can click here and check the previous days. Also, this challenge is not a strict diet plan but a series of small challenges, tips and nudges to establish healthy Mediterranean diet habits. I do include a dinner suggestion every day with links for the recipes.
To subscribe click here >> 30 Day Mediterranean Diet Challenge
Welcome to Day 9
Welcome to Day 9!
Hi!
Today let's try to add more beans to your diet. Beans are known to be healthy; we've read about it everywhere. Beans are the perfect food, combining carbohydrates, protein, and fiber. They are an excellent source of B vitamins, iron and antioxidants. We often overlook beans as a source of these protective substances. Studies have shown several benefits including protection from heart disease and some forms of cancer. They are also filling, they keep us regular, and they are a great source of protein which is important when you are transitioning to a lower meat diet.
In the Mediterranean diet they are important because they are a cheap form of proteins since meat was scarce, but also within the Greek Mediterranean diet, the population at that time fasted from animal products for almost 200 days a year (for religious reasons- read more here) so they needed beans to provide protein and satiety.
Do it Today
-Eat them as a main course. I often see recommendations of small ways one can add beans to the diet such as using hummus, or adding beans into salads or quesadillas, and while these tips can help, realistically how much hummus are you going to eat in one sitting, and how many beans can you manage to fit in a quesadilla? Having beans as a main course is a great way to get plenty of beans in your diet and enjoy them.
-Roast your beans: Stews are great but roasting beans are also a great way to consume them. Like in this recipe: Gigantes Plaki – Tender Roasted Beans in Tomato Sauce
-Make them easier to digest. Beans are known to cause some digestion issues, but there a few things you can do:
Soak them, overnight if possible and rinse well.
Add a bay leaf while cooking.
Choose varieties that are easier to digest such as lentils, black-eyed peas, and cannellini
Start slow: If you have not been eating many beans, start small. Add a small bowl twice a week, working up to a main meal 2-3 times a week.
Today'sDinner: One Pot Greek Black Eyed Peas
This is the classic way black eyed peas are prepared in Greece: stewed with onion, tomato and herbs until thick. This One Pot Greek Black Eyed Pea dish is hearty and good. Cooked on the stovetop these black eyed peas are very versatile, as you can add other greens, or other herbs depending on the season.
While black-eyed peas do not necessarily need to be soaked, you can just to make sure they cook quickly and also to ease digestibility.
Click here for the recipe >> One Pot Greek Black Eyed Peas
Want More Mediterranean Diet Guidance and Detailed 2 Week Menu Plan?
Get my Cookbook and Guide!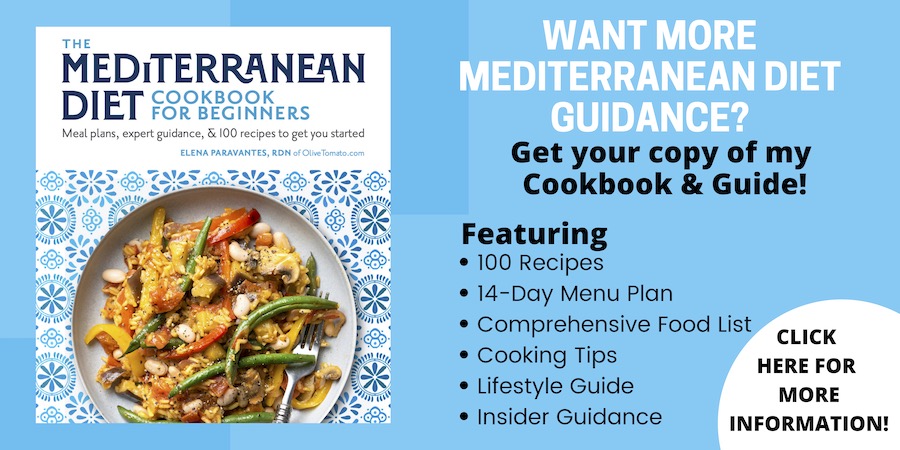 Challenge FAQ's
When will I get the recipes?
​Recipe links and challenges are sent the day before.
How many servings?
The amounts in the shopping list correspond to 2 servings
What does the shopping list include?
​The shopping list includes only ingredients for the dinners
Are there vegetarian options?
​Most meals are vegetarian, on the days where there is meat or fish, it can ideally be substituted with a bean or peas dish. I recommend the following:
​White Beans with Tomato Sauce and Feta Cheese​
​Black-Eyed Peas and Spinach​
​Chickpea Patties with Thick Tomato Sauce ​
*If you like share your photos, accomplishments, suggestions, tips, experiences on the site in the comments or on social media, I'll be using the hashtag #meddiet30
Looking forward to connecting with you! If you have questions or concerns the answers may be in the previous posts or emails, if not please let me know and I'll do my best to reply.
Yia sas!
Elena Paravantes, RDN
See you tomorrow!