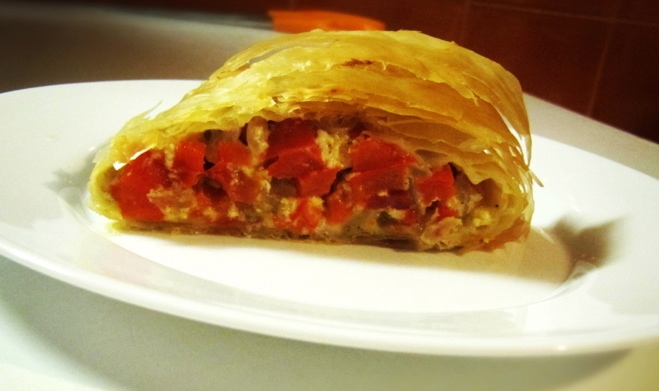 So last week the goal for Food Network's, Healthy Eating January, Healthy Every Week Challenge was to cook more at home. Well I was going to make my old standby spanakopita-spinach pie, (read more about Greek savory pies here) which is super easy and makes a great lunch, but instead I tried a new filling and made pepper pie instead. This savory pie can be made with red, orange or yellow peppers combined with feta cheese, some eggs and phyllo dough. It was delicious and it is a great way to eat peppers.
I made it into a roll again, like a strudel, I find it that it bakes more evenly.
And here is the recipe:
Easy Greek Red Pepper Pie - Piperopita
Ingredients
4-5 peppers (red, yellow, orange)
4 eggs
Mint
½ cup olive oil
About 12 sheets of phyllo dough
½ cup feta cheese crumbled
Salt/pepper
Instructions
Preheat the oven at 375 degrees F (190 C).
Cut the peppers in little cubes.
Sauté the peppers in 1-2 teaspoons olive oil until soft for about 5-10 minutes.
Remove from heat. Let the peppers cool.
In a bowl mix the eggs, ½ cup crumbled feta, 1-2 tablespoons olive oil, 1 teaspoon salt. 2 teaspoons dry mint or 2 tablespoons fresh mint chopped and a bit of black pepper.
Add the peppers to the egg mixture and mix.
Layer 6 sheets of phyllo on a pan or other working surface, brushing a bit of olive oil on each sheet.
Spread ½ of the pepper mixture width-wise on the top part of the phyllo sheets and than start rolling the whole thing like a strudel. Repeat with the other ½ pepper mixture and the rest of the phyllo sheets so that you end up with 2 rolls.
Sprinkle with some water so that the phyllo won't puff up while baking, and cut in the phyllo (not all the way through) making small slashes about an inch apart.
Bake for about 40-50 minutes. Let it cool and cut slices all the way through.