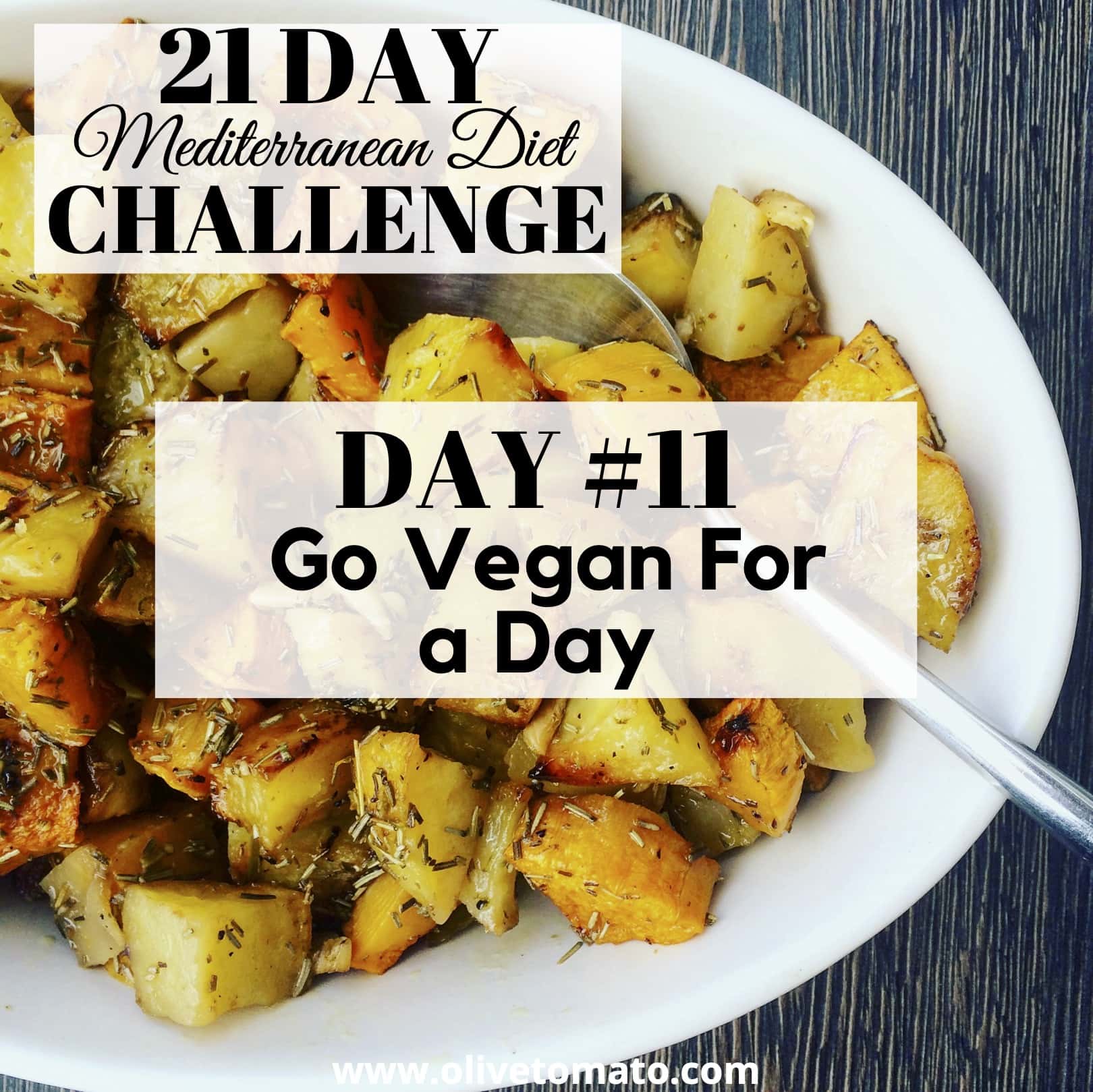 *For those who are new here, please note that you can click here and check the previous days. Also, this challenge is not a strict diet plan but a series of mini-challenges to establish healthy Mediterranean diet habits. I do include links and suggestions for recipes, if you want a menu plan you can go here for a 5-day mix and match plan. For a longer comprehensive 14-day plan along with 100 recipes you can consider my new book.
Hello everybody and welcome to Day #11! Hope you are feeling good and slept well. Today, I'm going to ask you to go vegan for the day!
Yes, today we will have no animal products. We know that the traditional Mediterranean diet is rich in vegetables, but there is also a vegan element. As I mentioned in an earlier post, Greeks fasted (many of us still do) from most animal products (for religious reasons) for about 200 days a year. For this reason the cuisine has a large number of vegan recipes to accommodate this practice.
This fast has been studied and has specific health benefits. Research shows that individuals who follow this type of fast have a lower intake of saturated fat, total fat and calories and a higher intake of fiber, a combination that protects from heart disease and cancer. In addition, studies have shown the non-animal protein sources such as legumes and nuts are healthier than animal protein sources due to their fiber and antioxidant content, but also effective for weight loss due to their low-fat content.
Setting aside religion, this is a healthy practice. How about going vegan once or twice a week or even just once a month? You will feel better and refreshed.
So, let's see what a Mediterranean Vegan day would look like:
One-Day Mediterranean Vegan Day Menu
Breakfast: 2-3 tablespoon cooked oatmeal topped with a chopped apple, tahini (or other seed/nut butter) and chopped walnuts or almonds
Lunch: A large serving Lemony Spinach-Rice (Spanakorizo)
Dinner: Chickpea and sweet potato salad
Snacks:
Hummus with carrot sticks
Seasonal Fruit
More Mediterranean Vegan Recipes
Slow Roasted Butternut Squash and Potatoes with Olive Oil and Lime
Try this delicious and healthy dish with butternut squash and potatoes is cooked with lime and olive oil and a touch of garlic.
---
Authentic Greek Island Pizza-Olive Oil Pizza-Lathenia
Soft and sweet roasted onions and tomatoes that have melted together on top of a crunchy olive oil crust.
---
One Pot Greek Style Mushrooms and Leeks – Manitaria Giahni
The combination of the sweet leek with the mushroom in this traditional Mediterranean dish results in a yummy meal or topping for rice.
---
Spanakopita Triangles with Spinach, Leek and Quinoa
Mini spinach pies with a twist. Crunchy phyllo wrapped around plenty of greens and a touch of quinoa. Perfect as a snack or a light lunch.
---
Roasted Peas with Sun-Dried Tomatoes and Peppers
These luscious roasted peas with tomato sauce and sweet red bell pepper along with sun-dried tomatoes will make a delicious and satisfying, Mediterranean main course.