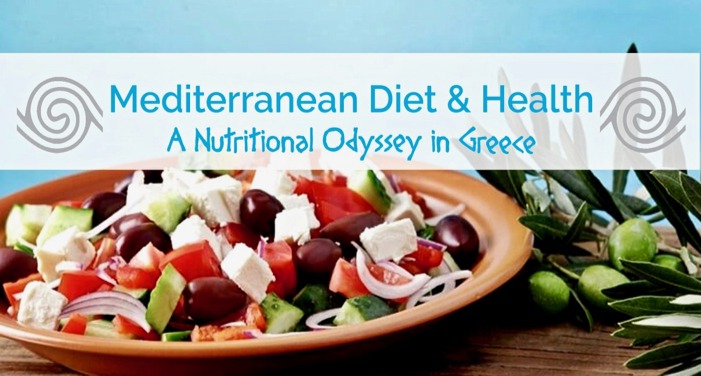 I'm excited to announce a 4-day Mediterranean Diet immersion course that will take place here in Greece! Participants will join leading Mediterranean Diet experts and Harvard University faculty for a hands-on, immersion course on the health benefits of the Mediterranean Diet, along with interactive workshops and visits to olive oil groves, authentic organic feta cheese producers, and Greek wineries.
What makes this event significant is the fact that many of the original researchers who worked on the very first Mediterranean Diet Pyramid for Oldways back in the 90's will be here, including Dr. Walter Willett and Dr. Antonia Trichopoulou.
You will have the opportunity to learn about the latest research and benefits of the Mediterranean diet from THE experts.
Get The Discount
I am happy to say that you can get 30% off registration if you register before September 20nd, using the code: OLIVETOMATO (case sensitive).
The event will take place October 16th-20th at the beautiful Sani Resort right by sea in Halkidiki in Northern Greece.
Highlights
Among some of the highlights of the conference:
Keynote Lecture: Epidemiology of the Mediterranean Diet—Walter Willett (Professor & Chair of Nutrition at the Harvard Chan School of Public Health and Harvard Medical School)Summary of major epidemiologic evidence of the last decades demonstrating that Mediterranean Diet patterns are the "Rolls Royce" of healthy eating and associated with better health status, greater longevity, and positive effects on chronic diseases.
Fundamental Components of the Mediterranean Diet—Eric Rimm (Professor of Nutrition, Harvard Chan School of Public Health, Harvard Medical School) Biochemical-nutritional bases for the benefits of essential Mediterranean foods: olive oil, nuts, legumes, fresh fruits/vegetables, wine, Greek yogurt, etc.
Intervention Studies on the Mediterranean Diet—Frank Sacks (Professor of Nutrition and Cardiovascular Prevention, Harvard Chan School of Public Health, Harvard Medical School) Summary of dietary intervention studies providing further scientific support for the health benefits of Mediterranean Diet
The Role of Mediterranean Diet in Workplace and School Health -A Randomized Cluster Trial of Mediterranean Diet in the US Fire Service- Stefanos Kales (Associate Professor, Harvard Medical School and Harvard Chan School of Public Health). Background and description of a US federally-funded study to bring Mediterranean Diet to US firefighters struggling with obesity and sudden cardiac death as the number one on-duty killer.
Updates from PREDIMED and PREDIMED PLUS- Ramon Estruch (Senior Consultant, Internal Medicine, Hospital Clinic (Barcelona) and Professor, University of Barcelona, President, Steering Committee of PREDIMED PLUS. Background, current status and updates from the groundbreaking Spanish Clinical Trials of Mediterranean Diet as Primary Prevention.
Roundtable- Mediterranean Diet: Past, Present & Future – Walter Willett, Antonia Trichopoulou, Ramon Estruch
See you there!
*For more information and registration visit www.mediterraneanhealth.org
This Conference is produced by the award-winning PBS television show,The Cooking Odyssey and it is a continuation of the Mediterranean Diet and Workplace Health organized at Harvard in 2014.