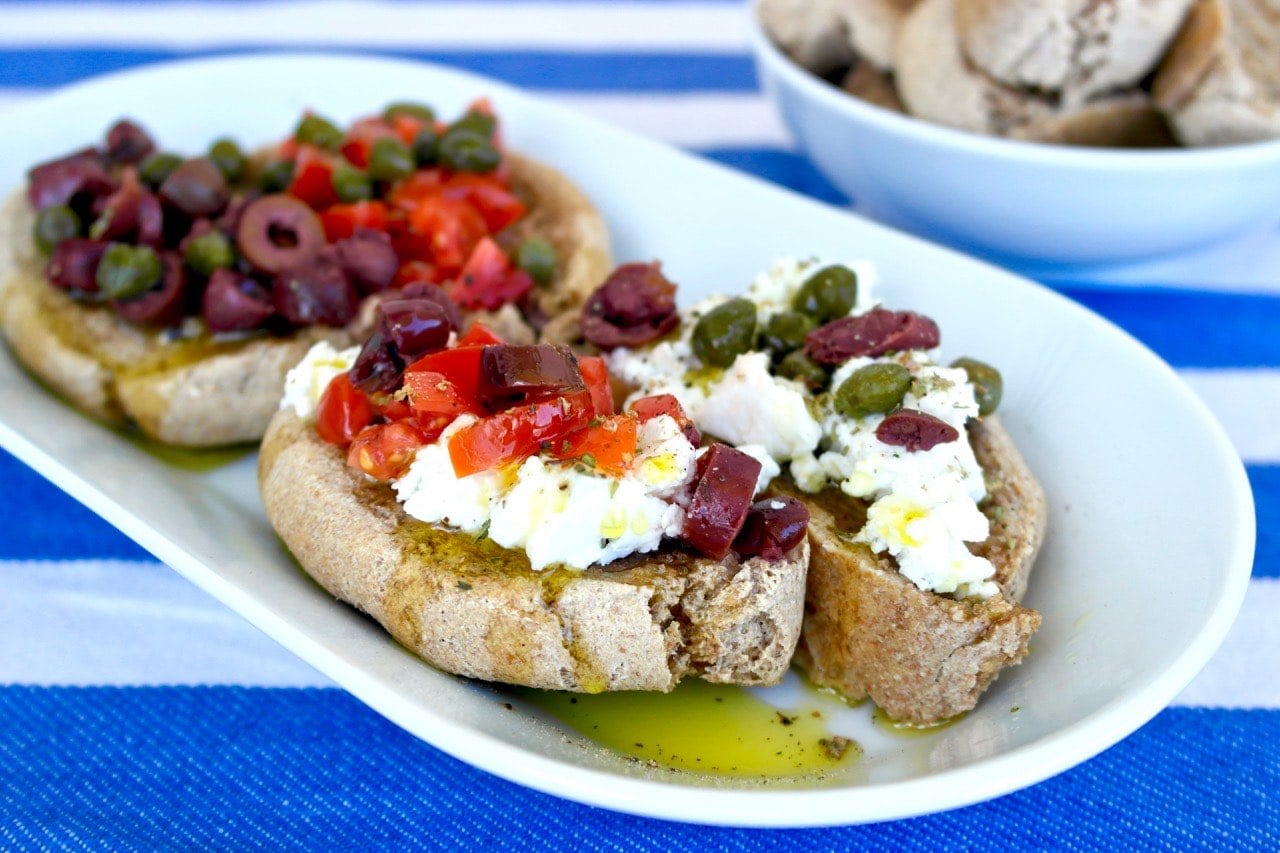 Finally, here is the recipe so many of you have been asking for! Authentic Greek Barley rusks. Not very easy to find outside of Greece, but so delicious and hearty! This Barley rusk is actually a Cretan rusk and is essentially double baked bread that is made with barley flour and sometimes a whole wheat flour. Making rusks was practiced in families that could not bake bread very often so they made these rusks. In addition rusks lasted a long time and traveled well. Barley flour was often used because it was more filling, which was necessary in those lean times.
This type of rusk is present everywhere in Cretan cuisine which is known to be the prototype of the Mediterranean diet. It is either round shaped like a bagel and is called a kouloura or cut in thick slices and is called a dakos. It is slightly soaked in water and drizzled with olive oil and then consumed with cheese or tomato or olives, sometimes just olive oil and oregano. Its most famous use is the Cretan Dakos which is a barley rusk drizzled with olive oil and topped with grated tomato, fresh cheese, olives and sometimes capers. I call it a Cretan salad.
These rusks are a staple in our home. I often eat them as a snack or breakfast using any topping on hand, sometimes I break them and add them to salads and soups like croutons. Most often we use them in the place of bread for dipping in the sauces and olive oil of the various vegetable casseroles. We love the crunchy texture.
Rusk Nutrition
Rusks -called paximadia in Greek- are made in all parts of Greece, and what makes the Cretan rusks unique is the fact that they are made with whole grain barley flour, this makes them extremely healthy. Due to the fiber these rusks provide a feeling of satiety, barley flour also contains beta-glucan, a fiber that is known to be effective in reducing cholesterol levels as well as having prebiotic activity which helps increase good bacteria in our digestive system.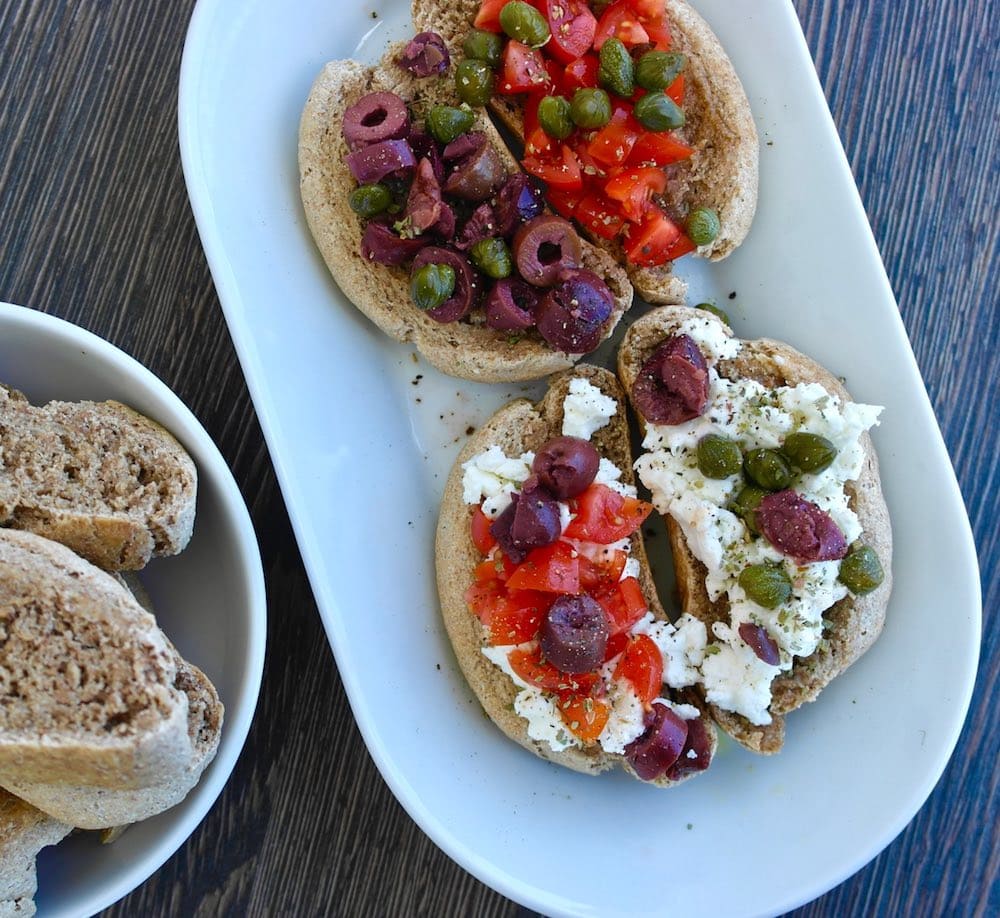 These particular rusks are 100% whole grain and so they can be somewhat tough and hard, that's why it is important to pass them under some water (just a few drops) so that they can soften a bit, but still have a crunch. There are a variety of ratios of different flours to be used, I wanted the 100% whole grain version, so I only used whole grain flours and used a 50/50 ratio (barley/wheat). You can play with ratios. Generally more barley flour will result in a darker rusk. Also, this recipe requires a bit of kneading, I used my hands (instead of a mixer) and I have to say after a while, I found the kneading to be surprisingly calming.
Luckily in Greece we have plenty of traditional rusks available at bakeries and markets and if you are in Greece I recommend buying a bunch of bags to take home as they have a very long shelf life, but if you are not visiting Greece anytime soon, then here is the recipe, I very much enjoyed making them!
Authentic Greek Barley Rusks – Paximadi Kritiko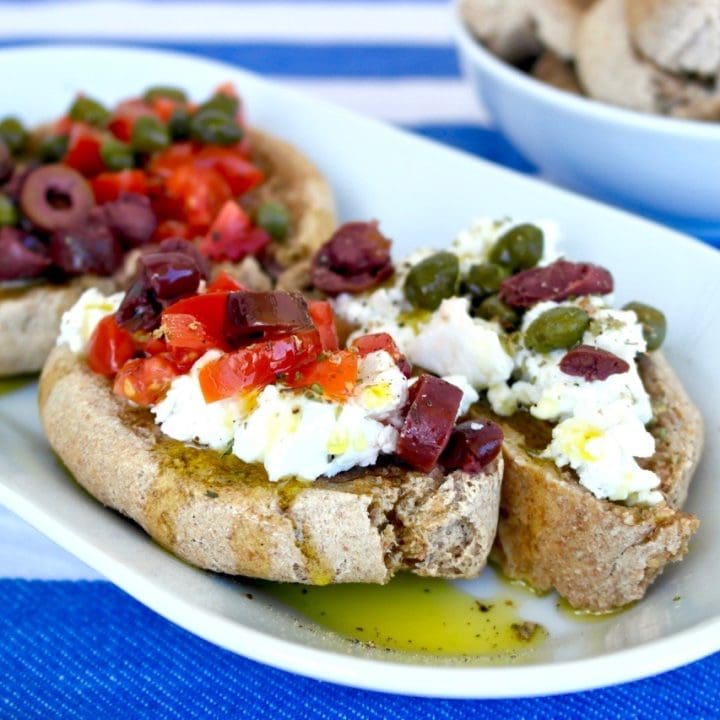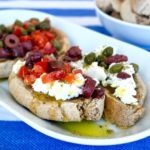 Print Recipe
Pin Recipe
Ingredients
25

grams

0.8 ounces fresh yeast (2 ½ teaspoons dry yeast)

a pinch of salt plus ½ teaspoon for the dough

½

pound

whole grain barley flour

½

pound

whole grain wheat flour

½

teaspoon

sugar

About 1 ½ cup lukewarm water
Instructions
In a large measuring cup or bowl we place the yeast (you can break it up) about a half cup lukewarm water (not hot) and a pinch of sugar and mix. Let it sit for about 10 minutes when it starts bubbling on the surface. If you are using dry yeast follow the manufacture's directions.

In a large bowl, mix the flour, 1/2 teaspoon salt and the sugar.

Once the yeast mixture has bubbled, make a whole in the middle of the flour mixture and add the yeast mixture, than add 1 1/2 cup water and start kneading until you have soft (not thick dough) that does not stick to your fingers- I kneaded for about 10 minutes. If you are using a mixer, use the dough hook and mix on low speed until dough is soft and does not stick to the sides of the bowl. If dough is too dry add gradually a bit more lukewarm water.

Shape into a ball and place in a greased bowl. Cover and let it sit in a warm place until it raises (about an hour).

Once the dough has risen, knock back the dough and shape it in a long loaf about 1 1/2 inches (3 cm) wide. Cut (not all the way through) in slices and cover the dough and let it rise again.

Preheat the oven at 350 F (180 C).

Now bake the loaf for about 1 hour.

Remove from the oven and lower temperature of oven to 210 F (100 C).

Once the dough has cooled just enough handle it, separate the slices (I used a knife to do this) and spread them on a pan.

Bake for 2 hours until completely dry.

Let them cool completely and store on airproof container
DID YOU MAKE THIS RECIPE?
Leave a comment or share on instagram and mention @greekdiet
Photos by Elena Paravantes © All Rights Reserved