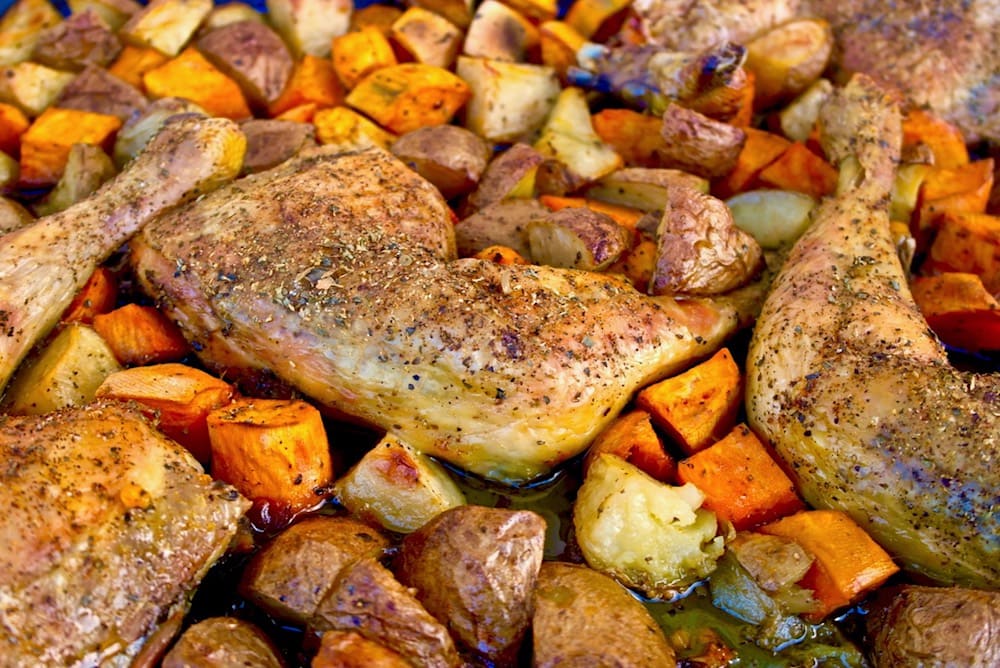 I've always been a big fan of sheet pan meals. Just put everything in a pan, throw it in the oven and you are done. Sheet pan dishes are a fairly common way of cooking in the Greek kitchen. The classic Sunday lunch recipe of Greek chicken and potatoes is a fine example. But there are numerous Greek vegetarian dishes such as the briami (a Greek version of ratatouille) and roasted zucchini, as well as many fish dishes such as roasted sardines that are baked in the oven. And they are so delicious! All the flavors meld together, plus you can make large amounts.
A fun fact: Several decades ago in many parts of Greece, sheet pan dishes were not baked at home. Not everyone had an oven at home, so you basically put together your sheet pan meal in a large round pan that had your last name written on the side and you took it to your local bakery (fourno), and they would bake it for you. When lunch time came around, you went to pick it up and it was all ready. When visiting my grandmother, I remember going to the bakery and picking up our lunch, and the bakery smelled so good! Not of bread, but of all the tasty things that they were roasting.
For this recipe, I modified the classic Greek chicken and potatoes recipes, adding some sweet potatoes and using a dry rub. The result? Tender chicken with crispy skin and crunchy and juicy potatoes.
READ MORE