Explore the #1 Diet! The Mediterranean Diet. Get a complete Mediterranean Diet Food List and a 5 Day Menu Plan that is based on the authentic Mediterranean Diet. By Mediterranean Diet Expert, Author and Registered Dietitian Nutritionist Elena Paravantes RDN.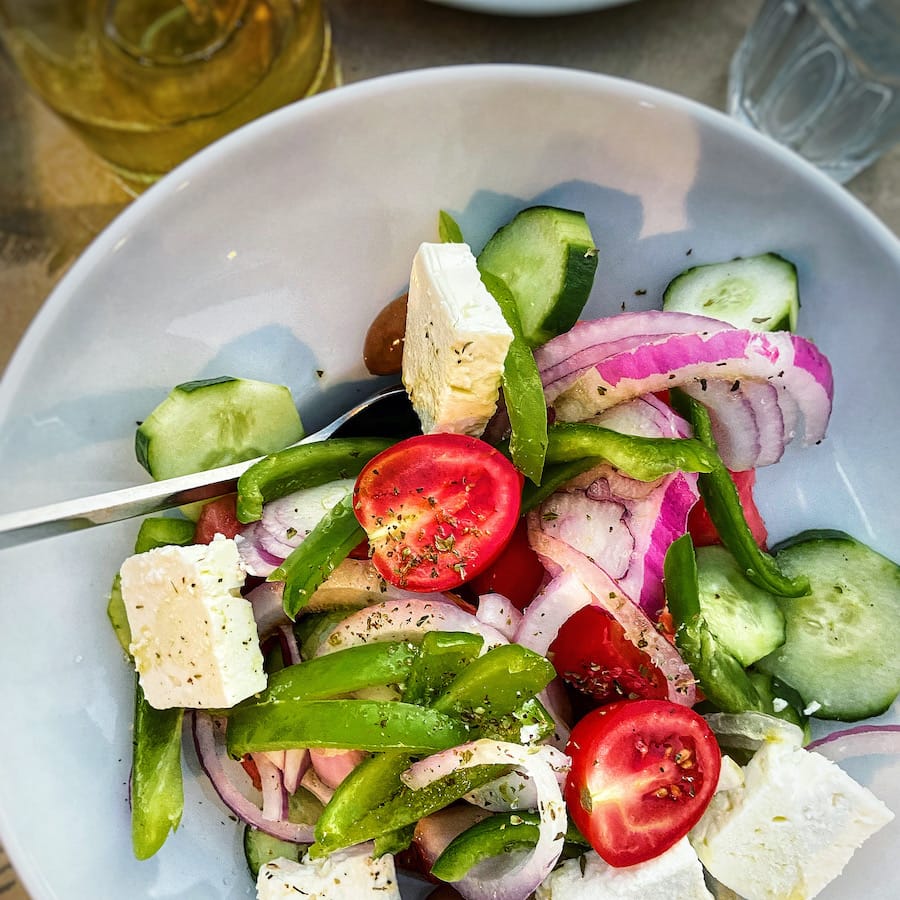 Table of Contents
The Mediterranean Diet is an eating pattern and lifestyle that was observed in certain areas of the Mediterranean at a certain time and this eating pattern was associated with longevity . The Mediterranean diet has multiple health benefits including protection from heart disease, diabetes and certain types of cancer. It also appears to protect from Alzheimer's disease, improves mood and helps maintain a healthy weight, and aid in weight loss. I say certain areas because the initial guidelines were based on research and information gathered on the typical diet  of Crete, much of the rest of Greece, and southern Italy in the early 1960s. Therefore, it is important to clarify that this is not a diet that reflects the eating pattern of the whole Mediterranean region as is often mistakenly described.
This way of eating is characterized by a high intake of vegetables, often consumed as a main course, meat is consumed a few times a month and extra virgin olive oil is used generously particularly in vegetable dishes.
Other plant foods that will supplement your diet will include fruit, nuts and seeds.
A Mediterranean diet does not depend much on packaged foods.
Local and seasonal food is preferred.
Extra virgin olive is the main source of fat in the diet, not other oils. It is used for all roasting, frying and sautéing.
Dairy will include mainly yogurt and cheese.
Fish and poultry are consumed moderately 1-2 times a week.
Beverages are mainly water, wine (with food), coffee, tea and herbal beverages.
Red meat including pork is consumed about once a week.
SCROLL DOWN TO GET THE COMPLETE MEDITERRANEAN DIET FOOD LIST AND MENU PLAN FOR FREE!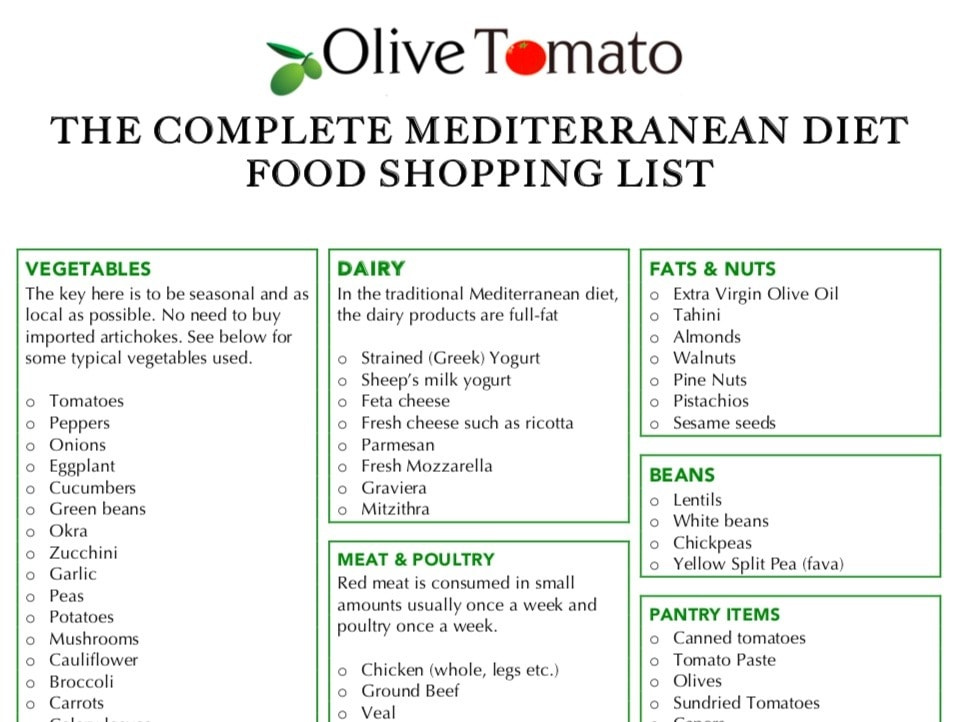 The Mediterranean diet generally is not based on rare or exotic foods, nor is it about complex recipes. Most ingredients are easy to find. The original version, particularly the Greek diet which was the prototype of this now popular eating pattern, is based on simplicity. This is a plant based diet with the key components being vegetables and olive oil. Many of you have requested this Mediterranean Diet food list and here I present you with a free list (scroll down) with all the foods that can help you follow an authentic Mediterranean diet.
Continue Reading…