Crispy potatoes, zucchini, eggplant, onion, tomato and bell peppers, roasted in olive oil. Eat it with feta cheese and fresh bread.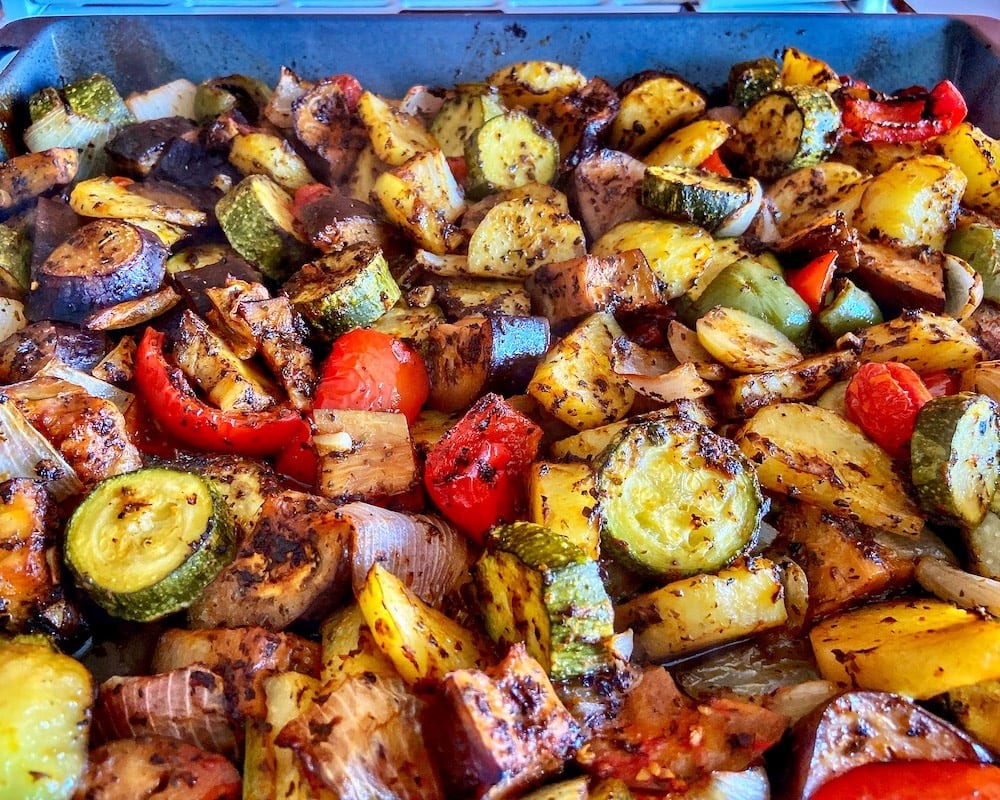 I don't like to describe a dish using the name of a dish of another culture, but if you ask someone (who is not Greek) what briami is they willl probably just give you a blank look. If you ask them what ratatouille is, well… there are more possibilities that they will know that it's not just a cartoon.
So today is briami or briam day. This is another summer favorite, although I have to admit, I also make it during other seasons without eggplant. Briami is basically chunks of vegetables cooked in olive oil, and it belongs to the lathera family. But you don't just add any vegetable you want, there are certain vegetables that make up briami: potatoes, zucchini, eggplant, onion, tomato, sometimes okra and bell pepper. You can make briami in a pot just like you would make ….let's say fasolakia lathera (green beans with tomato and olive oil), or in the oven which is how I like it. With the roasted version, the vegetables become crispy and in combination with feta cheese and a fresh bread, this is a perfect meal.
Obviously this dish is a vegetarian's (and a dietitian's) dream come true; plenty of vegetables, but also a great source of antioxidants and fiber. Plus you're getting all those good fats from the olive oil. Of course as with most Greek vegetable dishes, it is consumed on its own as a main course and you need to eat feta with it.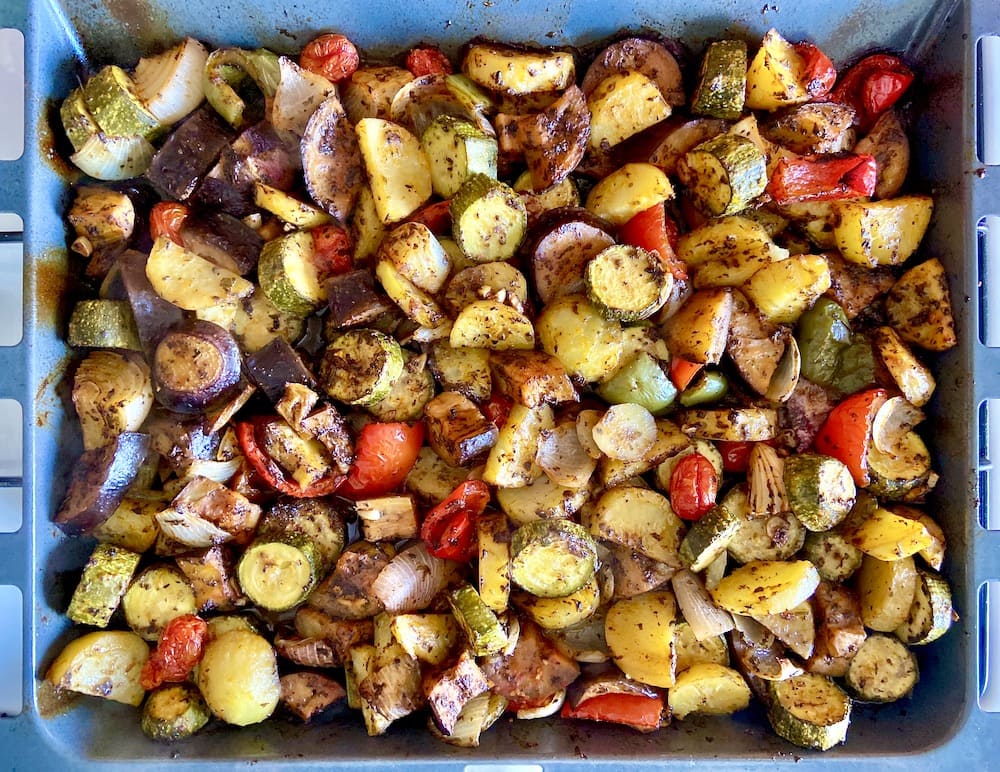 It is also very easy and kind of works even if you don't have all the vegetables on hand. And, I have to add: my sons love it! Not many kids love eggplant, but roast it with potatoes, onions and olive oil and they will!
I make it all the time and it's never exactly the same. Sometimes I omit one of the vegetables, sometimes I cut them in different shapes, but the taste remains the same. For this version, I used cherry tomatoes and didn't peel the potatoes (Greeks almost always peel the potatoes), but it is basically the same recipe with just a bit of a different look. Also, don't try to avoid the olive oil or use just a tiny bit, otherwise you'll just end with some watery roasted vegetables.
Briami or Briam- Authentic Greek Roasted Vegetables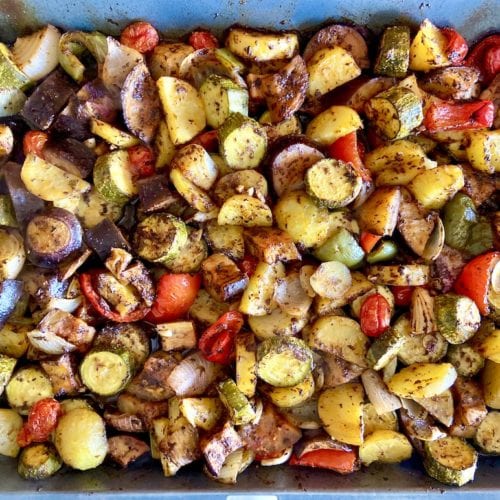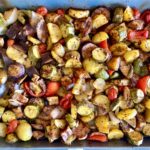 Crispy potatoes, zucchini, eggplant, onion, tomato and bell peppers, roasted in olive oil. Eat it with feta cheese and fresh bread.
Print Recipe
Pin Recipe
Ingredients
2

medium potatoes

1

cup

chopped tomatoes or sliced or cherry tomatoes

1-2

medium

eggplants

2-3

medium

zucchini

1

onions

1

bell pepper

3

cloves

garlic chopped

2

tablespoons

tomato paste

1/2

cup + 2 tbsp

Extra virgin olive oil

Warm water

2

tablespoons

dry mint

2

tablespoons

oregano

1/4

cup

parsley

Salt/Pepper
Instructions
Preheat oven at 350 F (180 C)

Cut potatoes and eggplant in about 2 inch pieces, the zucchini in 1/2 inch slices. The onion in quarters and if using peppers in slices.

Pour all the vegetables in a large bowl. Add garlic, mint, parsley, oregano. Mix.

Mix the tomato paste with a bit of water (1 tablespoon) and add to the vegetables.

Add about the olive oil and mix well. We usually do it with our hands.

Add salt to taste and pepper, and mix some more (I add very little salt and add more if needed when serving).

Transfer the vegetables to a large shallow pan, it should be able to fit all the vegetables in one layer.

Pour in a corner of the pan about 1/3 cup water and tilt the pan so that it spreads, but don't pour it over the vegetables.Pour more later if it seems like they are becoming dry.

Cover with aluminum foil and roast for about an hour.

After an hour check and see if the vegetables are cooked (you should be able to stick a fork in them easily).

If they are cooked, remove the foil and roast for another 30-45 minutes until the potatoes start turning golden brown.

Let it cool and serve with bread and feta cheese. You can also serve cold.
Notes
* Aim to have about 4 lbs vegetables, you may prefer more zucchini and less eggplant for example.
DID YOU MAKE THIS RECIPE?
Leave a comment or share on instagram and mention @greekdiet