These cherry tomatoes roasted with herbs, feta cheese and homemade croutons are bursting with flavor!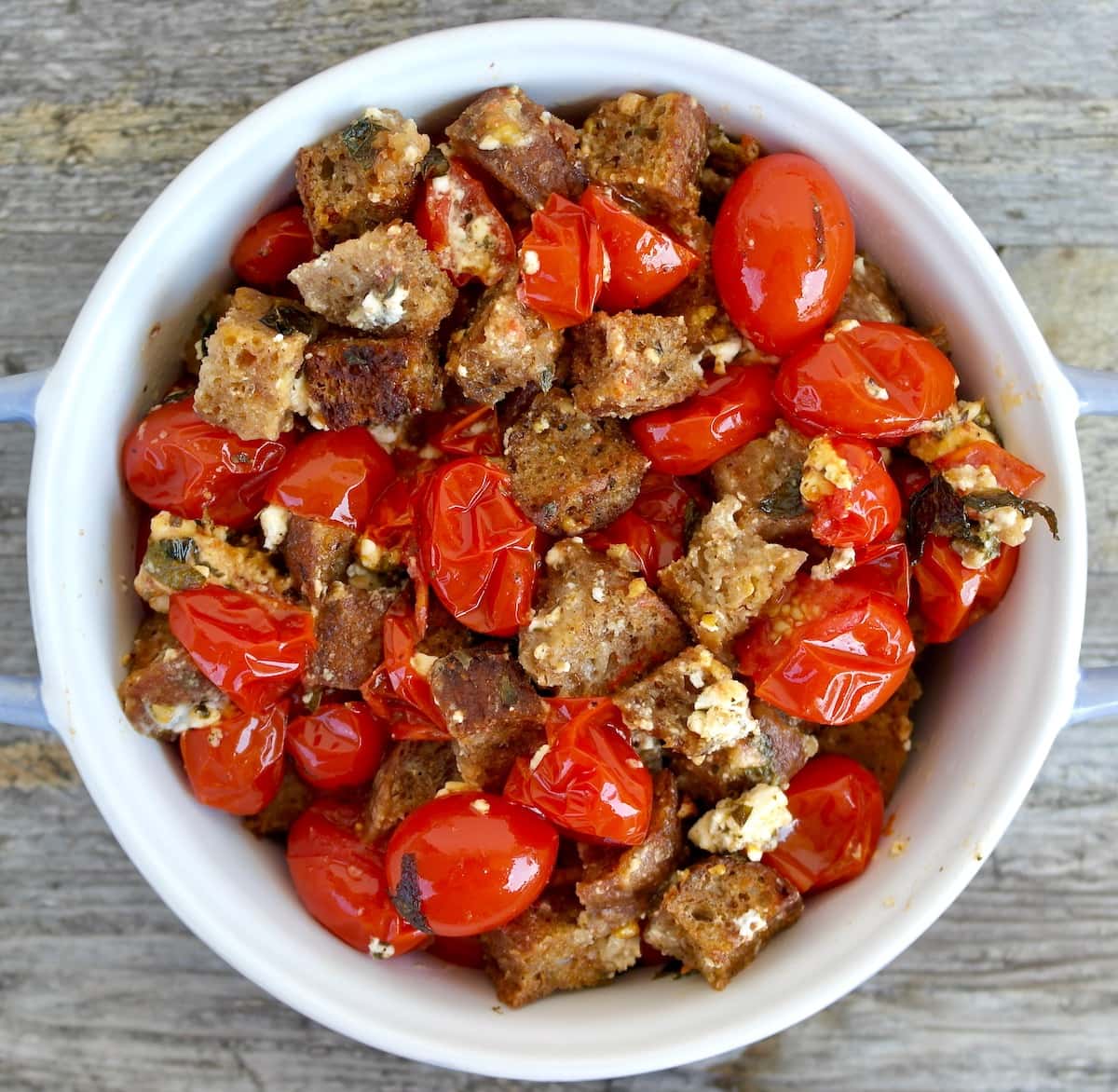 I've been roasting tomatoes for a long time and used them in tomato sauce, as a topping for bread but not really as a whole dish on its own. This fabulous and easy recipe combines cherry tomatoes, tangy feta and whole grain crispy croutons to make its own delicious meal.
The combination of the juicy roasted tomatoes along with croutons and feta is just perfect. The tomatoes have an intensified flavor since they have been roasted and the homemade croutons are crunchy thanks to the olive oil. The beauty of this dish is that the bread bakes along with the tomatoes until crispy.
Yes, you can serve this as a side dish, but honestly this is just as good on its own, combining foods from the vegetable, protein and carb groups and let's not forget all those good fats from the olive oil. And did you know that when you heat tomato along with olive oil you absorb even more of the good for you, antioxidants from the tomatoes? And, I should add that this is a great (and fancy looking) way to use overripe or wrinkled cherry tomatoes.
Tomatoes are the star in this dish, and they should be. Since June I have been eating tomatoes every day in some form. That's a good thing, in fact Japanese researchers had found that people who eat tomatoes often report less depressive symptoms. But apart from that, tomatoes have numerous other benefits and is very important part of the Mediterranean diet, hence the name of my blog.
For the bread in this recipe, I used whole grain for more fiber. The secret to getting the bread crunchy is to spread out all the ingredients on a pan that is large enough to have everything in one layer and not touching each other. Also, you want to make sure not to slice the cherry tomatoes in half before roasting.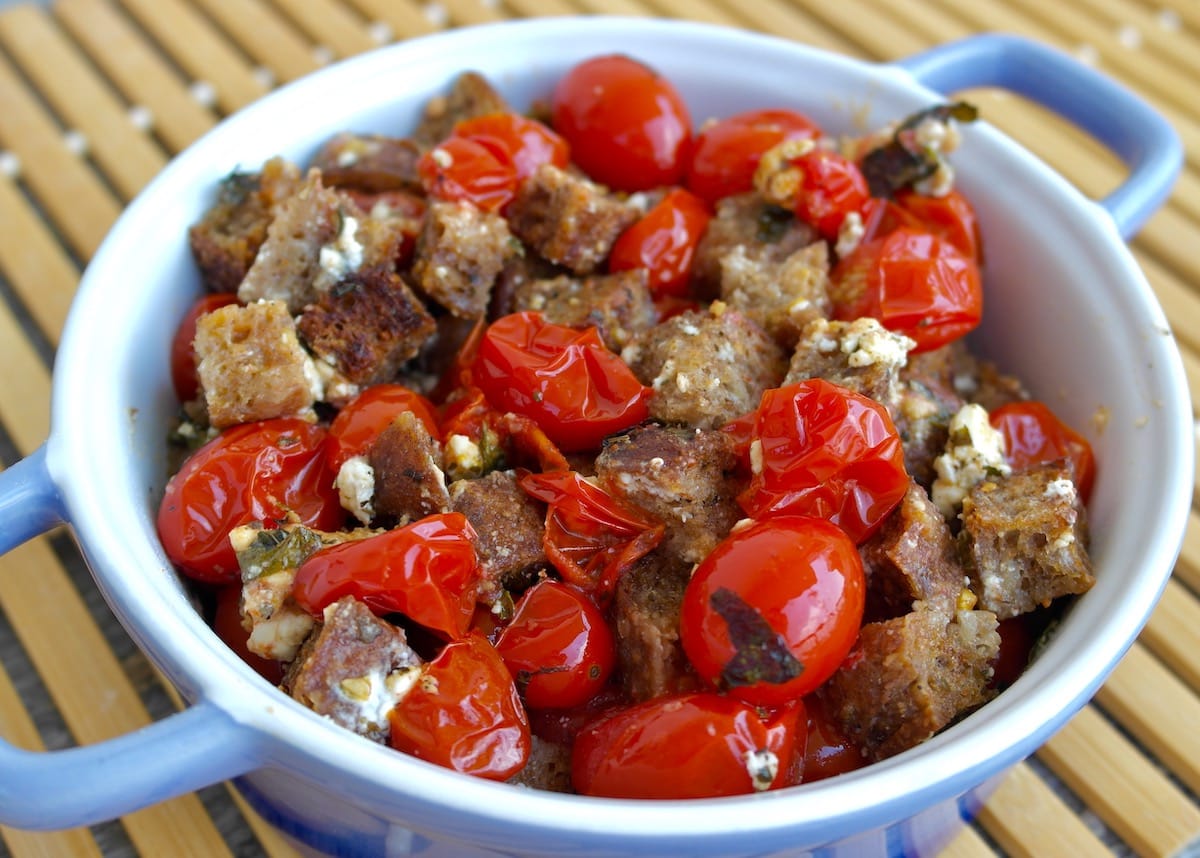 Choosing a Healthy Bread
Speaking of bread, we generally eat whole grain bread at home. I have been lucky enough to find a local bakery that sells its bread at the grocery store so I can get it easily. This bread is 100% whole grain and contains only flour, salt and yeast. No preservatives, fats, oils, sugars or any other additives. We need to store it in the refrigerator because yes, it will start to develop mold after a few days at room temperature. And that is fine, that is what happens to foods that do not contain preservatives.
Unfortunately, in the U.S., Greece and most countries I have visited most commercial type bread is full of additives to increase the shelf life of the bread and make it softer and easier to eat. Even so-called whole grain or multi grain breads sold at grocery stores that promote a healthy image are full of additives.
When I did a google search on the healthiest bread, the number one bread on the list had over 15 ingredients with the third ingredient being sugar. No, my friends that is not a healthy bread.
Shelf stable commercial bread has nothing to do with real bread. Most of the time it contains extra gluten, the texture is like foam, it does not provide satiety and includes a bunch of ingredients you don't need. Good bread is not supposed to be so elastic, but that is what consumers have been used to. Remember wonder bread? I still remember eating peanut butter and jelly sandwiches with wonder bread as a treat. Everything was so soft, and not filling at all. You could eat 5 of those sandwiches and still not feel satisfied.
So, when you are looking for a good bread, it should be somewhat heavy, grainy, not too dense but not too soft either.
Of course, there is always the other alternative: to bake your own bread.
Roasted Cherry Tomatoes with Feta Cheese and Crunchy Croutons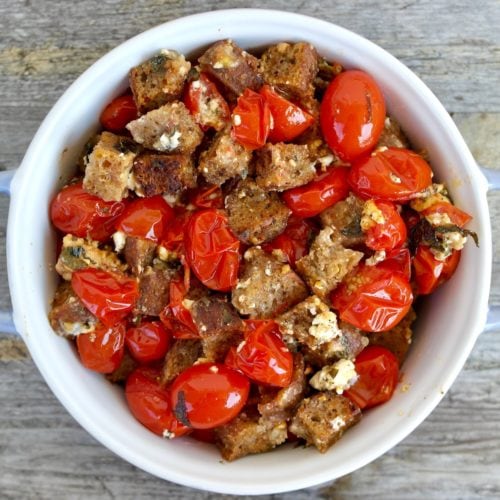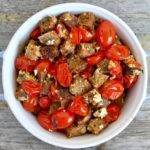 Juicy Cherry tomatoes roasted with herbs, feta and crispy croutons
Print Recipe
Pin Recipe
Instructions
Preheat the oven to 375°.

Brush a pan large enough to fit everything in 1 layer with olive oil.

In a large bowl, toss the bread cubes with the olive oil, oregano, mint, salt and pepper until all cubes have been coated.

Add the tomatoes and toss gently. Sprinkle the feta over the mixture and toss some more.

Empty mixture in the pan. Bake for 25-30 minutes until bread is crunchy. Tap bread with knife to check. Empty in serving dish, scraping off any dried parts with a wooden spatula.

Let it sit for 5 minutes before serving.
DID YOU MAKE THIS RECIPE?
Leave a comment or share on instagram and mention @greekdiet
SAVE FOR LATER AND PIN IT!