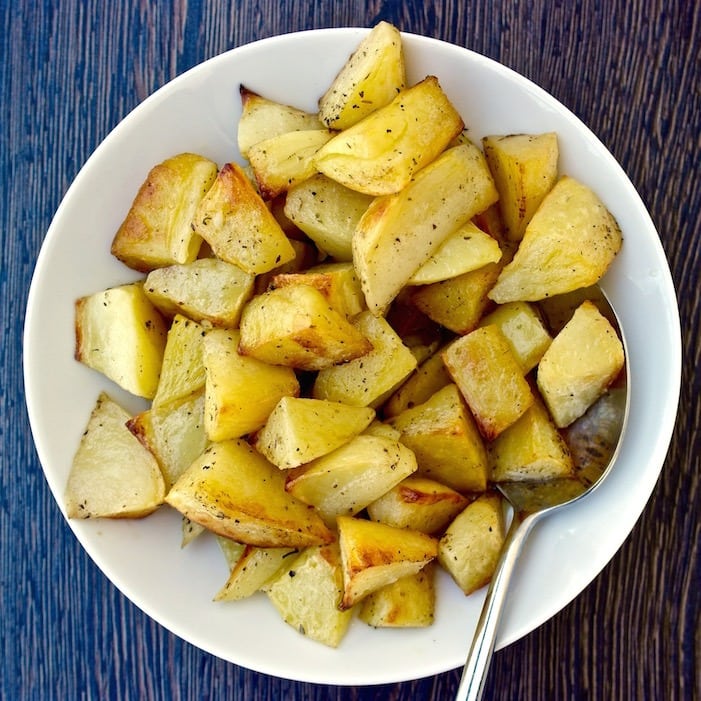 Ah the famous Greek potatoes…. These potatoes are my weak spot, but only when my mother makes them. I could eat a whole pan. The minute they are out of the oven, I'm on them. I don't even care if I burn my mouth eating them, I just cant resist these crunchy on the outside, soft on the inside bites of potato, that my mother manages to roast perfectly every time.
They are traditionally cooked with some sort of meat, usually chicken or lamb and absorb all the juices of the meat, but this recipe is great if you do not want to make meat. My mother's version, apart from including lemon, oregano and garlic, also includes cloves and allspice, which gives it that special flavor.
Again, as with most Greek dishes, the oregano, olive oil and lemon, the holy trinity of Greek cuisine, add those antioxidants we all want to get. In order for these potatoes to be truly Greek and have this texture we're talking about, you need to use the amount of olive oil noted. At the end of the roasting, a lot of the olive oil will be left in the pan, so just serve with a slotted spatula and leave the olive oil behind.
These are great with almost anything, but my favorite combination is with a salad. Also they are good the next day at room temperature (they will be soft-but delicious), add some tomato, a few pieces of cheese and some olives and you a have a nice meze. If you want them crunchy, just reheat them.
Greek Roasted Potatoes with Lemon and Garlic- Patates Fournou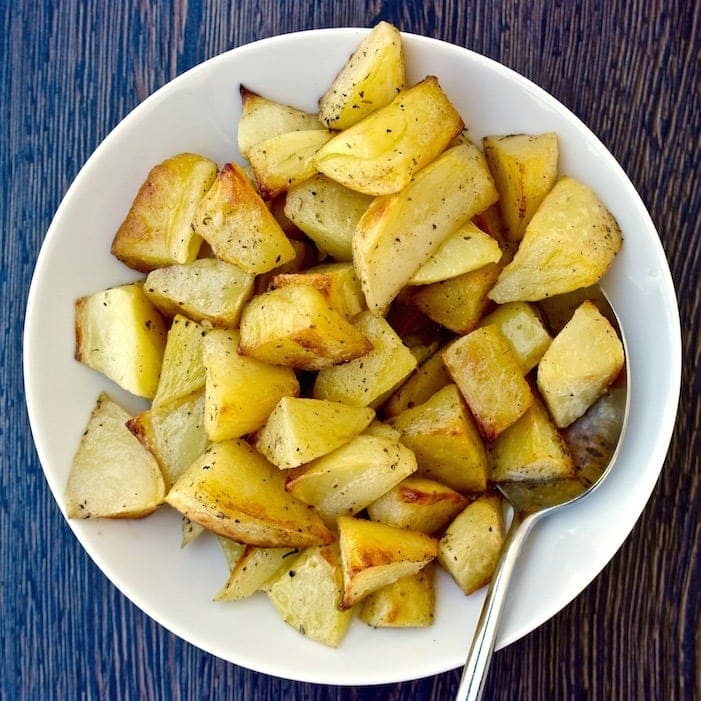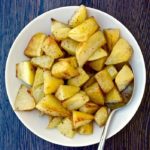 Greek Roasted Potatoes, A classic Greek side dish done the right way. Crunchy on the outside, soft on the inside, with a touch of spice.
Print Recipe
Pin Recipe
Ingredients
2

pounds

potatoes cut in small wedges (if long cut wedges in half)

½

cup

olive oil

2-3

teaspoons

dry oregano

1-2

tablespoons

lemon juice

3

cloves

3

allspice

2

garlic cloves quartered

½

teaspoon

salt
Instructions
Place the cut potatoes in cold water for a ½ hour.

Preheat oven with the fan at 400 degrees Fahrenheit (200 degrees Celsius).

Drain the potatoes and dry with a towel.

Place potatoes in a bowl with all the ingredients except the water and mix well (with hands preferable, until olive oil has coated all the potatoes).

Spread potatoes in a pan (they should all be one layer, not piled on top of each other) along with the olive oil that is left in the bowl.

Pour some warm water in the corner of the pan, tilting the pan so that the water spread throughout the whole pan. You want the liquids to come up halfway (covering the potatoes halfway). Do not pour the water directly above the potatoes as this will wash out the olive oil.

Roast (with the fan) for about 10 minutes until the liquids start to boil. Reduce heat to 320 degrees Fahrenheit (160 Celsius) and continue roasting for about 45 minutes. Test the potatoes with a fork, they should be soft, but not falling apart.
Notes
*If not using the fan, increase the temperature slightly.
*You may add more salt after roasting as needed.
Nutrition Facts
Greek Roasted Potatoes with Lemon and Garlic- Patates Fournou
Amount per Serving
% Daily Value*
* Percent Daily Values are based on a 2000 calorie diet.
DID YOU MAKE THIS RECIPE?
Leave a comment or share on instagram and mention @greekdiet
Save for Later and Pin It