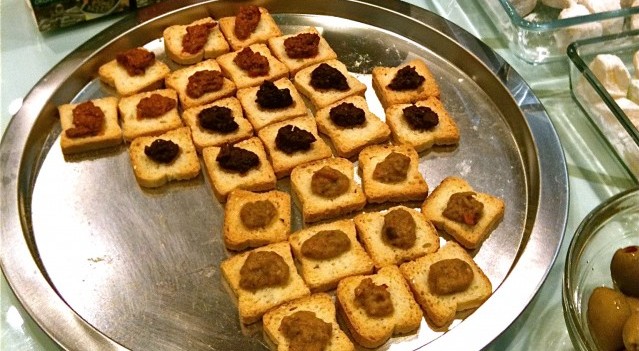 Olive tapenade, referred to as pasta elias in Greek, has become quite popular in Greece in the past few years.  You can find a large selection of olive tapenades from Greek olive oil companies made from Greek olives. Basically a mixture of crushed olives, garlic, capers, and herbs, this condiment is a healthy and tasty alternative to mayonnaise and other sandwich spreads. It is a source of the good monounsaturated fats and low carb, for those watching their carbohydrate intake.
As an appetizer I like to use olive tapenade as an alternative to dip accompanied by some pencil thin bread sticks. Or you can spread it on small toasts, as in the photo I took from a sampling at the Athens airport. I also use it in sandwiches instead of mayo. I make what I call a "Greek salad sandwich".
Olive Tapenade Greek Salad Sandwich
Spread some black olive tapenade on whole wheat bread; add sliced tomatoes, crumbled feta, thinly sliced onions and cucumber.  Sprinkle the bread with oregano. This sandwich is really filling, you can fit one serving of vegetables in there, get about 4 grams of fiber and a small dose of antioxidants as well.
Greek Olive Tapenade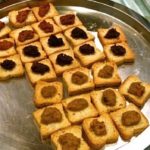 Print Recipe
Pin Recipe
Ingredients
7

ounces

olives

rinsed and pit removed

1

garlic clove

Capers

Salt

Pepper

Herbs such as thyme or rosemary or oregano
Instructions
Grind the olives into a paste in a food processor.

Add the crushed garlic clove continue mixing.

Add the herbs and continue mixing until the paste is smooth.
Notes
*You can also add some sun-dried tomatoes.
*You don't need to add olive oil, but if you make a large amount, add some olive oil on top of the jar to preserve it.
*Adding olive oil will increase the calorie count.
* This recipe calls for using Greek olives called throubes. These olives are meaty, and they are unique because they are the only olives that are left to ripen and shrivel on the tree. If you can't find them at a Greek market, it's OK to use Kalamon (Kalamata olives).
*When using olives Kalamon, you won't need to add too much additional salt, if any.
DID YOU MAKE THIS RECIPE?
Leave a comment or share on instagram and mention @greekdiet