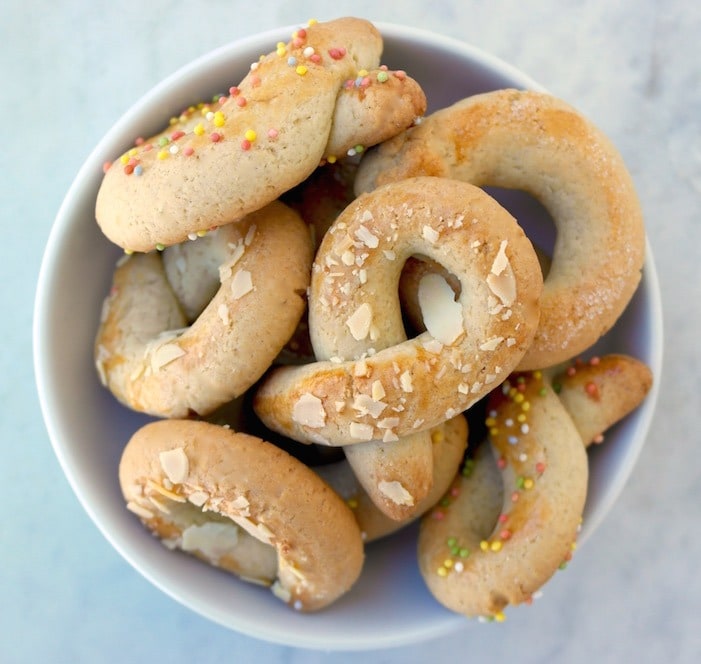 The sweets made for Greek Easter are rich in butter, eggs and milk. In other words all those ingredients that traditionally were avoided for 7 weeks before Easter (and really most of the year) are given center stage at Easter. One of these are the famous koulourakia. The word kouloura means anything baked made in a circular loop shape such as bread or cookies. Koulouraki is the diminutive of koulouri. There are a variety of koulourakia: savory, sweet, vegan, with olive oil, with tahini but the Easter ones have butter.
They are made in a variety of shapes. It can be simply a ring shaped cookie or twists or braids. They require a bit more work, as they are not just simple cookies you plop on a pan, but you have to roll them out into cords and then twist them in the shapes you want. I remember making these with my mom and she would let us make all sorts of shapes, it was like playing with play doh, and then we also got to eat them.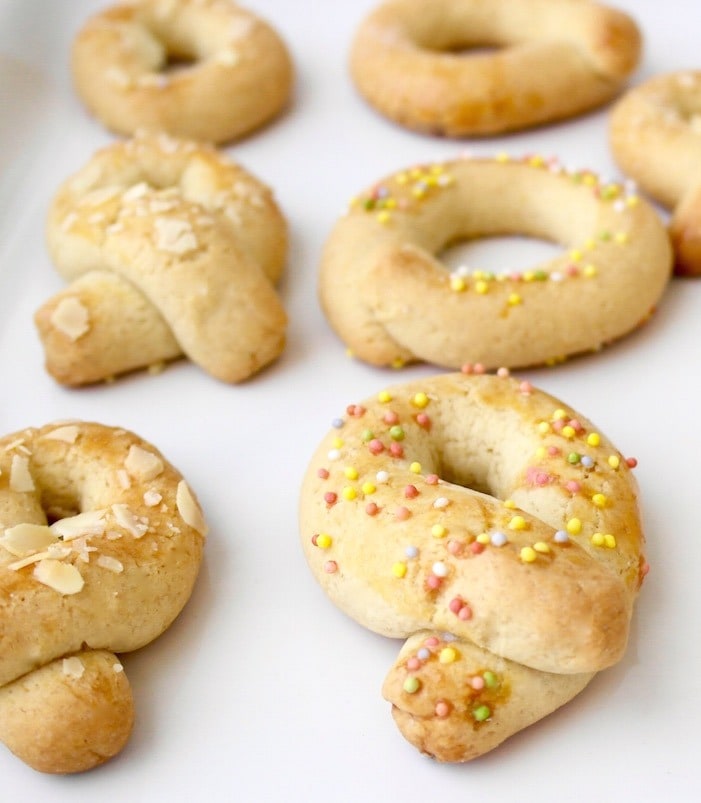 These are perfect for dipping in coffee, tea and milk. That's because they are hard on the outside so they will not fall apart when dipping but cakey on the inside. For this recipe I added a bit of lemon zest, but you can also use orange zest or vanilla. Also, you will have to let the dough rest for a couple of hours. And finally a word about the flour: a common step in the directions of most Greek recipes when adding dough is: "add as much as it takes". This means basically that you keep on adding until you have a soft dough that is not sticky. In my experience, this is a better idea as you avoid getting the dough too dry.
Enjoy in moderation. I usually do not make a huge amount, just enough for the holiday season. And these last a long time, so you don't have to eat them within a few days.
And as with most traditional recipes, there are several versions, if you make these regularly, what is yours?
Greek Easter Cookies – Koulourakia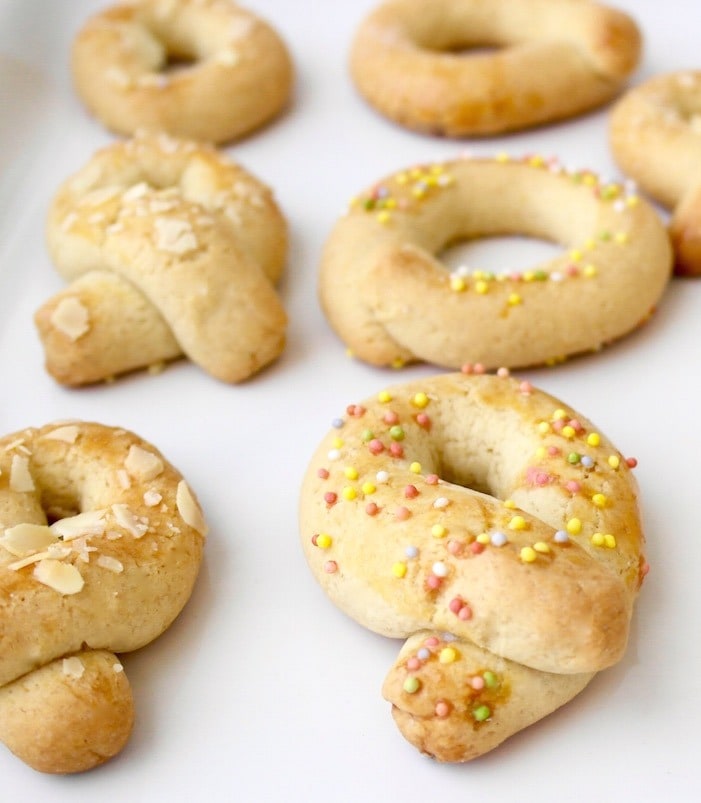 Traditional Greek butter cookies, crunchy on the outside, cake on the inside.
Ingredients
¾ cup butter softened
1 cup sugar
1 whole egg and 1 egg yolk + 1 egg for brushing
Up to 4 cups flour
3 teaspoons baking powder
A pinch of salt
¼ cup milk
Zest from 1 lemon
Chopped almonds, sugar or sprinkles for toppings for the cookies
Instructions
Cream the butter and sugar
Add the whole egg and egg yolk and continue mixing. Add the zest.
In another bowl mix 1 cup flour with baking powder and a pinch of salt).
Add the 1 cup flour mixture to the butter mixture and the milk and mix.
From here on keep on adding flour until you have a soft dough that is not sticky. Be careful do not add too much flour, your dough should not be crumbly.
Cover the dough and let it rest for 2 hours.
Preheat the over at 350 degrees Fahrenheit
Line pans with wax paper.
Take a piece of dough and roll it into a tube the thickness of your little finger and mold in different shapes.
Beat the one egg in a small bowl. Brush each cookie and sprinkle your toppings
Bake for 20 minutes.
Let them cool and store in airtight container
Photos by Elena Paravantes © All Rights Reserved