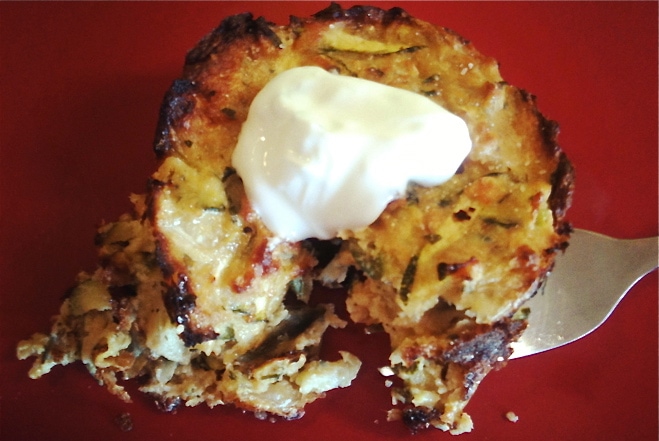 One of my all time favorite Greek taverna appetizers are fried zucchini patties called kolokithokeftethes, with tzatziki. These patties are not really unhealthy other than the fried part. That's the beauty of Greek food; it manages to make vegetables something you want to order from the menu, not something you have to order for your own good.
I don't particularly like frying in the house, so I have been making an easier (and accidentally healthier) alternative patty/muffin by baking them in a muffin pan. And since I love muffins, this was the perfect adaptation of this traditional recipe.
At 60 calories each, these are great for an appetizer or lunch. There is hardly any added fat, apart from 2 teaspoons of olive oil in the whole batch.  If you don't want to make tzatziki you can accompany them with a light dip made from Greek yogurt (strained yogurt)…
These savory muffins/patties have plenty of herbs and a bit of feta cheese. The traditional recipe doesn't include flour (except for frying) or breadcrumbs, but I add them here for a bit of volume.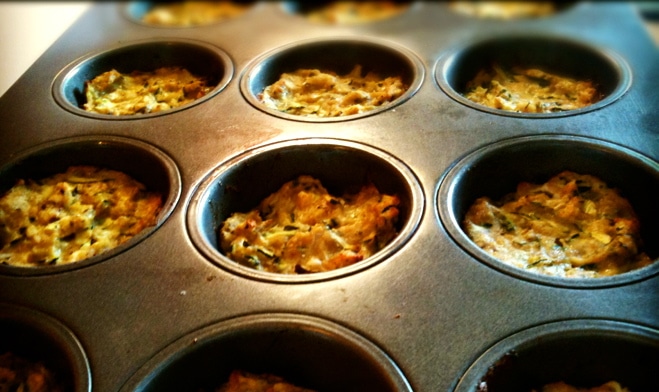 Greek Style Zucchini and Feta Muffins with Greek Yogurt Dip

Print Recipe Pin Recipe

Ingredients

3-4

zucchini grated with skin

½

onion finely chopped

2

large eggs

3

ounces

crumbled feta cheese

2

tablespoons

parmesan

2

tablespoons

parsley

2

tablespoons

dill

2

tablespoons

mint

½

cup

breadcrumbs

Salt/Pepper

2

teaspoons

olive oil

For yogurt dip

1/2

cup

Greek yogurt

1

teaspoon

of chopped dill

1

teaspoon

chopped parsley

1/4

teaspoon

olive oil

Instructions

Preheat oven at 400 degrees Fahrenheit

Line a muffin pan with muffin liners (remove them before serving)

Grate the zucchini, place in a colander and salt lightly, let it sit for about 10 minutes. Squeeze as much water as you can from the zucchini and place in a bowl.

In another bowl beat the eggs, add the cheese onion, parsley, dill, mint, pepper and olive oil. Mix well and then add the breadcrumbs and mix some more.

Add mixture to zucchini and mix well, mash with a fork to combine all ingredients well.

Divide mixture in a 12 muffin pan, about 1 ½ tablespoons each.

Bake for about 25-30 minutes until golden brown on the outside and soft inside.

In the meantime make the Greek yogurt dip by mixing the yogurt with dill, parsley and olive oil

Notes

For the yogurt dip: Add to yogurt some dill, parsley, a bit of salt and a few drops of olive oil. Mix well. Serve with zucchini muffins.

DID YOU MAKE THIS RECIPE?

Leave a comment or share on instagram and mention @greekdiet
Photo Credit: Zucchini Feta Muffins by Olive Tomato