These unbelievable delicious traditional Greek zucchini fritters are made with plenty of herbs and feta and are so easy to make.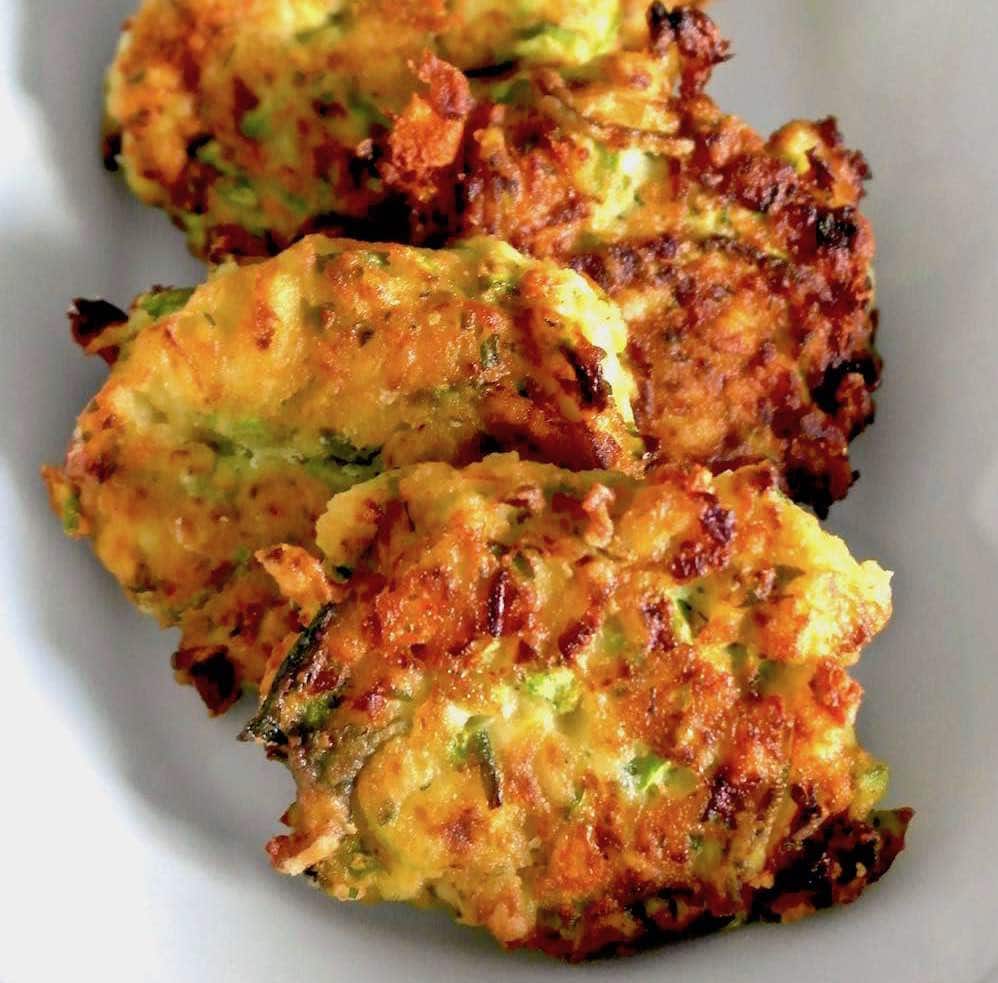 Zucchini is one of my favorite vegetables, and that is probably not a popular choice, I know. But, hold on, in Greek cuisine they are somehow transformed from a watery tasteless vegetable to a delicious meal or appetizer. The secret lies in the ingredients and the method of cooking: roasting with tomato like they do in Crete, or in the famous Briami where they are roasted in olive oil along with potatoes, eggplant and tomatoes, with phyllo in a delicious zucchini pie and of course fried. I find that for an appetizer zucchini is best fried. Of the most popular appetizers ordered among Greeks are fried zucchini chips (tiganita kolokithakia) and zucchini fritters (kolokithokeftedes).
Greek Zucchini Fritter Ingredients
A Word About Frying
Frying is often looked down upon. Certain fried foods have been linked with heart disease and diabetes. Pan frying is pretty common in the Mediterranean, some reasons for this include: abundance of olive oil, flavor, ease (quick cooking process) and the fact that many homes did not have ovens and stovetop cooking was the main type of cooking.
There are 3 factors we need to take into account when it comes to assessing how healthy or unhealthy is a fried food:
1. Deep- Fried versus Pan-fried: Pan-fried is healthier because it uses less oil and reaches a lower temperature.
2. Type of Oil: The typical seed oils often used in frying because of their lower price and ability to be used over and over again are the unhealthiest as they contain higher omega-6 levels which are associated with inflammation. Olive oil on the other hand is rich in monounsaturated fats and more importantly high in antioxidants which resists oxidation at high heat. In addition, studies have shown that when vegetables are fried in olive oil they actually absorb some of the antioxidants in the olive oil.
3. Type of Food: Obviously breaded chicken nuggets, jalapeno poppers and the like are unhealthier than fried zucchini or eggplant.
Finally, I would like to mention a study that can clarify this even more. A large study that included 40000 Spaniards, found that there was no association between eating fried food and coronary heart disease, as long as the food was fried in olive oil, the olive oil had not been re-used and the participants were following a Mediterranean diet. Under those circumstances frying can be an occasional part of a healthy Mediterranean Diet. Now back to those zucchini fritters…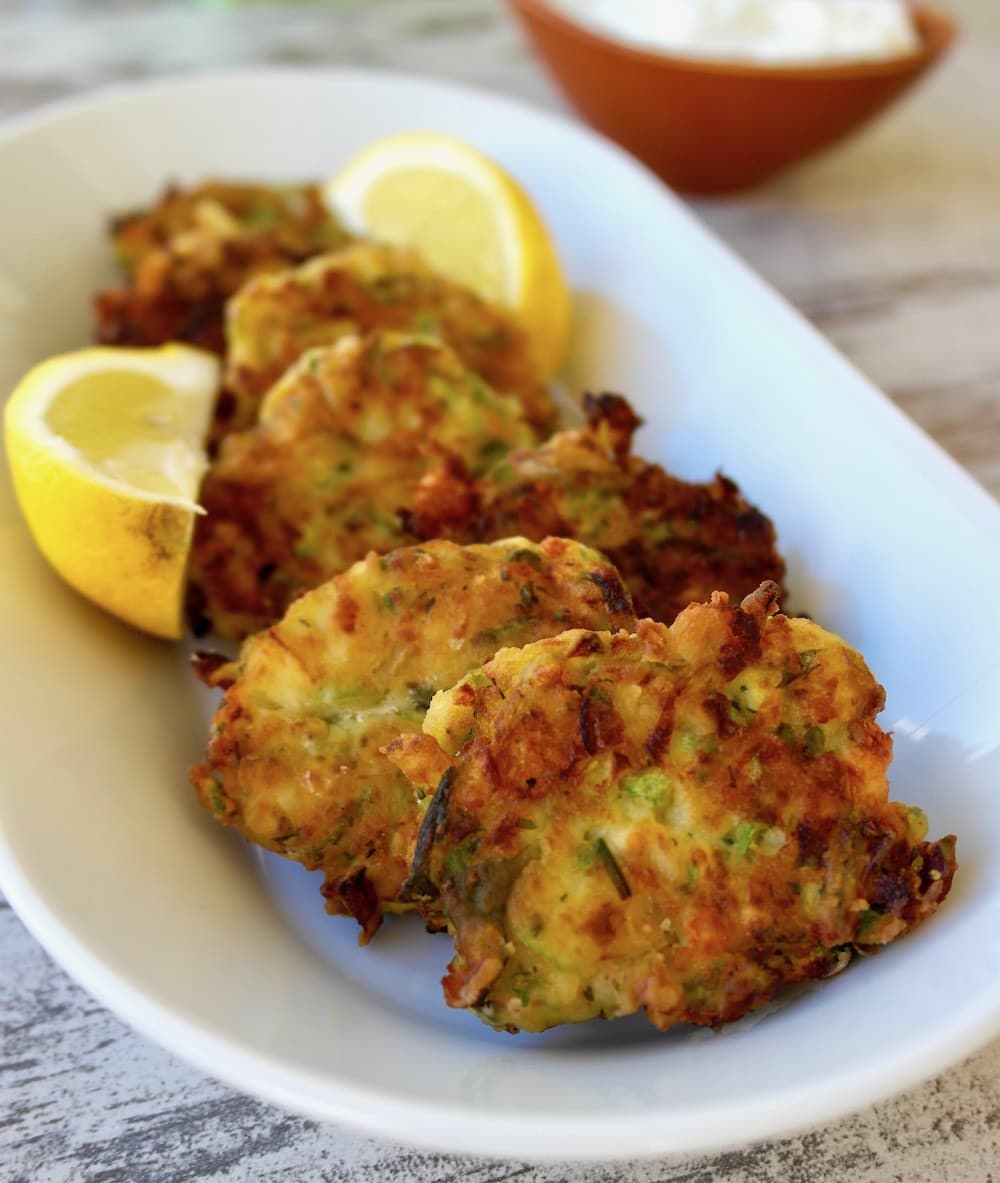 So, I know that many of you avoid frying, and while I do not fry all that often, there are certain foods that are so much better fried, and these Greek zucchini patties are one of them. For the record, I did also bake a batch, but it truly did not compare to the fried version. For frying I did flatten the fritters so that I did not need to use that much olive oil. I also put them on paper towels to absorb any oil.
Apart from the frying, the ingredients here are mostly vegetables and plenty of herbs (oregano, parsley, dill and mint). The herbs make all the difference taste-wise, they impart a lot of flavor. I only used a bit of feta, and you can omit it as well.
These are great as appetizers served with tzatziki or plain Greek yogurt, but they can also be served with a large leafy salad or a Greek salad for a complete meal. Once the cool, they will get soft, so best to eat them right away, although I happily will eat them cold too.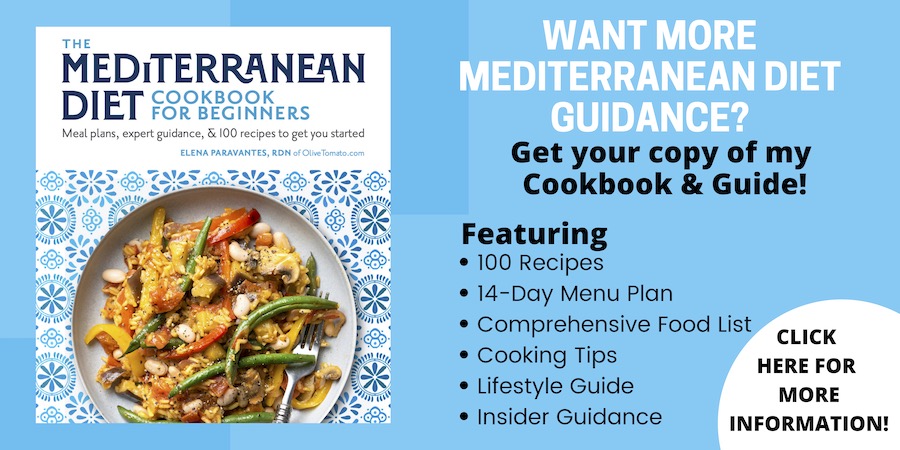 Greek Zucchini Patties with Feta and Herbs – Kolokithokeftedes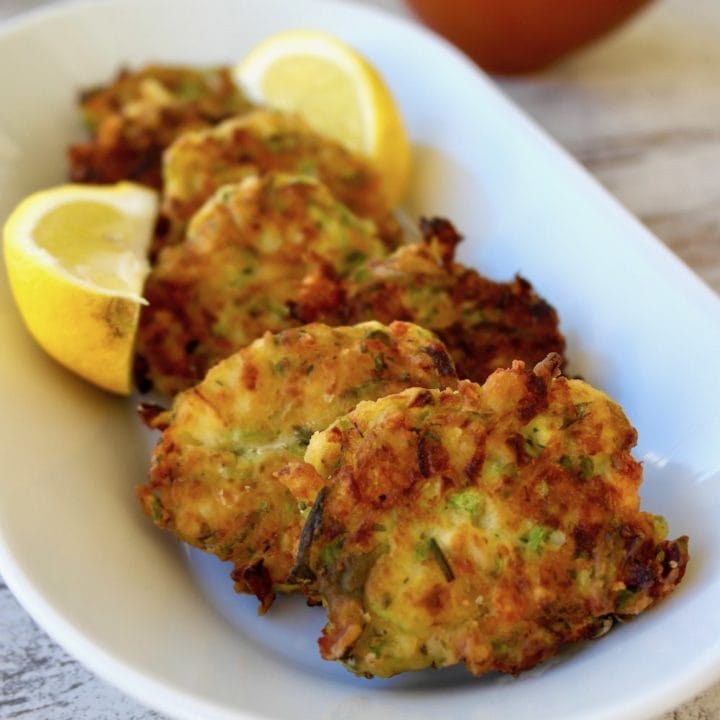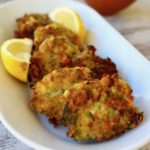 Crispy traditional Greek zucchini patties with feta and herbs.
Print Recipe
Pin Recipe
Ingredients
1 1/2

pound

about 700 grams zucchini washed (not peeled)

2

eggs

3-4

ounces

90-110 grams grams)crumbled feta

1

large onion finely chopped

I passed it through the food processor

2

tablespoons

chopped fresh parsley*

2

tablespoons

chopped fresh mint

1

tablespoon

chopped fresh dill

1

tablespoon

dry oregano

1

teaspoon

salt

1/2

cup

bread crumbs

1/2

cup

flour + more for coating

1/2

teaspoon

baking powder

ground pepper

Olive oil for frying
Instructions
Grate the zucchini, place in a colander and lightly salt. Let it sit for 10 minutes. After 10 minutes have passed, squeeze (with your hands) as much water you can out of the zucchini.

In a large bowl mix the zucchini, feta , onion, parsley, mint, dill, oregano and 2 lightly beaten eggs.

Sprinkle over the bread crumbs and mix.

Mix the flour and baking powder in a small bowl and sprinkle about half the amount over the zucchini mixture and mix. Keep adding until you have a thickish batter, you don't want it to be watery.
Frying
Take a medium sized pan and add enough olive oil so it is about 1/3 of an inch high. Heat the oil at medium-high heat. Scoop 1 tablespoon of dough and dip it in flour (it does not need to be completely coated) and place that in the pan. Do this for as many fritters you can fit in the pan. Flatten with a spatula (not too much though, these are not meant to be thin like pancakes). Fry about 2 minutes, then flip and fry for 1-2 minutes more.

Place on paper towels to absorb any oil and serve with a bit of lemon and Greek yogurt or tzatziki.
Notes
* If you do not have fresh herbs you can use 1/2 the amount of dry herbs.
DID YOU MAKE THIS RECIPE?
Leave a comment or share on instagram and mention @greekdiet
SAVE THE RECIPE FOR LATER AND PIN IT!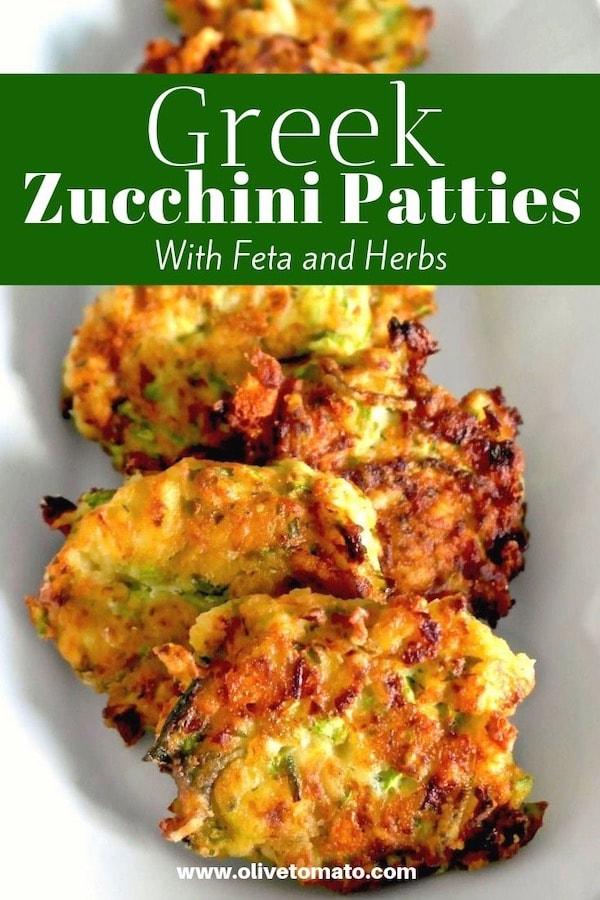 References:
Olive oil stability under deep-frying conditions. Food Chem Toxicol. 2010 Oct;48(10):2972-9.
Consumption of fried foods and risk of coronary heart disease: Spanish cohort of the European Prospective Investigation into Cancer and Nutrition study. BMJ 2012;344:e363
Photos by Elena Paravantes All Rights Reserved
---