These easy to make eggplant and feta phyllo tarts are a perfect combination of savory and sweet.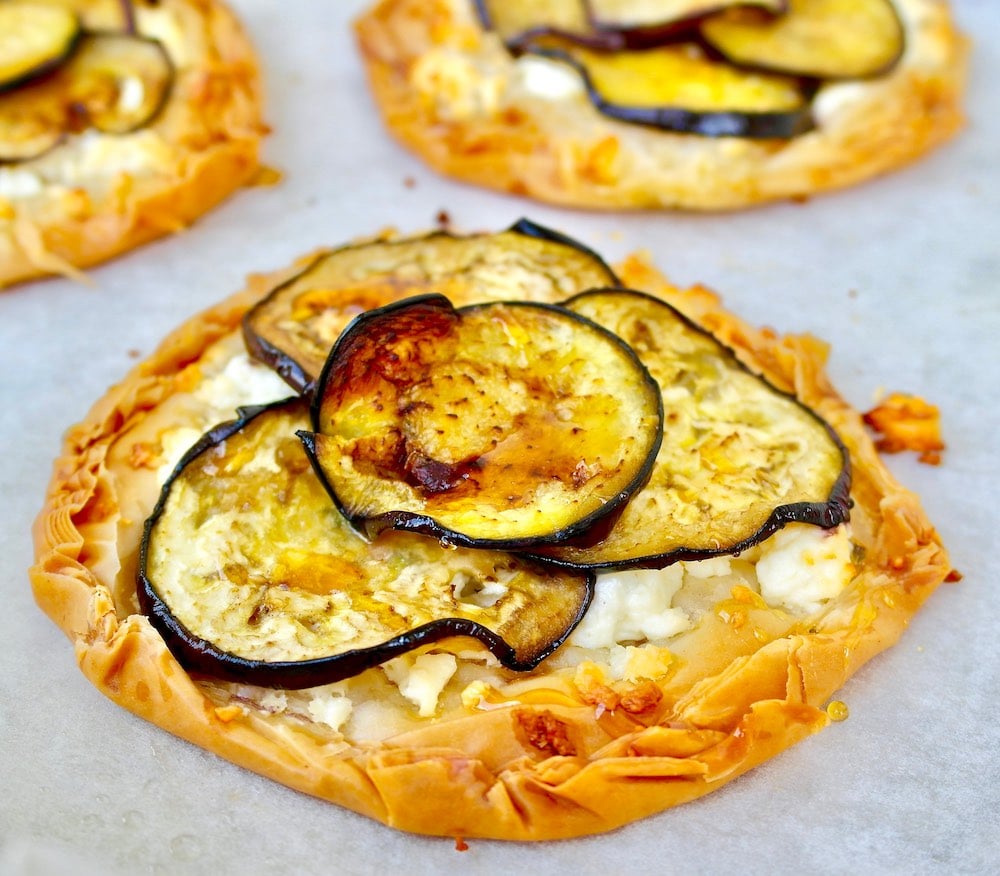 Crunchy layers of phyllo dough are topped with tangy crumbled feta and cooked eggplant, finished with a drizzle of warm honey. This tart was incredibly delicious! The combination of flavors and textures come together for an impressive result. And they are so easy to put together.
Typically, in the Greek kitchen, pies (also known as pites) are closed: phyllo on the top and bottom. This open faced pita recipe was inspired by a recipe that I saw in a french magazine. I do love all sorts of tarts and quiches, but I don't like having all that heavy crust, so using phyllo is a great alternative. And phyllo dough is so forgiving. Don't worry about it looking messy, when it bakes it is just fine. The phyllo crust requires very little effort and is a much healthier replacement for typical puff pastry dough.
To serve: You can cut these eggplant and feta tarts in triangles and serve as an appetizer or serve them whole as a first course or a light lunch along with a salad. You can also make the crust rounds smaller or larger depending on your needs.
Phyllo Dough, The Healthiest Crust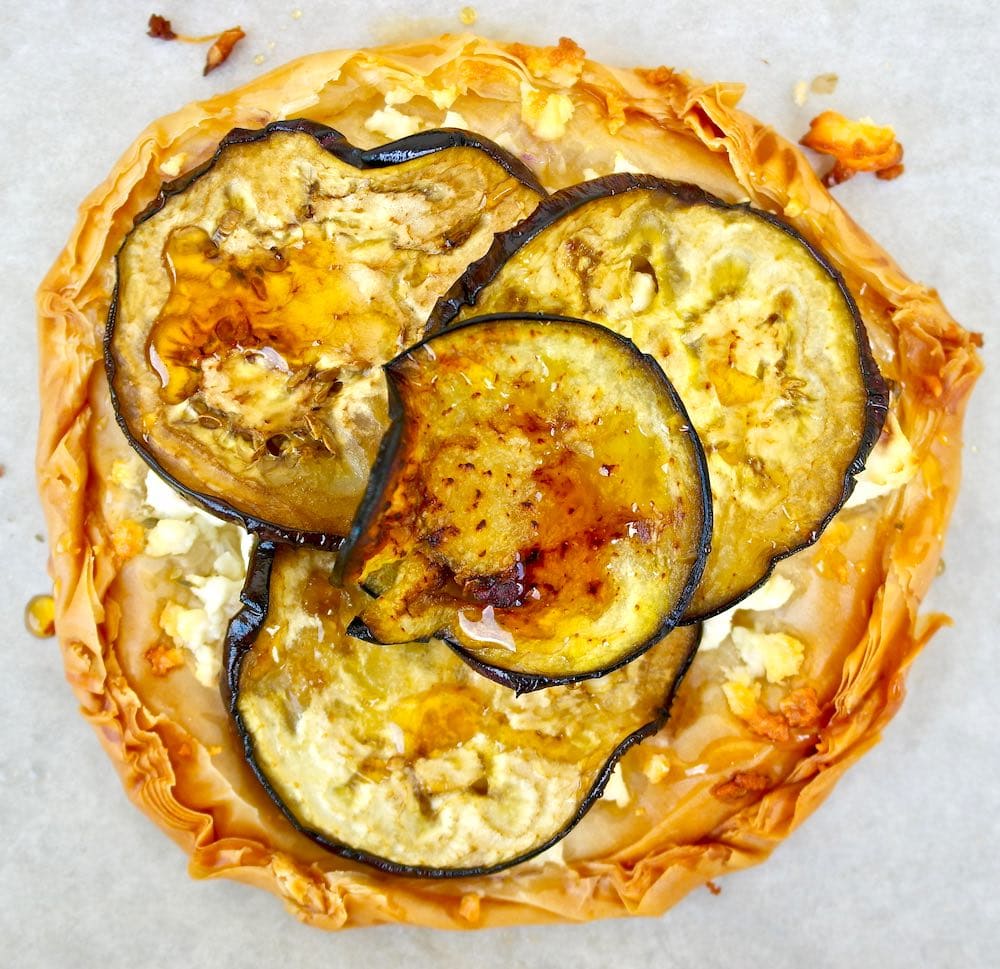 Phyllo dough is considered the healthiest dough you can use. The phyllo I use contains less than 1 gram of fat per 3 ounces (100 grams), generally phyllo you find outside of Greece is about 2-3 grams fat per 100 grams. On the other hand, puff pastry may contain 10-20 times more fat. It is important to note that phyllo dough is not the same as puff pastry. Puff pastry is made with plenty of butter, phyllo is not. Before we move on to the recipe, I'd like to clarify that the word phyllo in Greek, is a general term for all kinds of dough. So for example this type used in this recipe is called phyllo kroustas, which I usually buy, however sometimes I'll make homemade olive oil crust which is also called phyllo. That said, I'm always looking for ways to use phyllo as a replacement for other types of dough that contain more calories, saturated fats and a bunch of other ingredients I would rather not consume. By layering a few of these sheets of phyllo while brushing them or spraying them with olive oil you can make a tart or pie base.
How to Work with Phyllo Dough
If using frozen defrost in the refrigerator and open carefully.
When working with phyllo you want to make sure it does not dry out, so keep it covered with a damp kitchen towel.
Make sure most of the surface of the phyllo is covered with olive oil
Mediterranean Eggplant & Feta tarts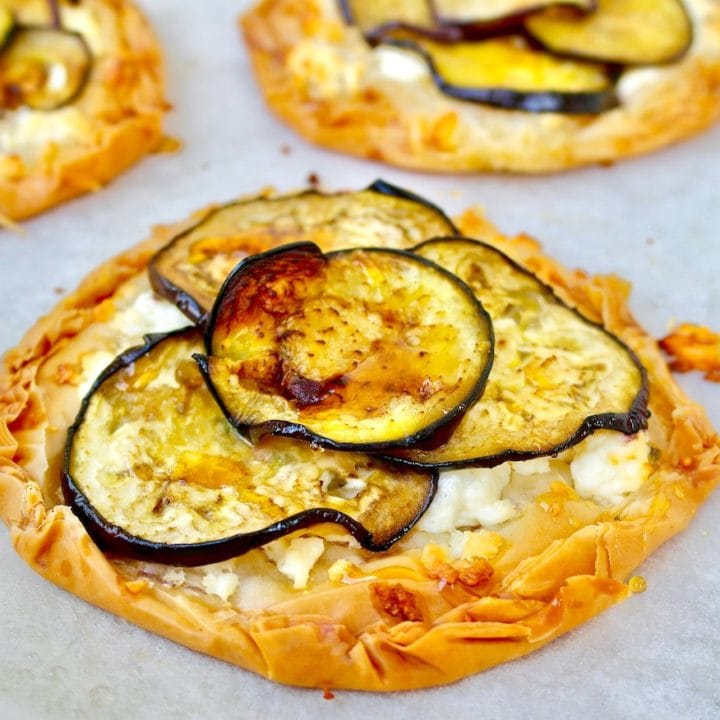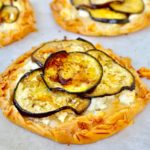 Crunchy layers phyllo dough are topped with tangy crumbled feta and cooked eggplant and finished with a drizzle of warm honey.
Print Recipe
Pin Recipe
Ingredients
14

sheets defrosted phyllo dough

Olive Oil for brushing phyllo + 2 tablespoons for sautéing the eggplant

12

ounces

crumbled feta (350 grams)

2

medium eggplant

2

tablespoons

honey
Instructions
Preheat oven to 350 F (180 degrees C).

Line a pan with parchment paper.

Thinly slice the eggplant.

In a large pan heat the olive oil and sauté the eggplant for 3 minutes carefully, not to smash the eggplant. Remove eggplant from pan and set aside.

On a clean surface lay a sheet of phyllo and brush with olive oil. Layer a total of 7 sheets one on top of each other while brushing with olive oil in between layers.

Now cut a circle into the phyllo (through all the layers) of about 6-7 inches (15 cm) in diameter (I used a bowl for the circle).

Place the phyllo discs on the pan and turn in the outer part to form a little border.

Repeat this for the other 7 phyllo sheets. You should have 6 medium phyllo discs in total.

Sprinkle each dish with about 1-2 tablespoons crumbled feta and then place the eggplant slices on top.

Bake for about 25-30 minutes until phyllo is golden and base of phyllo has hardened.

Remove and let them cool.

When ready to serve, heat the honey for a few seconds and drizzle over the tarts.
DID YOU MAKE THIS RECIPE?
Leave a comment or share on instagram and mention @greekdiet
SAVE FOR LATER AND PIN IT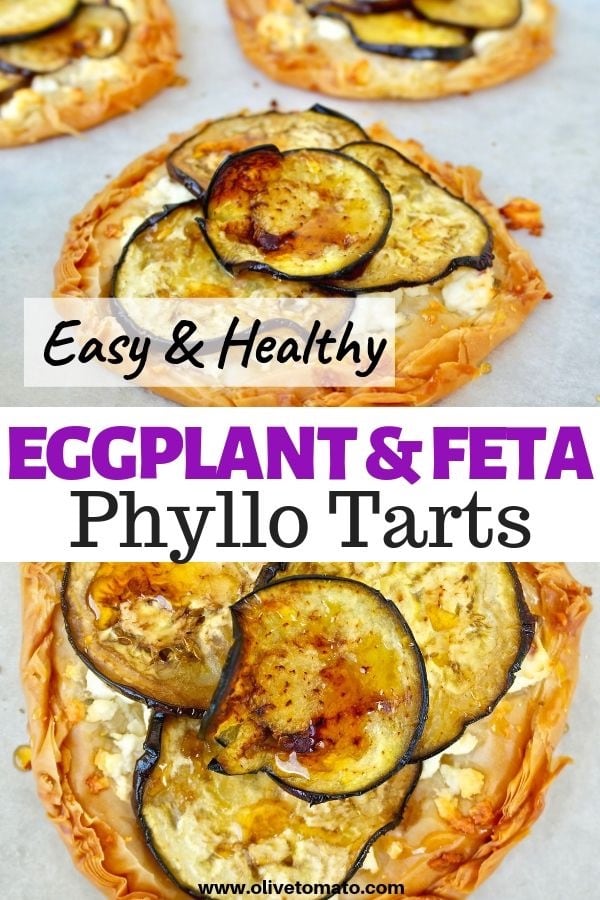 Photos by Elena Paravantes All Rights Reserved