This one-pot traditional Greek chickpea and rice recipe makes a delicious comforting meal and the lemon-tahini takes it to another level.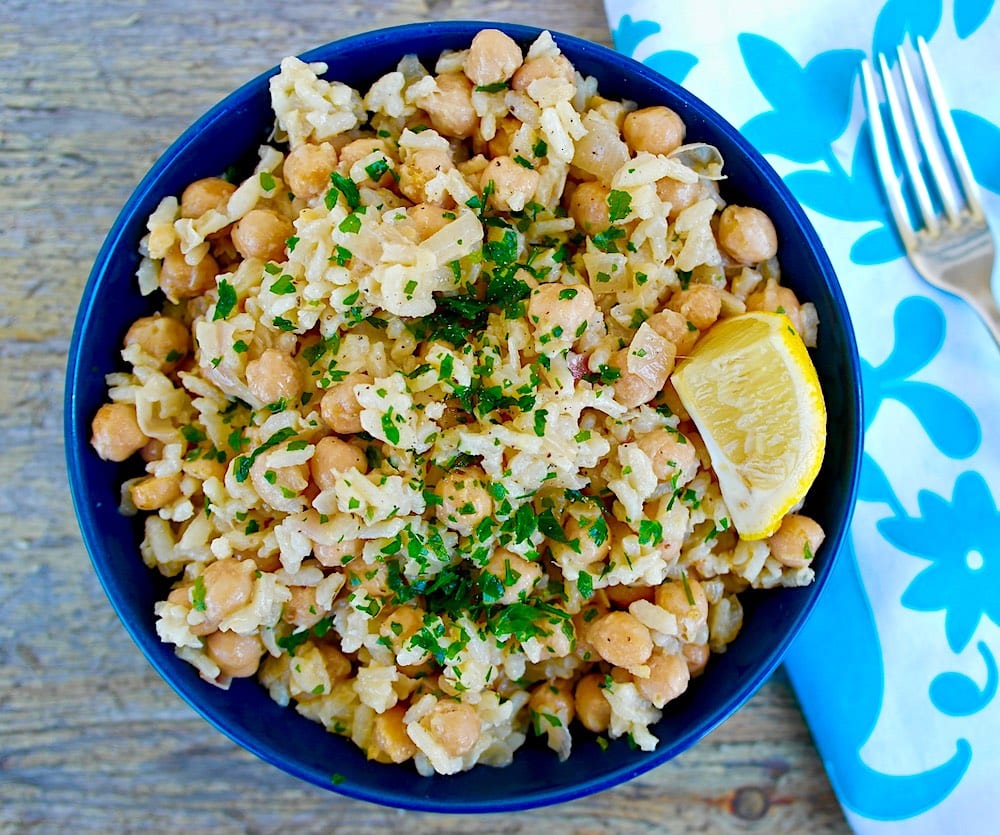 Beans and rice are such a classic combination in so many cultures, hearty, nutritious and comforting. This Greek chickpea and rice recipe is a great example of the essence of Mediterranean cooking.
This specific recipe is inspired by a Greek monastery cookbook. As you may have read here on olivetomato, Greeks traditionally abstained from animal products (with the exception of some shellfish) for over 200 days a year for religious reasons. That meant that Greeks had (have) a wealth of vegan recipes. This practice has been fairly overlooked by researchers even though it played an important role in the health benefits seen with the Mediterranean diet. In fact, many health and nutrition professionals are not even aware of this practice, which is quite important considering that Greeks were almost vegans for over half of the year.
For the very strict fasters, some days you could not even consume olive oil, so for that reason you will see recipes with tahini as a replacement for the oil as is the case in this recipe. I did use olive oil though in this recipe for sautéing the onions.
Tahini and chickpeas are a tried and true pairing (hummus anyone?) and so when I saw this recipe, I thought it would work really nice with a medium grain rice that provides a smooth texture to the whole dish. I loved it! The rice had a creamy texture with the chickpeas blending right in, and the tanginess of the lemon was perfect.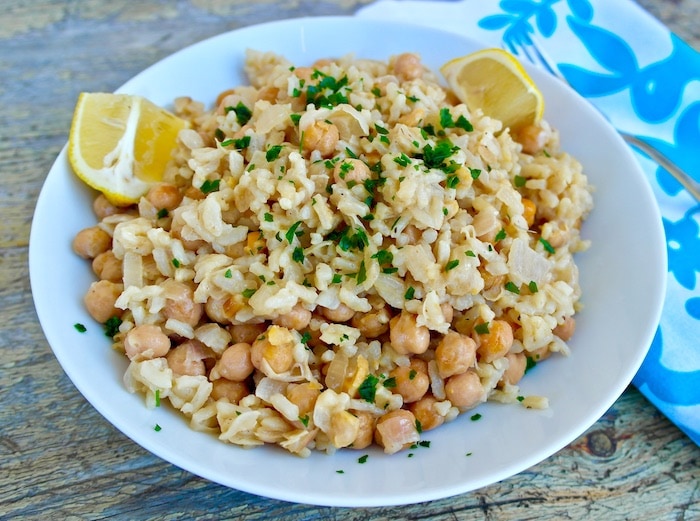 Tahini: Versatile and Healthy
I find tahini very versatile, it's not only for hummus. Blending it with a bit of lemon juice and water you can use it as a spread or a dressing. It is also great with a bit of honey on a slice of whole grain bread or for a savory breakfast with feta and pine nuts. You can use it to make cookies, cakes, add some to your oatmeal or as a sauce for meat. It also has a long shelf life and, nutritionally, it is full of nutrients. Tahini is a great source vitamin E and a good source of iron, calcium and copper. It is a great way to boost the protein content of your meal and it also contains lignans, a group of substances that have antioxidant activity. And yes, it has fat, but the fat is the good fat mostly monounsaturated and polyunsaturated.
Initially, I only made 2 servings and ate one of the servings before the kids came from school (yum). When the kids came home, I gave them a bit to try and they loved it and were quite upset that I had not made enough. So, this will definitely be added to our meal rotation from now on!
You can use both dry or canned chickpeas.
Greek Chickpeas and Rice with Lemon & Tahini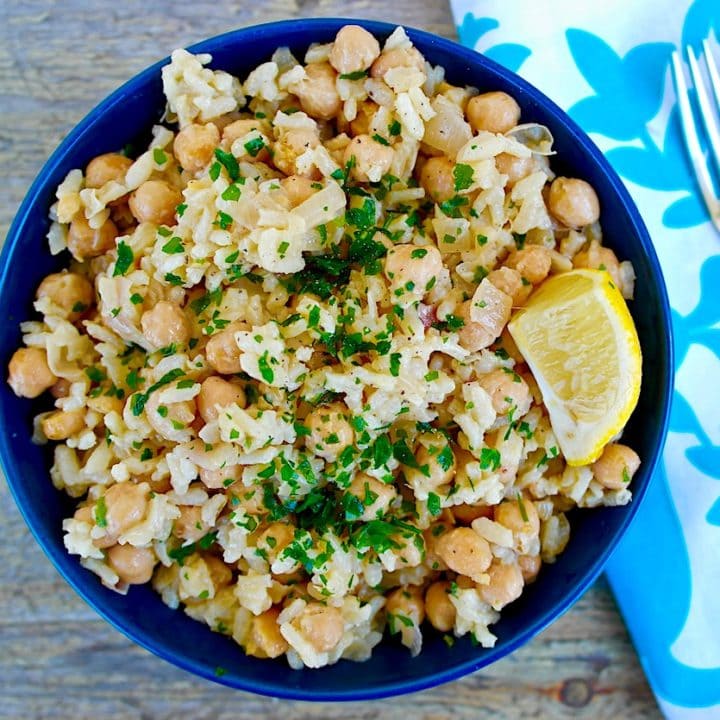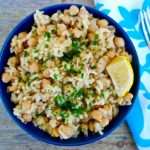 This one-pot traditional Greek chickpeas and rice is a delicious comforting meal and the lemon-tahini takes it to another level.
Print Recipe
Pin Recipe
Ingredients
1 ½

cup

canned or ¾ cup dry chickpeas

1

tablespoon

tahini

Juice from 1 ½ lemons plus more for serving

2

tablespoons

extra virgin olive oil

1

medium onion chopped

1

garlic clove minced

¾

cup

uncooked medium grain rice

½

teaspoon

salt

1

bay leaf

Parsley
Instructions
If using dry chickpeas: soak overnight, next day simmer for 20-40 minutes until cooked but not mushy, drain set aside and save

2

cups of the cooking water.

In a medium pot heat

2

tablespoons of olive oil and sauté onion until soft. Meanwhile in small bowl mix the tahini with the lemon juice and

3-4

tablespoons of water.

Once onion is soft, add garlic and sauté for a minute, then add rice and beans and stir until they are coated in oil.

Add the tahini-lemon mixture, salt, pepper, bay leaf and about

1 1/2

cup of the water leftover from the chickpeas (if cooked from dry, otherwise just regular water) and simmer for about 15-20 minutes, until rice is done, and water has been absorbed. You may add more hot water if needed.

Serve with extra lemon and chopped parsley.
DID YOU MAKE THIS RECIPE?
Leave a comment or share on instagram and mention @greekdiet
SAVE FOR LATER AND PIN IT!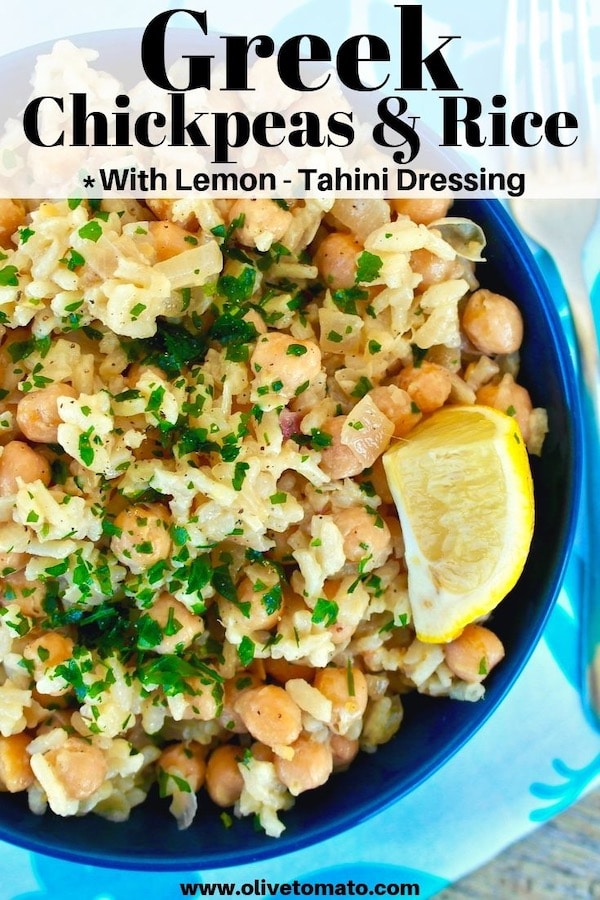 ---
Photos by Elena Paravantes © All Rights Reserved