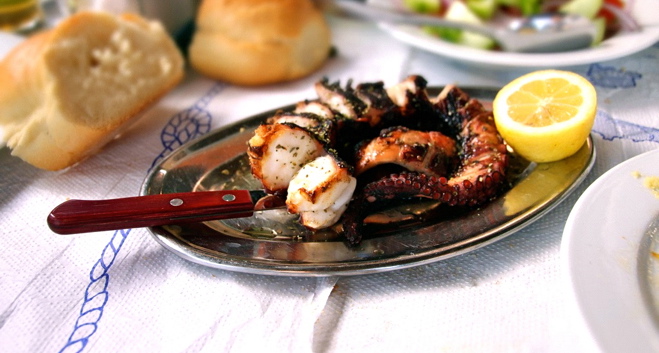 So the Holy Week has begun, known as Megali Evdomada (Big Week) in Greek. Nowadays most people (and kids)  fast only this week. Growing up in the states, we would follow the traditional Greek fasting diet for the week, but there was such variety in the food, that we really didn't notice any difference. Dishes that do not include animal products and adhere to the rules of the fast (called nisteia in Greek) are called nistisima, so for many dishes there was a nistisimo version, for example spinach pie without the feta cheese.
During the week we had pasta, sometimes accompanied with little pieces of cooked octopus in tomato sauce, rice and spinach, green beans or peas ladera (made with tomato and olive oil), lentils cooked with olive oil, Greek potato salad, spanakopita (spinach pie) or leek pie without cheese, taramosalata, skordalia, vegan Greek cookies (koulourakia).
And of course there was the American element; for lunch at school we would have peanut butter and jelly sandwiches, the perfect nistisimo snack: no animal products and combines protein and carbs. Till this day it's one of my favorite sandwiches. Make it healthier by using whole wheat bread and jam with no sugar added.
So what is allowed during a Greek fast?
Following this type of eating, even only for a week a will still provide benefits, so it may be worth a try even if you are not Greek, click here and see why. The rules are pretty simple: no animal products with the exception of animals such as octopus and squid as many believe that these creatures do not have blood. In fact, it has to do more that their blood being blue rather than red, due to the hemocyanin.
Allowed: beans, vegetables, bread, fruit, honey, nut butters, rice…pasta (no egg noodles), cereals, octopus, squid, olive oil, honey, and basically anything that does not contain animal products.
Not Allowed: meat poultry, pork, game, fish, dairy, eggs, butter
Here is a sample menu of what you can eat while fasting.
Breakfast: Slice of whole wheat bread with tahini or peanut butter and a glass of juice
Snack: H piece of pasteli, a honey and sesame bar
Lunch: Rice with beans (Greeks commonly use lentils for this dish, but you can use other types) or rice with spinach or pasta with shrimp
Snack: a few Kalmata olives with bread or bread sticks and some fruit.
Dinner: A large piece of nistisimi spanakopita (spanakopita made without cheese and egg)