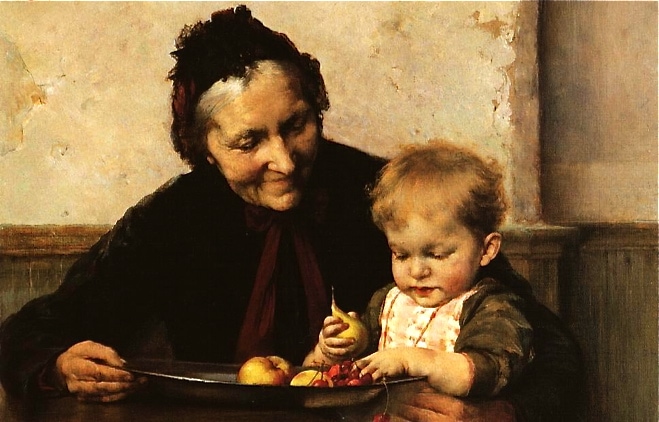 As this is a blog about the Greek diet, it's time we talk about an issue that has been in the headlines lately; the financial situation and child hunger in Greece. What is really going on?
Maria Paravantes, journalist, sociologist and international media consultant clarifies the situation.
As Orthodox Easter approaches all the more media reports are casting the spotlight on Greece, using its economic woes to create stories and many times hype about everything from rising crime and destroyed families to cut funds for science and lack of medications. Add the recent suicide of a Greek pensioner in front of the parliament building and the tragedy begins to take very real dimensions.
One of the issues that attracts attention and yields readership has to do with food or rather lack of. In a country and culture with a cuisine dating back thousands of years, writers, journalists, specialists and all kinds of pundits have spoken up about the "starving children" of Greece who are at best fainting in grade schools across the country or in the worst case scenarios rummaging through the garbage in efforts of find an edible scrap for their swollen tummies. Indeed these Dickensian characters do work wonders in arousing pity among the respected readers of the world, (as well as keeping away potential visitors), but they all have one thing in common: the thread between reality and sensationalism is extremely thin… so thin that all perspective is lost. A blaring example of intentional and selective misreporting? A recent UNICEF report "cited" throughout the press, who chose to claim that there are over 400,000 hungry children in Greece.
It is without a doubt that there are people (and children) in Greece, as there are in every country of this world, who are suffering. According to UNICEF's findings (this very same report), newspapers inexplicably "forgot" to report on the fact that Europe's "powerhouses", the EU's richest states – France and Germany (yes, you read correctly) – demonstrate the highest increases in child poverty rates, while that of Greece remains steady since 1995. Where was this piece of information? Lost in translation?
Using buzzwords (and SEO- friendly terms) such as "poverty stricken", "starving", "humanitarian crisis", "famine", "abandonment" etc does more than describe the real situation, it misleads and instills social behavior.
A phrase I remember hearing in my childhood days from my grandparents and today by my neighbors and friends is closer to home: "panta tha yparhei ena piato fai" (there will always be a plate of food). This is closer to Greece's current reality than the "humanitarian crisis" so vividly and frequently described. In the villages and small communities across the country there is always someone willing to offer a plate of food to his neighbor or even a stranger, whether this is a family, a shop owner, a priest or even an unguarded orange orchard or olive grove. Only recently I admired a middle-aged couple that was picking olives off a "public" tree in my central Athens neighborhood. This would never be possible in the US or Brussels, for instance. This simplicity and compassion is what made Greece so different compared to other European cultures, and has kept Greeks alive in terribly trying times.
Yes, there may be hunger and there may be published figures and statistics but these numbers – isolated from the whole – fail to focus (and mention) on other factors such as the fact that many of the people at "poverty level" are illegal immigrants, 400 of which enter Greece's borders a day, without work, without papers, without health standards, without a place to live. Many of these statistics – or should I say journalists, reporters, specialists – fail to correlate (the true essence of sociology) factors such as negligence and ignorance, and immediately rush to misleading and sensationalist public assumptions. In my days as a sociology student, I remember my professors' insistence on one thing: correlation – for a truer, more objective conclusion.
I will use the words of highly respected psychologist and therapist Father Filotheos, who at 82 has the following word of advice:
"To live man needs very few things. Only recently I was at the central market and was asked by a journalist what I had shopped, whether there was a difference in prices compared to last year and how the crisis had affected me. I said: 'Look, I bought half kilo of carrots, half kilo of celery, two-three potatoes, and two zucchini with which I will cook up a wonderful soup for four. Healthy, tasty and it cost me 3 euros."
Early last week, Father Filotheos referred to the traditional Greek cuisine full of pulses, fish and vegetables. This very cuisine, known as the Mediterranean Diet, has not only nourished the people of this country for centuries, it has been lauded for its health benefits and today cooked across the globe as a back-to-health choice.
So are we really speaking of starvation, or rather of ignorance, negligence or simple indolence? Greece still has among the lowest prices in fruits and vegetables in Europe. If one goes to the central Varvakeios market or even to the neighborhood street markets at the end of the day, most of the produce and fish are half price. You can easily feed a family of four with anchovies, sardines or "gopes" (bogue fish). You can offer a complete and nutritionally balanced breakfast – egg, glass of milk and an orange – to your child for less than a euro: the price of a nutrition-less, sugar-filled packaged croissant (which much to our surprise was being distributed at schools for breakfast!).
So perhaps it's about time we got things straight. Yes, there are poor people in Greece. And the numbers are bound to grow, as Greece becomes more a part of the Western world and its individualist over-consuming reality. But hunger and starvation are for the time being extreme terms used to describe natural social phenomena, which should be seen in a spherical light and not as isolated instances. This not only makes for good reporting and objective analyzing but is the only way to find light at the end of the tunnel.
Maria Paravantes is a journalist, writer, sociologist and international media consultant for over 20 years. She is the past advisor on Foreign Press to the Greek Minister of Foreign Affairs and to the Mayor of Athens. You can check out her latest project The Greek Vibe a site that specializes in Greek Music.
Photo Credit: Painting, Giorgos Iakovidis "Η αγαπημένη της γιαγιάς" (H agapimeni tis yiayias), 1893