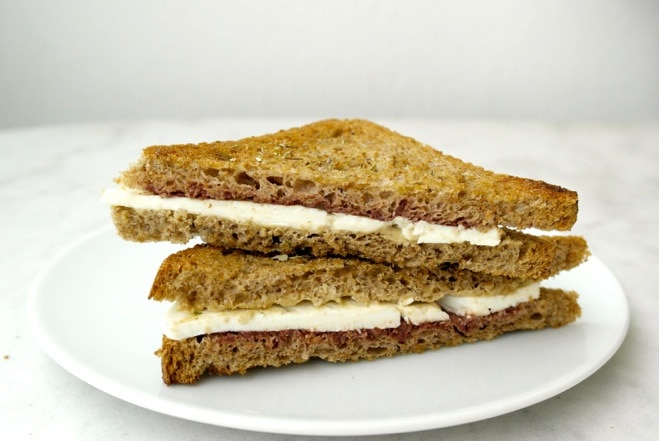 Last Thursday was what we call Tsiknopempti (rough translation smoking Thursday) which basically celebrates the beginning of Mardi gras or as it is called in Greece apokria. Apokria actually means "away from meat" as the word carnaval. The real meaning of Tsiknopempti is that it is supposedly the last day before Easter one can eat meat, after that you can still eat dairy until Clean Monday (Kathara Deftera) which is the official start of Greek Orthodox lent and the beginning of the 40 day fast where most animal products are not allowed (see here for what is allowed during Greek Orthodox fast).
With that in mind, I made this Greek style grill cheese. Feta cheese, tahini (sesame seed paste), kalamata olive tapenade , olive oil and oregano all on whole wheat bread. There is no meat but provides a good amount of protein, I grilled it under the grill in a mini oven I use, for a few minutes and it is perfection.
Apart from the taste, you have all the good fats from the tahini, olive oil and tapenade, plus the protein from the tahini and feta. And this can work well for vegans ( or if you are doing the Greek fast), just switch the feta for some vegetables. Look for tahini that is only made with sesame seeds and there are no other ingredients in it.
Greek Style Grilled cheese Sandwich with Feta and Tahini
INGREDIENTS
2 slices of whole wheat bread
1 teaspoon tahini
½ teaspoon lemon juice
½ teaspoon olive tapenade
1 to 1 ½ ounce feta cheese sliced thinly
A pinch of oregano
Olive oil
DIRECTIONS
1. Brush each slice of bread with olive oil. I've been using an olive mister instead of a brush and it works great.
2. Mix the tahini with lemon juice
3. Take one slice of bread and spread the tahini. Then layer on the feta.
4. Take the other slice of bread and spread the tapenade and close the sandwich.
5. Turn on your grill in the oven and bake under grill for about 2 minutes on each side until golden.
6. Remove from oven and sprinkle with some oregano.
Serve warm
Photo by Elena Paravantes