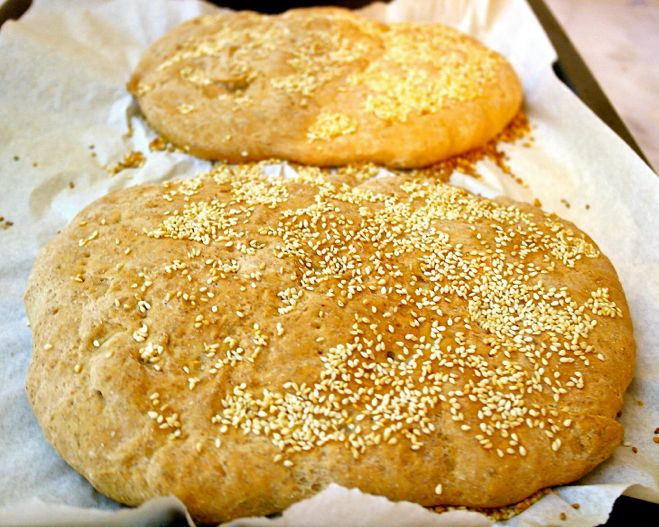 Lagana is a type of flatbread that is eaten in Greece only on Clean Monday (Kathara Deftera). This particular Monday is basically the first day of lent for the Greek Orthodox religion. Nutritionally it is important because it marks the beginning of the 40-day fast, which ends on Easter. It is called "clean" because it was considered a day of cleansing oneself (spiritually) and preparing for the fasting and the mourning. People ate plain fish roe (taramas), bread, beans (without olive oil) and other vegetables.
Apart from that may go to park or to the countryside, fly kites and dance while enjoying these vegan dishes (with the exception of seafood). Today we eat taramosalata (fish roe dip made with olive oil and bread) instead of just plain tarama, olives, lagana (bread), shellfish, octopus and halva. The practice of going to the countryside and celebrating is called Koulouma and it's a relatively recent tradition.
I have shared in other posts how to make the delicious and addictive taramosalata (fish roe dip), go here for a regular version and here for the whole wheat version, and today I am sharing a simple recipe on how to make lagana. Lagana is an unleavened flatbread that is consumed only on this day. Normally it does not contain any yeast, although nowadays most recipes you find do contain yeast. Many recipes include sugar, olive oil, olives etc, but the original one was really just flour, water and sesame seeds. This version contains a small amount of yeast but otherwise it is pretty basic and simple. I also used half whole wheat flour which gives it that heartier taste and extra fiber. You may notice that some laganes are golden, this may be due to the fact that in some recipes they use a yellow type of flower that is made from a specific type of wheat variety. You can use all purpose flour and it will be fine.
This bread is usually consumed with olives and taramosalata. Now, I have to be honest, I can eat a whole loaf and make it a complete meal just by dipping it in the taramosalata and washing it down with some crisp white wine of course!
In Greece this bread is sold at all the bakeries, but if you are not in Greece this recipe can work very well. It does not require a lot of time, and it is really easy.
Whole Wheat Greek Flatbread-Lagana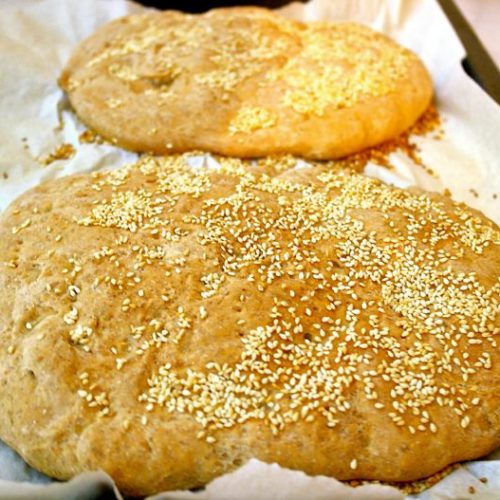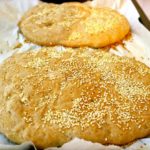 Crusty Greek unleavened flatbread (Lagana) ready in less than 2 hours. Enjoy the wholewheat version for some extra fiber.
Print Recipe
Pin Recipe
Ingredients
5

cups

flour (I used 2 ½ regular and 2 ½ c. whole wheat)

1

teaspoon

salt

½

ounce

dry yeast

1 ¼

cup

warm water (around 100 degrees Fahrenheit or 40 degrees Celsius)

Sesame seeds

Some olive oil
Instructions
In a large bowl or your mixer bowl blend the flours.

Mix the yeast in the warm water until dissolved

Add the yeast water to the flour. Than add the salt.

Knead the dough until it is somewhat elastic and can be rolled into a ball, it should unstick from the sides of the bowl. I used my regular mixer with the dough hook un low.

Cover the dough ball with plastic wrap and let it sit in a warm place until it doubles in size (this should take about 45 minutes-1 hour). I heated my oven at 80 degrees Fahrenheit (30 degrees Celsius) and put the dough there.

In the meantime take a big pan, cover it with wax paper and brush some olive oil on it.

Once it is ready, take the dough separate in two balls and flatten out on the pan in an oval shape. Wet your fingers and poke the dough so there are indentations. Sprinkle with sesame seeds.

Bake in the oven at 375 degrees Fahrenheit (190 degrees Celsius) for about 40 minutes.
DID YOU MAKE THIS RECIPE?
Leave a comment or share on instagram and mention @greekdiet
Photo by Elena Paravantes All Rights Reserved