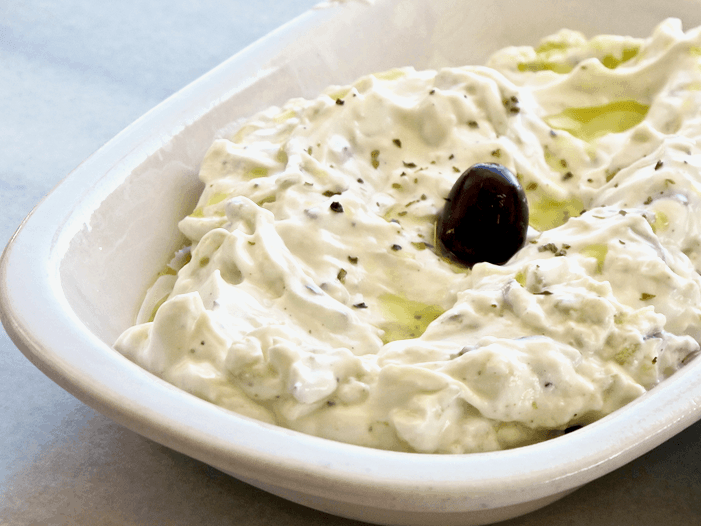 Tzatziki, the yogurt garlic dip is a favorite at Greek tavernas and restaurants. Greeks usually eat it with bread and it's used for the famous souvlaki in a pita. If I have to be honest, it goes really well with fried zucchini and eggplant slices, obviously something to enjoy occasionally. But tzatziki is really versatile. You can use it as a dip, in a sandwich and as a sauce with meat.
While many people associate tzatziki with the unhealthy gyro sandwich or souvlaki, it's actually very healthy and an antioxidant powerhouse. The garlic, olive oil and lemon juice are great sources of antioxidants and the yogurt is a good source of protein, calcium and has some of that friendly bacteria for your belly.
The Authentic Recipe
Now I need to clarify that the original tzatziki is pretty strong. I've seen recipes with very little garlic, and while less garlic may be less potent for some people, it is not the original. Also it does not contain sour cream as I've seen in several recipes, actually you can't even find sour cream in Greece. Also it is not tzatziki if it contains avocado or cayenne pepper, yes I've seen that as well.
Having said all this, there are times that a very garlicky tzatziki may be too much. If you are going to use it as an appetizer it may overpower the main course. In that case you can make an alternative lighter version.
I find it makes a great dip for carrot sticks, celery sticks, raw zucchini strips and cherry tomatoes. Perfect for an appetizer or snack.
So here is the original version that I have from 2 traditional Greek cookbooks (Tselementes and Hrysa Paradisi)
Authentic Tzatziki - Greek Garlic Yogurt Dip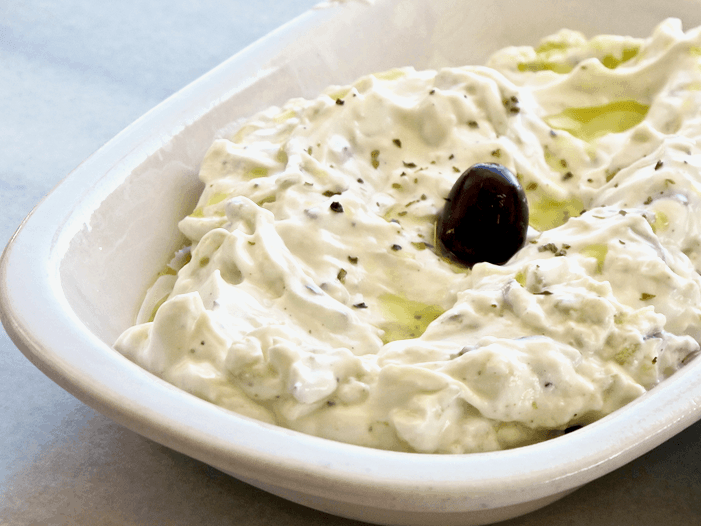 Ingredients
8 ounces full fat Greek yogurt
2 garlic cloves
Salt
1-2 tablespoons vinegar or lemon juice (use real lemon)
2 tablespoons olive oil
1 medium cucumber (5-6 inches)
Fresh dill
Instructions
Crush the garlic with a little bit of salt and pepper.
Peel the cucumber and grate. Squeeze well to get rid of water.
Whip the yogurt in a bowl and then add the garlic paste, mixing well and then add the cucumber and mix again.
Start adding small amounts of olive oil alternating with the vinegar while mixing.
Add about 2 teaspoons fresh dill and mix well.
Let it sit for about an hour in the refrigerator before serving.
Notes
Obviously if you want to make this lighter and less intense you can use non-fat Greek yogurt, add only 1 garlic clove and 1 tablespoon olive oil, but keep the same amounts of cucumber and dill. This will save you about 20 calories per 2 tablespoons. Regular tzatziki is about 60 calories per 2 tablespoons, while this lighter version has about 40 calories.
Photo Credit: Wendy for flickr