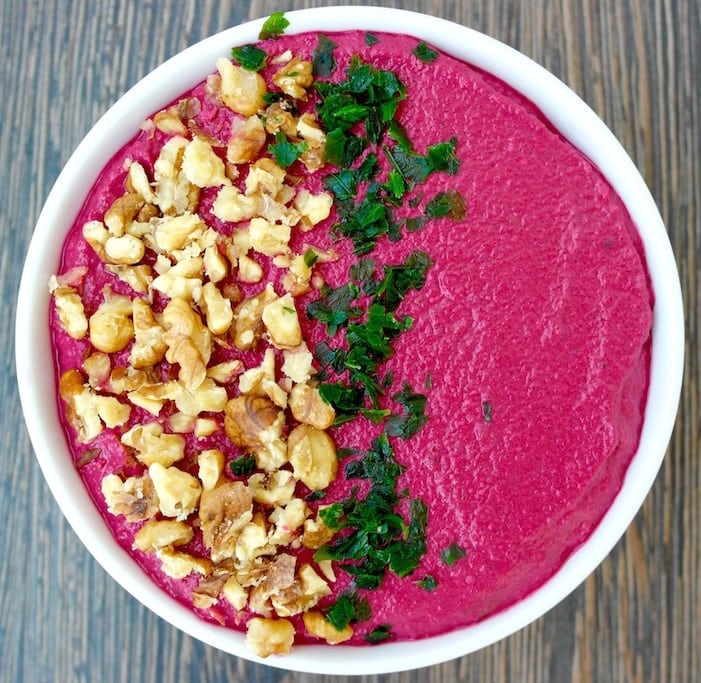 Ah… hummus, a popular dip that you can feel good about! Addictive and so healthy. Many people mistakenly think it is also Greek, unfortunately it is not, it is a Middle Eastern recipe that exemplifies the qualities of mediterranean cuisine wonderfully and fits right in with the mediterranean diet.
While the original hummus is made with chickpeas, making it a great way to get beans in the diet, there has been a movement towards other types of hummus, although technically they are not hummus if they do not contain chickpeas, since the word hummus means chickpea in arabic. These other hummus-like dips are also tasty and interesting, made with other beans or even carrots, cucumber and edamame.
For this one hummus-like recipe, I used beets as well as tahini and walnuts, there are no chickpeas. The beets provide a sweetness to the dip, but also several antioxidants such as betaine and betalain that can protect from heart disease and have anti-inflammatory properties. Tahini and walnuts are great sources of the hard-to-get omega-3 fatty acids and of course you have the addition of olive oil with its polyphenols as well as lemon juice, garlic and cumin also rich in antioxidants. I also want to add that this particular recipe uses less olive oil than your typical hummus recipes, so that saves a few calories, if you are worried about that. The result is delicious without being heavy and tastes best after being in the refrigerator for a few hours. We literally wiped the bowl clean.
Now this is what I call a nutritional powerhouse! To make it even better, serve it with carrot sticks, cucumber rounds and some whole wheat breadsticks or crackers or my favorite mini Cretan barley rusks.
Classic Basil Pesto
Nothing beats the flavor of a good pesto. The herby fresh flavor along with the richness and saltiness of the cheese makes it irresistible!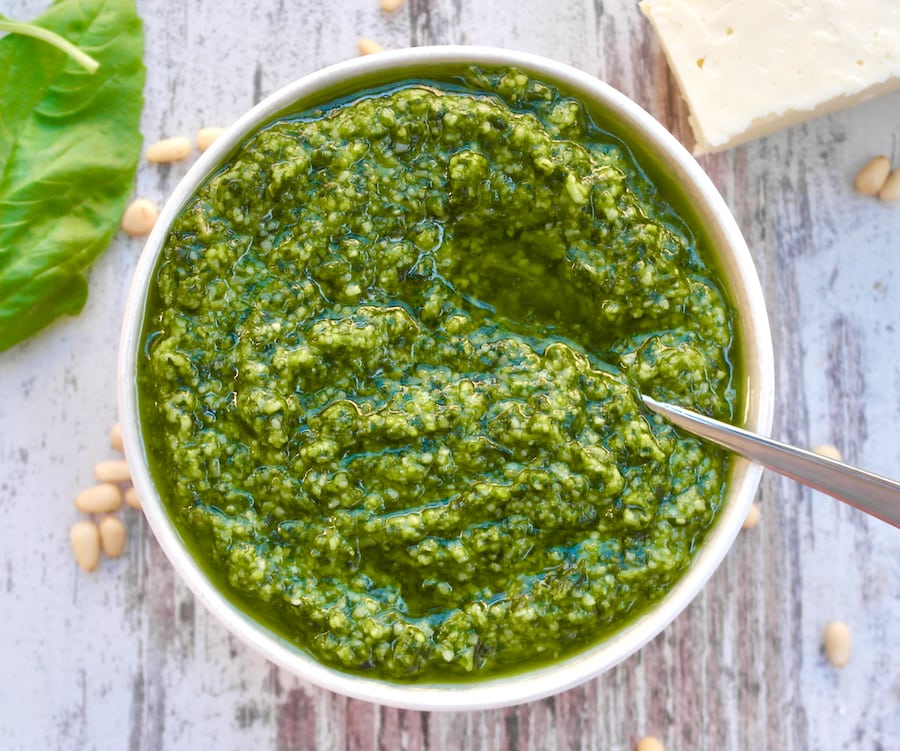 Basil pesto is such a wonderful combination of flavors: aromatic basil along with salty cheese and garlic all come together with a good dose of olive oil. And homemade pesto tastes so much better than the store bought kind!
This recipe is based on the traditional Genoese recipe (pesto alla Genovese), the only difference is that it is not made using a mortar and a pestle. The classic pesto recipe is made with basil, olive oil, pine nuts, parmesan and pecorino cheese. You may see substitutions in other recipes out there but then it would not be a true pesto alla genovese.
Is Pesto Good For You?
Pesto is made mainly from antioxidant rich foods, this includes extra virgin olive oil, basil, pine nuts and garlic. In addition you get all the good fats from olive oil and the pine nuts. The cheese is a source of protein, but also some extra fat and salt. It is important to note though since it is so flavorful, a little goes a long way. You only need a couple of tablespoons to flavor a bowl of pasta. It is also great as a dip with vegetables. And when you compare it to typical mayo rich dips or creamy white sauces pesto is definitely healthier.
Classic Basil Pesto Ingredients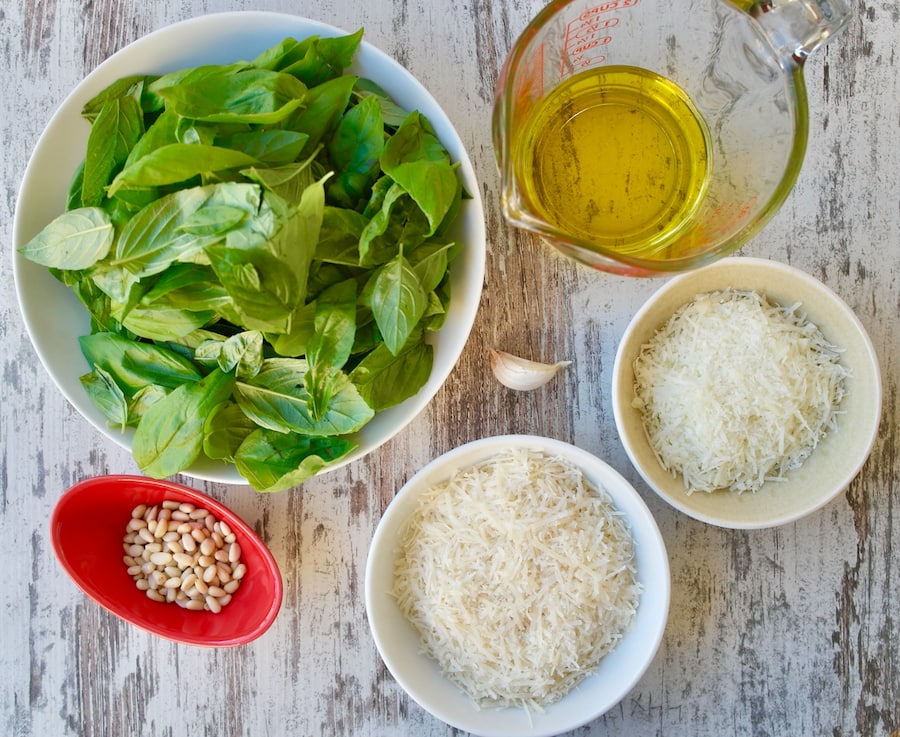 Basil: You want to use sweet or Genovese basil. Do not use the smaller basil, (it is very common in Greece) as it will be too "spicy" and overwhelm the sauce.
Olive oil: Use the best and the freshest extra virgin olive oil you can find. An old (and/or rancid) or flavorless olive oil will ruin the sauce.
Pine nuts: Although some recipes suggest that you can use other nuts (you can) pine nuts really provide a characteristic nutty/buttery flavor we are looking for in the authentic recipe.
Cheese: The authentic Genovese pesto contains 2 cheeses parmesan and pecorino romano or sardo
Garlic: You may remove the germ from the center of the garlic clove to make it less pungent.
Secrets to Making the Best Pesto with a Food Processor
Yes, this is made in a food processor, you don't just throw all the ingredients in there all at once and mix. Rather you want to make sure everything is blended but not over blended as that will affect flavor (overheating can make it bitter), affect the color (bruising the basil leaves darkens them) and the texture (pesto should be somewhat grainy not super smooth).
To avoid overheating you can also place the food processor bowl and blades in the refrigerator for an hour before.
How to Make Classic Basil Pesto
Weigh your basil leaves and the cheese. Providing weight rather than cups is the most precise way to measure the amount of the ingredients. For the basil make sure you remove the stem, only use the leaves. Wash the basil leaves and dry them very well by placing them on paper towels. For the cheese I recommend weighing as well because the grating of the cheese can affect the volume.
Crush the garlic and place it in the food processor along with a pinch coarse salt, half of the basil and 1 tbsp of olive oil. Blend at a low speed and pulse rather than continuously mixing at high speed. This avoids overheating which can make the pesto bitter.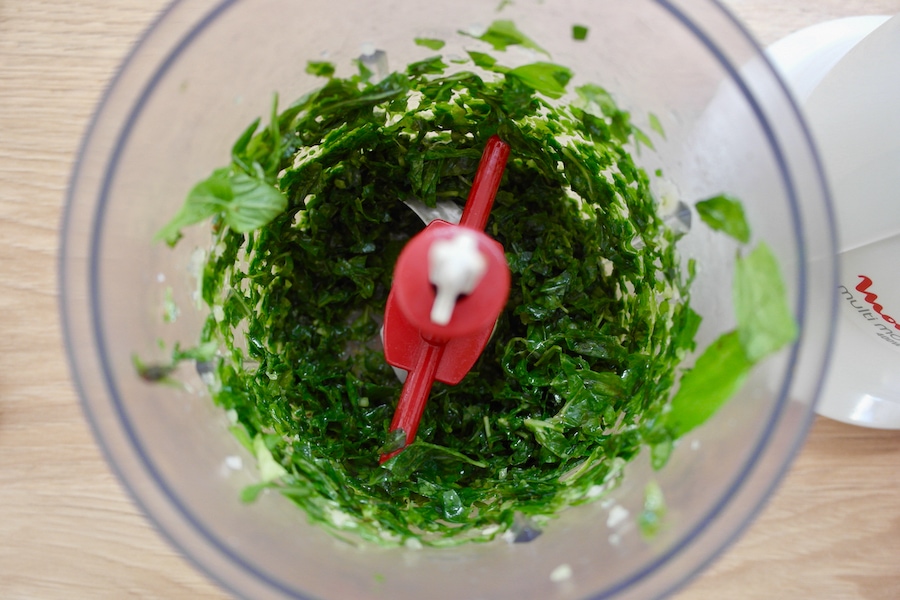 Crush the garlic and place it in the food processor along with a pinch coarse salt, half of the basil and 1 tbsp of olive oil. Blend at a low speed and pulse rather than continuously mixing at high speed. This avoids overheating which can make the pesto bitter.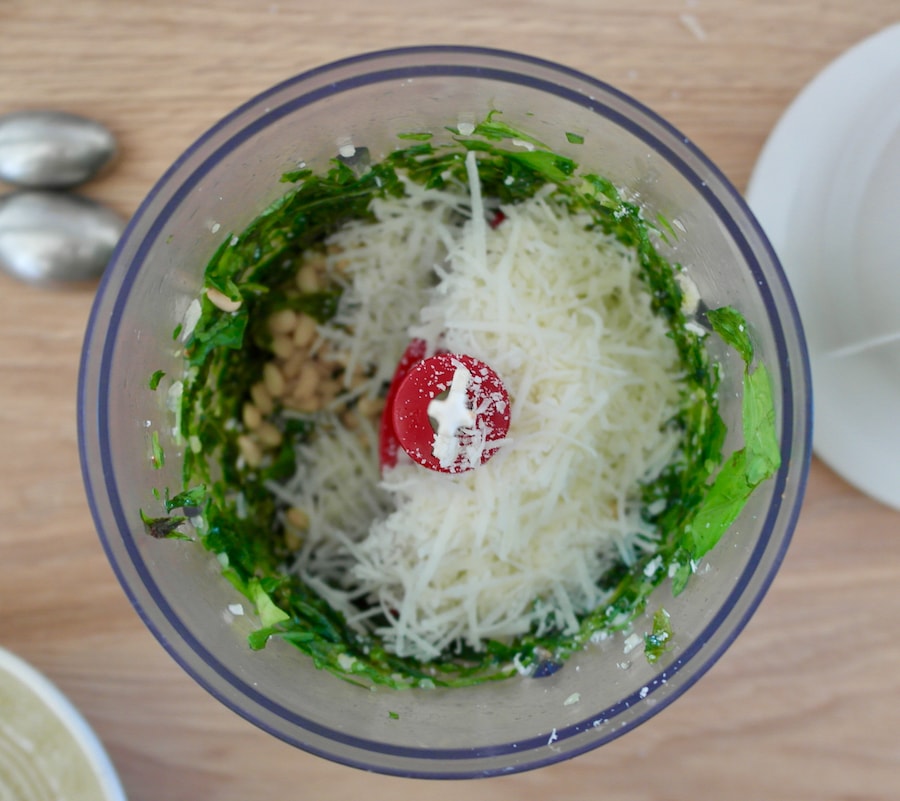 Add the rest of basil and continue pulsing for a few seconds. Then add the pine nuts, Parmesan, pecorino and 3 tbsp olive oil.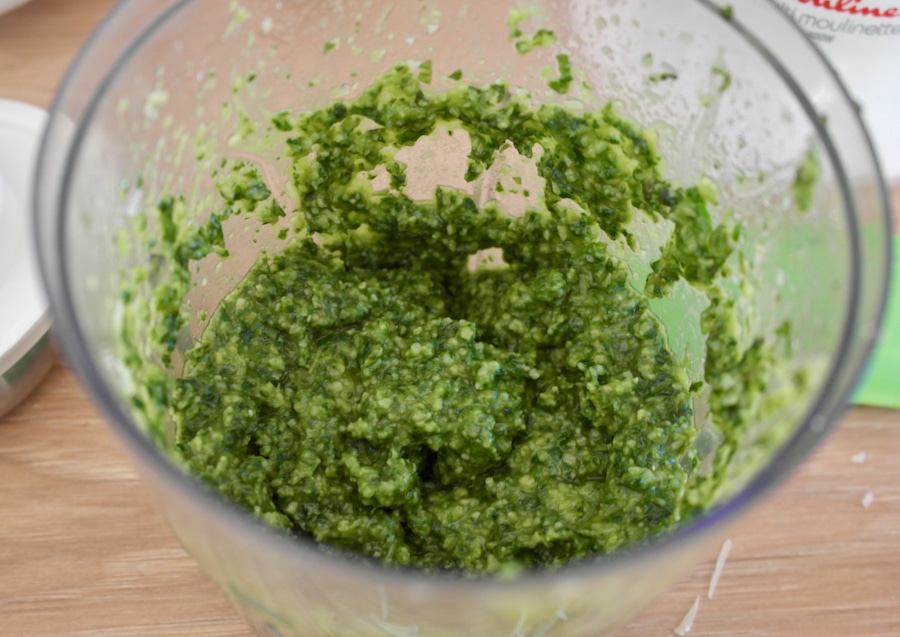 Mix again intermittently, until everything is well blended and somewhat smooth with a bit of graininess.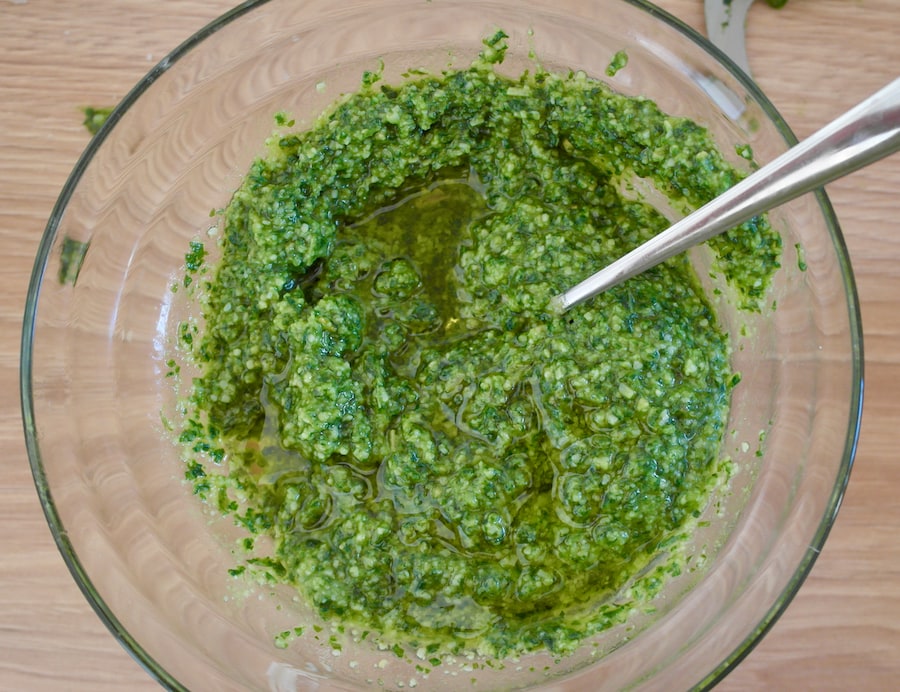 Empty the pesto into a bowl and dilute it by adding 1 tablespoon olive oil , little by little until you have a soft texture.
Storing and Freezing Pesto
Place the pesto on an airtight jar covering the sauce with a layer of olive oil and refrigerate for up to 3 days.
You can freeze pesto by placing single portions (about ¼ cup) on a sheet of plastic wrap. Wrap and then wrap again with another sheet of plastic wrap. Store in the freezer for up to 3 months. Thaw at room temperature.
What To Eat with Pesto
Pesto truly goes with everything, here are my favorite ways:
With pasta (of course!). Just mix the pesto with your favorite pasta and a bit of fresh ground pepper.
As a dip. Serve with carrot sticks, celery, cucumber, cherry tomatoes and breadsticks.
As a spread in a sandwich.
On pizza
As a sauce with chicken
As a topping for potatoes
In a tomato salad
Want More Mediterranean Diet Recipes and a 14 Day Meal Plan? My Cookbook is here! Get your copy! >>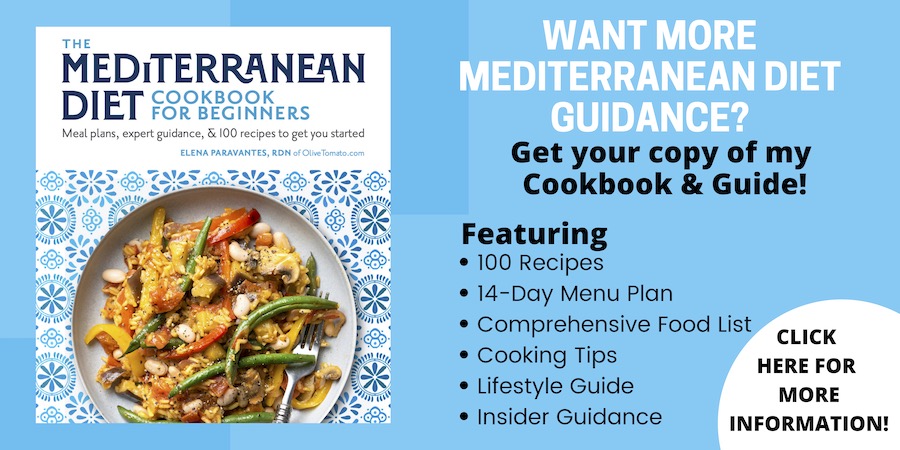 Beet and Walnut Hummus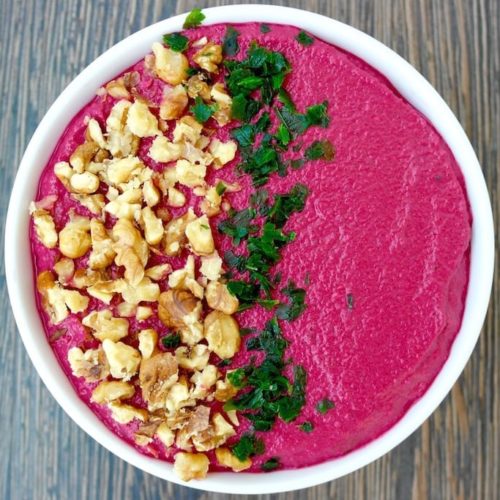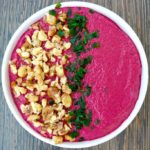 Gorgeous, creamy and healthy hummus with beets and walnuts.
Print Recipe
Pin Recipe
Ingredients
½

pound

boiled or roasted beets

3

tablespoons

lemon juice

2 ½

teaspoons

balsamic vinegar

3

tablespoons

tahini

½

teaspoon

ground cumin

½

garlic clove minced

1 ½

tablespoon

olive oil

Chopped parsley for garnish

Salt and pepper to taste
Instructions
Add all the ingredients except the olive oil and parsley in a food processor. Blend well until smooth.

Slowly add the olive oil and blend. Taste and add salt and pepper as needed.

When ready to serve, sprinkle with chopped walnuts and parsley. You can also drizzle some additional olive oil.
Notes
If you have time, cover and refrigerate for at least an hour before serving.
DID YOU MAKE THIS RECIPE?
Leave a comment or share on instagram and mention @greekdiet
Photo by Elena Paravantes