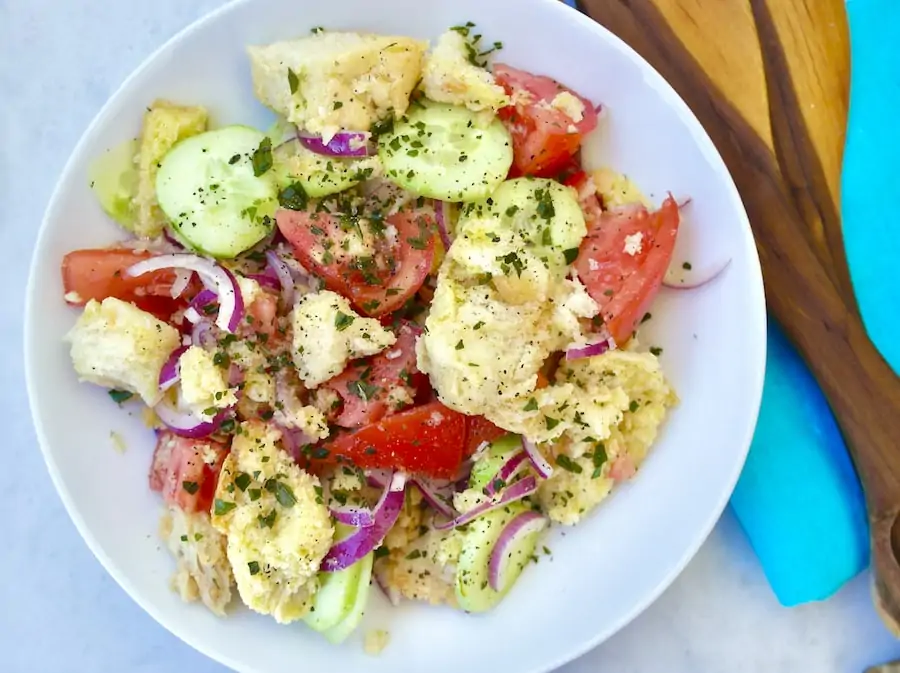 During the summer I'm always on the hunt for good tomatoes. I guess I'm just trying to recreate the experience of the tomatoes I once had on a Greek beach when I was 10. We just had them plain with a sprinkle of salt and some bread. That's it, that was our lunch that day. But they were so flavorful, and we were so hungry after playing and swimming all morning, it was perfect.With that lunch in mind, I made Panzanella, known as Tuscan bread salad which at its most basic form is tomato and bread. It reminds a bit of the Cretan dakos which also soaks the rusk in water and is served with tomato and olive oil. As with all traditional cuisines, there are so many ways of using everything and not throwing food away, such as stale bread and this Panzanella recipe makes it taste so good.
Since this is such a simple recipe, it is important that you use the best tomatoes and the best olive oil you can get your hands on. Also, in the classic version the bread is not in crouton form, you do not actually use croutons but very stale bread that has been soaked in water. You may think it might be too mushy, but actually it is a wonderful texture especially the next day.
I only added onion, tomato, and cucumber but you can add other ingredients such as capers and anchovies.
This is another great way to enjoy tomatoes and cucumbers in the summer. Panzanella is a perfect salad to share, although we enjoyed it as a main course for a light dinner.
Panzanella – Tuscan Tomato and Bread Salad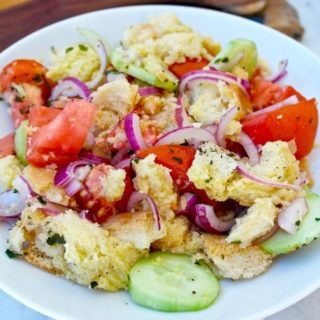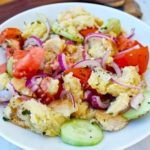 Popular and easy and delicious Italian bread and tomato salad is perfect for summer meals.
Print Recipe
Pin Recipe
Ingredients
1

small onion sliced thinly

4

slices

stale bread -bread should be hard and dense- sliced in cubes

1

large tomato chopped in bite size pieces

1

small cucumber sliced

1

tablespoon

olive oil plus more for drizzling

A handful of chopped fresh basil

salt/pepper to taste
Instructions
Soak the sliced onion in a small bowl of water and 1-2 tablespoons vinegar. Set aside. (This is especially helpful for people who cannot tolerate raw onion well-like me)

Prepare in another larger bowl a mixture of 1 part vinegar and 4 parts water. Soak the bread for a few minutes and then place in colander. Squeeze out the water carefully. Place the bread in large bowl.

Add the tomato, the onion (remove from water first), cucumber and basil. Add 1 tablespoon of olive oil and salt and pepper to taste and mix carefully.

Cover and refrigerate for at least an hour.

Drizzle with olive oil right before serving.
DID YOU MAKE THIS RECIPE?
Leave a comment or share on instagram and mention @greekdiet