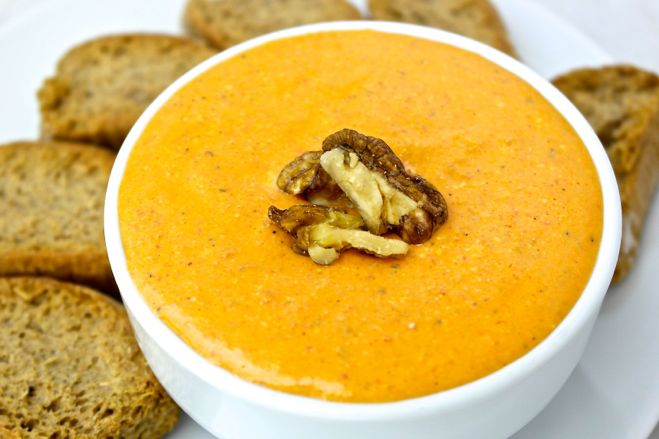 A new study from English researchers published in the British Medical Journal Open, showed that people who consumed 5 or more servings of fruit and vegetables experienced a higher level of mental well-being. According to researchers, high mental well-being is more than the absence of symptoms or illness; it is a state in which people feel good and function well. Optimism, happiness, self-esteem, resilience and good relationships with others are all part of this state.
While it doesn't mean that eating more fruit and vegetables will automatically make this happen, it can contribute to feeling better mentally and physically. Previous studies have shown that consumption of junk food is associated with higher rates of depressive symptoms.
So how can you get 5 servings of fruit and vegetables in a day? Easy. Just follow a Greek diet (yes you probably saw that coming). But, seriously, if you eat one serving of a Greek vegetable dish for your main course such as green beans cooked in olive oil or peas or eggplant along with some cheese and bread you automatically have 3 servings of vegetables, have a fruit for a snack and one more in the evening, and you're done. It's as easy as that.
Speaking of vegetables, here's another way to get some in your diet: with dips and spreads. This dip is made with a Greek variety of sweet red peppers called Florinis (meaning from the area around Florina- a town in Northern, Greece), but you can also use other varieties. You can roast them yourself or used bottled ones. This dip has been lightened up with yogurt and has just a touch of garlic. It is refreshing and not heavy, perfect not only as a dip but also to use as a spread on a sandwich to add a more flavor. Peppers are a good source of beta-carotene and you also get antioxidants from the olive oil, walnuts and garlic as well as protein and calcium from the feta and yogurt. I'd say it is a pretty healthy dip.
This dip is super easy, you just add all the ingredients in a food processor and that's it!
Roasted Red Pepper Dip with Feta Cheese and Greek Yogurt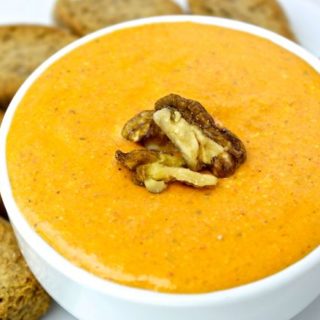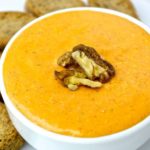 Print Recipe
Pin Recipe
Ingredients
2

red peppers

roasted

¼

cup

feta

2

Tablespoon

walnuts

3-4

Tablespoons

yogurt

1

Tablespoon

olive oil

1

clove

garlic
Instructions
Add all the ingredients in a food processor. Mix until everything is chopped and blended.

Depending on the texture you can mix more or less.

Let it sit for at least an hour in the refrigerator, before serving.

Serve with rusk or pita bread or even nacho chips. Use as a spread on sandwiches.
DID YOU MAKE THIS RECIPE?
Leave a comment or share on instagram and mention @greekdiet
Photos by Elena Paravantes © All Rights Reserved