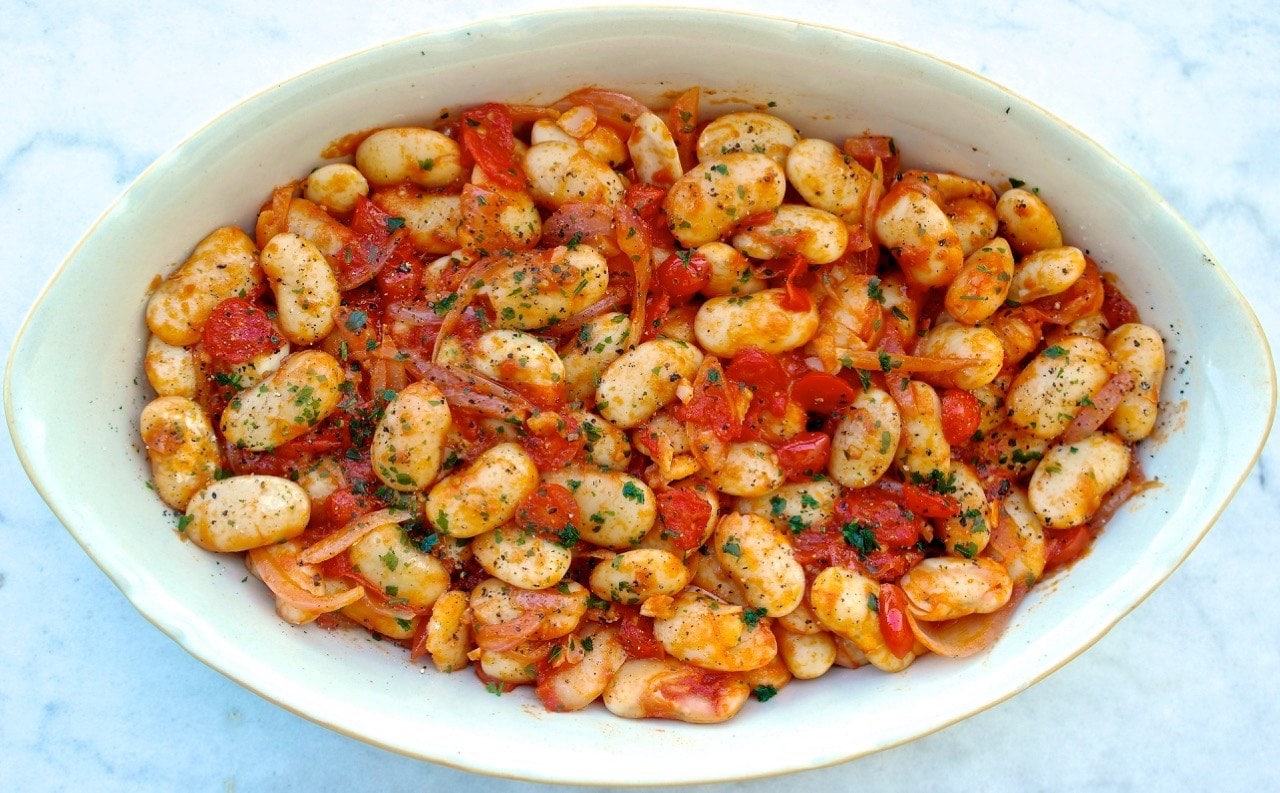 This is a dish that really exemplifies the wisdom of Greek-Mediterranean cuisine. Beans were one of the main ingredients in the traditional Mediterranean diet, particularly for Greeks who due to the long periods of religious fasting (over 200 days a year) that prohibited most animal products, beans were the main source of protein. As a result, Greek cuisine has several bean dishes as main courses. One of them is known as Gigantes Plaki. Gigantes are a type of large white bean, the word gigantas in Greek means giant. Gigantes from several areas of Greece have a Protected Geographical Indication status due to the unique environment that these beans are grown in. If you can find these beans it is worth a try otherwise butter beans wil work.
This recipe combines beans which are of course a great source of protein, antioxidants and fiber, while the addition of tomato not only makes them tastier but the vitamin C in the tomato helps increase the absorption of iron from the beans. Plaki refers to the method of cooking which means basically baking in the oven with a sauce made with tomato, onion, garlic and parsley.
The recipe is easy and even though the cooking time is somewhat long, active prep time is very short. You basically soak the beans in water overnight, boil them, prepare an easy sauce, mix everything together and bake.
This is a delicious dish that is more recently served as an appetizer to accompany an ouzo or other drinks, but it is a complete meal and it is vegan. If you eat dairy it goes wonderfully with feta and the always present, slice of bread.
Need More Mediterranean Diet Guidance and Delicious Recipes?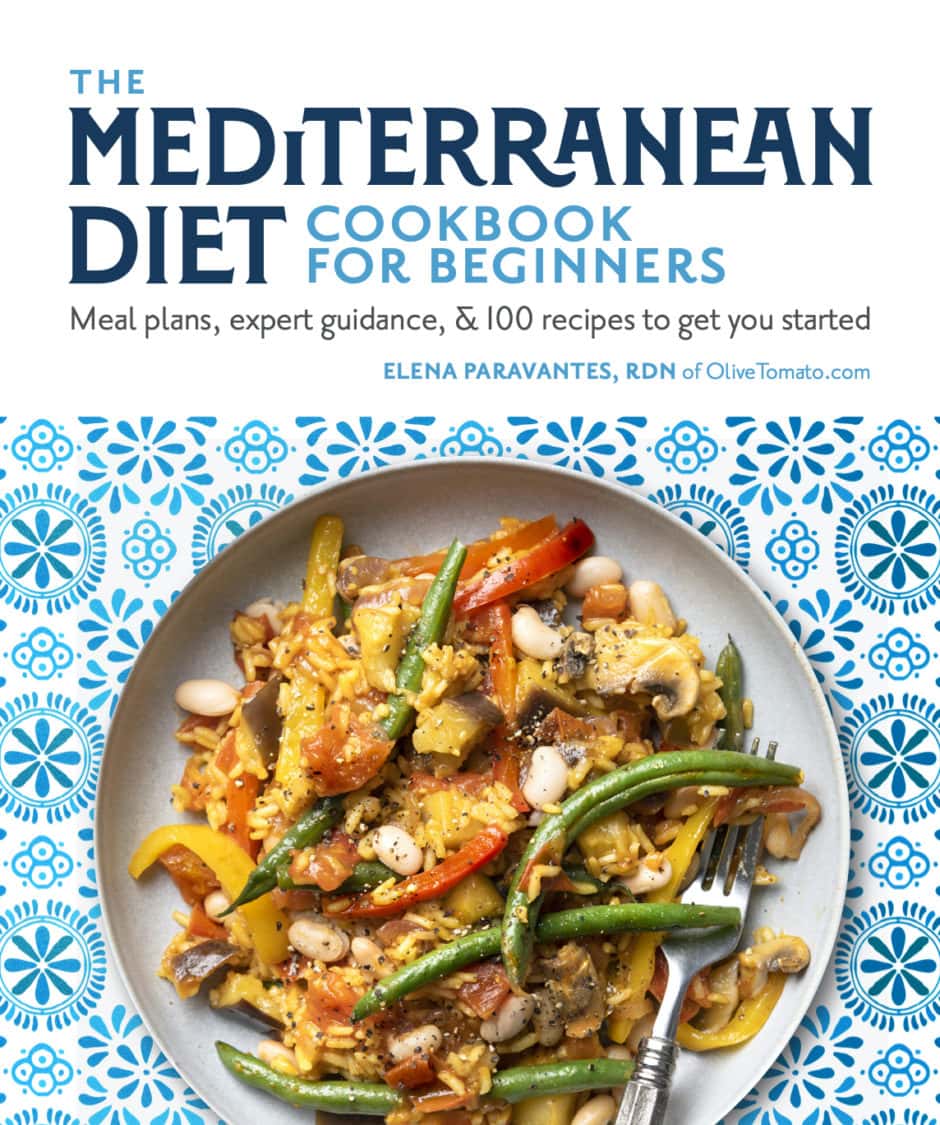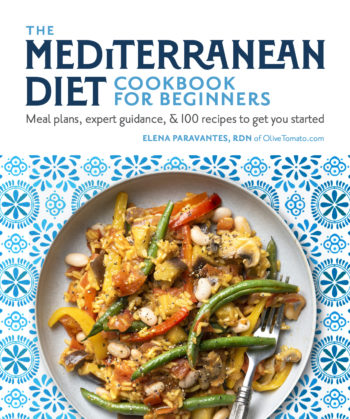 Gigantes Plaki – Tender Greek Roasted Beans in Tomato Sauce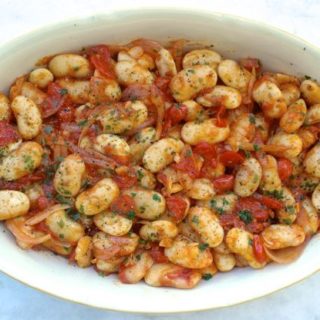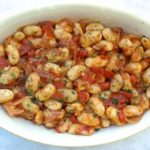 Luscious, tender baked beans in a tomato-herb sauce. A traditional Greek dish bursting with flavor and nutrients.
Print Recipe
Pin Recipe
Ingredients
1

pound

Gigantes or butter beans (soak them in water overnight)

2

tomatoes grated or diced or canned crushed tomatoes

4

garlic cloves peeled

2

onions thinly sliced

2

tablespoons

tomato paste mixed with a bit of water

3/4

cup

olive oil

Parsley

Salt and Pepper to taste
Instructions
Soak the beans overnight, the longer, the better.

Preheat oven at 350 Fahrenheit (180 degrees Celsius).

Drain and rinse the beans and boil in water for about 40 minutes to an hour, until they are soft but not mushy. Make sure you boil them enough; otherwise the beans will be too hard to eat even after baking.

In the meantime prepare the sauce. Sauté the onion in a bit of olive on low heat until soft and add the garlic cloves whole. If you want a stronger garlic flavor you can mince the garlic.

Add the tomato (this time I used cherry tomatoes that I cut in thin slices, but the traditional way is grating the tomato), the tomato paste, parsley, salt and pepper to taste and about ¼ cup olive oil. Let it simmer until sauce thickens, about 10 minutes.

Once the beans have boiled, drain them and put them back into the pot, add the sauce and mix gently. Pour the mixture in a pan and spread evenly and then pour about another ¼ cup olive oil over the beans and bake for about 40 minutes until beans are tender.

Accompany with feta cheese and bread.
DID YOU MAKE THIS RECIPE?
Leave a comment or share on instagram and mention @greekdiet
Save for Later and Pin It!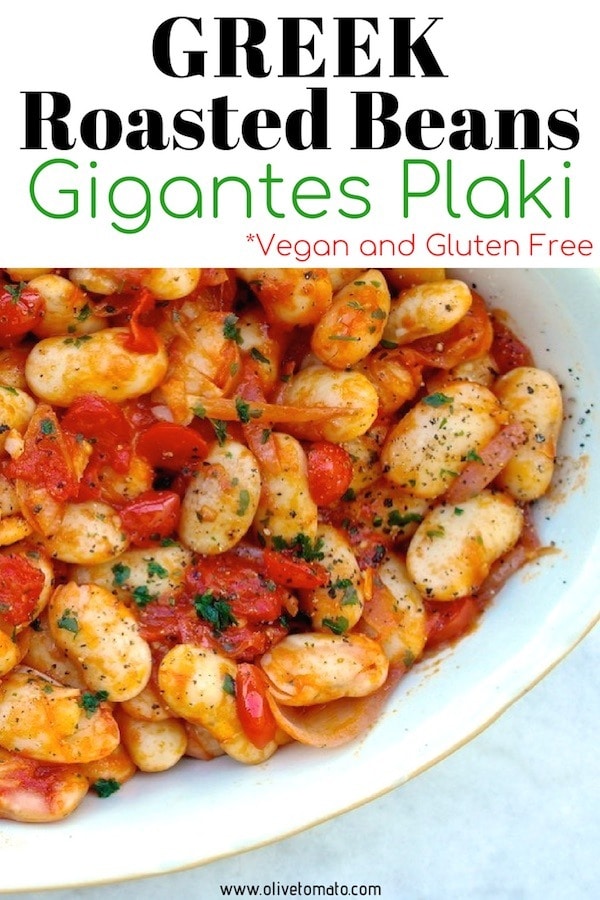 Photos by Elena Paravantes