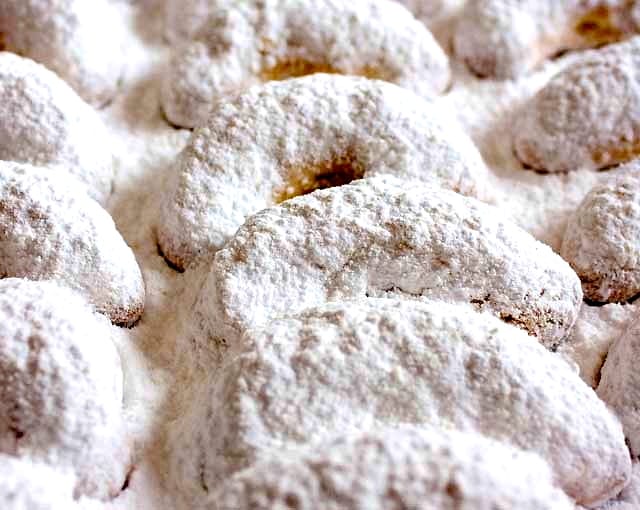 In Greece two of the most popular desserts that are made during the holiday season are kourabiedes and melomakarona. Kourabiedes are known outside of Greece as a cookie, but they are almost too substantial to be called a cookie. They are a shortbread type of sweet, made of flour, sugar, butter and almonds and covered with powdered sugar, which make them look like a snowball. When you eat them, the literally melt in your mouth along with all that powdered sugar.
Nutritionally, what you see is what you get: sugar, flour and butter. On the other hand you don't eat a handful of these like you would cookies, but rather just one as a dessert. Greeks typically make a big batch of these sweets and they last through the whole holiday season, so there is no pressure to eat all of them in a week! I remember my grandma used to hide them (I think she actually locked them) in a cabinet in her dining room for weeks and would only serve them when guests visited.
Want More Mediterranean Diet Guidance? Get my top-rated book!
Get it here >> The Mediterranean Diet Cookbook for Beginners


In the past, for Greeks, sweets, particularly those made with butter were a luxury item (butter and sugar was expensive) and were not to be eaten everyday. But my grandma's practice of hiding them is also a great strategy to avoid overeating all these holiday treats. The rule "out of sight-out of mind" really applies here: what you don't see, you don't eat. Studies have actually showed that we eat more when the food is in front of us than when it is hiding in a cabinet. When you're done making these, leave them on a nice platter for a few days, but after that store them in containers; they will last longer and you won't be tempted all the time.
Kourabiedes: Greek Christmas Butter Cookies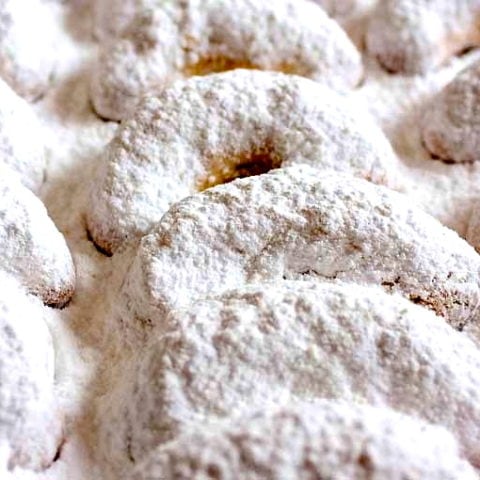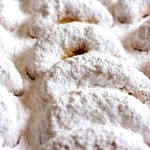 The Ultimate Christmas Cookie: White as snow-Greek Butter Cookies-Kourabiedes, a delicious shortbread type cookie that melts in your mouth!
Print Recipe
Pin Recipe
Ingredients
1

cup

butter (2 sticks room temperature)

4

cups

+ ½ cup powdered sugar

1

egg yolk

1

tablespoon

cognac or brandy or ouzo

3

cups

cake flour (regular flour will work too)

1

teaspoon

baking powder

¾

cup

chopped or ground toasted almonds

Rosewater (look for it in middle eastern stores or make this substitute (see below)
Instructions
Preheat oven at 350 degrees F (180 Celsius)

In a large bowl whip the butter until white and fluffy. Add the ½ cup powdered sugar gradually. Continue mixing and add the egg yolk and the cognac or ouzo. In another bowl sift flour and mix well with the baking powder, add the chopped almonds. Add the flour mixture to the butter and mix. Knead for a few minutes and if needed add a bit more flour. This dough will be a bit sticky. Put the dough in the refrigerator for 10-15 minutes.

Line a cookie sheet with parchment paper. Remove from the refrigerator and make small round shapes about the size of a walnut and flatten a bit with your fingers. Another common shape is the crescent. My 3-year-old son also made some in the shape of a star using a cookie cutter.

Bake for about 20 to 25 minutes. Be careful not to over bake otherwise these cookies will be hard instead of having a melt-in-your-mouth quality.

Once you remove them from the oven sprinkle with some rose water or substitute.

Fill shallow bowl with the rest of the powdered sugar (4 cups), dip each kourabie in the sugar mixture making sure they are well covered with sugar, place on a large platter. Once you have 1 layer of kourabiedes on the platter, sift powdered sugar over the kourabiedes, continue the same process with the next layer, layering until you have small pyramid.
Notes
*Tip: Brush off some of the powdered sugar and save some calories.
*Make your own flower water substitute
Add to a small pot 1 ½ cup water, orange peel from 1 orange and some whole cloves. Bring the water to a boil, strain, and the flower water substitute is ready to use.
DID YOU MAKE THIS RECIPE?
Leave a comment or share on instagram and mention @greekdiet
SAVE FOR LATER AND PIN IT!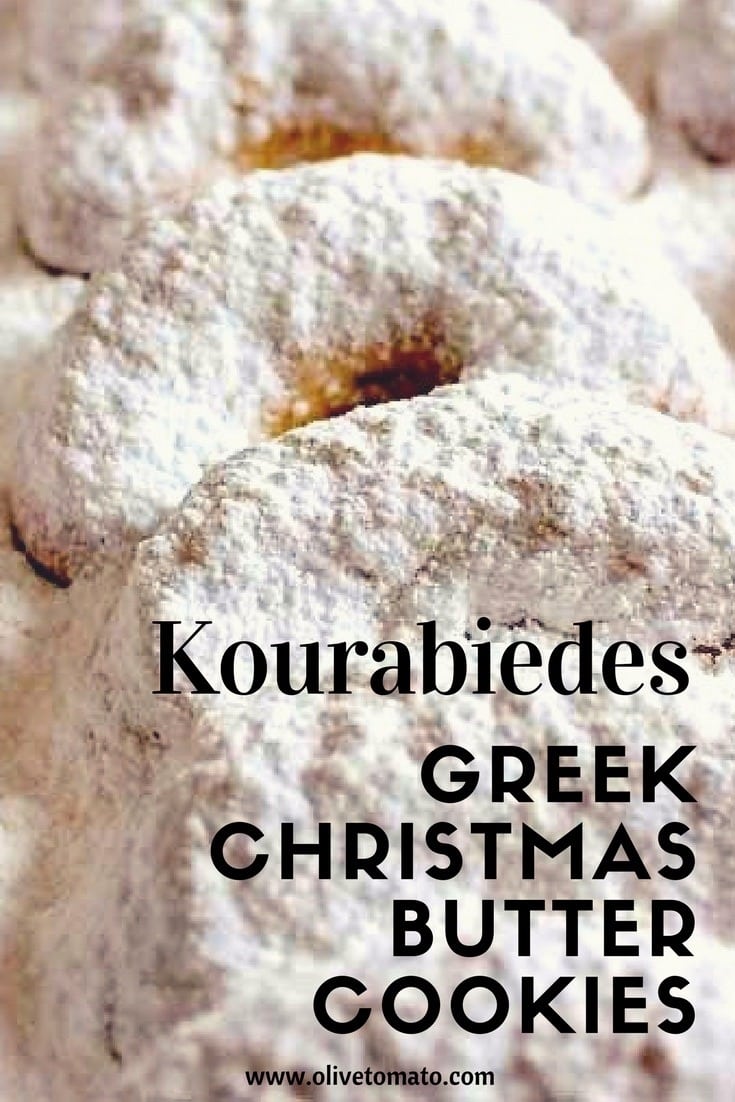 Photo Credit: DCGreekChurch for flickr