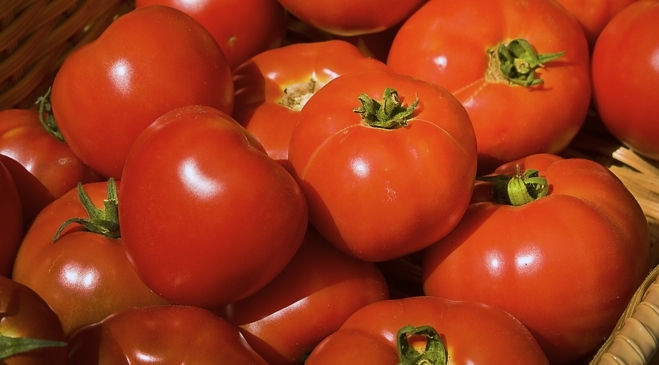 As you can already tell by the name of my blog, I think tomatoes are not only a necessary part of the Mediterranean cuisine but also a super food. Apart from the being a source of vitamin C and antioxidants that may protect from certain forms of cancer it may even make us feel less depressed.
A study by Japanese and Chinese researchers published  in the Journal of Affective Disorders showed that Japanese individuals over 70 years of age who ate tomatoes two to six times a week were 46% less likely to report mild or severe symptoms of depression compared with those who ate tomatoes less than once a week. No such association was found for other vegetables.
Obviously as the researchers noted, we need more studies not only to confirm these findings in other populations but also to find out what component of tomatoes may be having this effect.
In the meantime, yes you should try and consume tomatoes or tomato products as often as you can. I mention tomato products, because fresh tomatoes in the winter are tasteless but whole or chopped canned tomatoes are a great way to incorporate tomatoes in cooked dishes as well as tomato paste (read about it here).
Here are some Mediterranean inspired ways to include more tomatoes in your diet:
In the summer when tomatoes in season, take advantage of the freshness and flavor and eat them in Greek salads, simply with some bread and cheese and olives, with a bruschetta combining fresh tomato with a bit of garlic and fresh basil, in sandwiches, as an appetizer using cherry tomatoes and mozzarella balls and in fresh pasta sauce (uncooked).
In the winter stock your kitchen with canned organic whole tomatoes, chopped tomatoes, tomato sauce and paste in BPA free packaging such as glass jars or cans with BPA free lining. You can use these tomato products with almost every single vegetable and make stews with olive oil and plenty of herbs, known as lathera and kokkinista– see here for some easy recipes. Tomato paste is also added to stewed meats and cooked beans. And don't forget to cook your tomatoes with olive oil, it increases the absorption of lycopene, a potent antioxidant that may protect from cancer and heart disease.