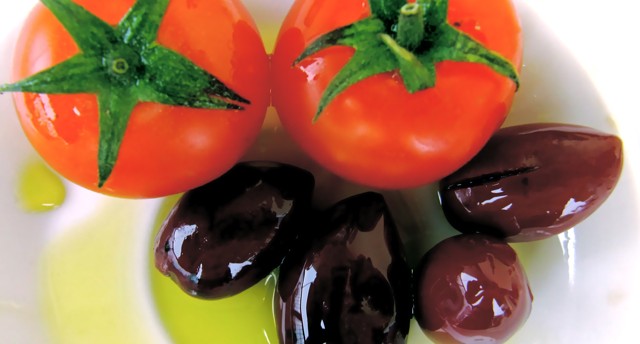 Welcome to Olive Tomato! This is my first post and I wanted to explain the story behind the name. For me, olive oil is the quintessential ingredient of the Greek- Mediterranean diet, but pairing it with tomato makes a perfect match and is a combination found in many Greek recipes. Give me tomatoes and olive oil and I can turn any food Greek! Greeks even have a term for this humble cooking technique: any food cooked with tomato and olive oil is called kokkinisto from the word kokkino, which means red in Greek.
Do it: Sauté any vegetable in a little olive oil (green beans, peas, okra, zucchini are good choices) with some onions and than simmer in crushed tomatoes with some herbs until soft. Eat with feta cheese and a slice of whole grain bread and you have a complete meal. And when tomatoes are not in season just use organic crushed tomatoes preferably in BPA free packaging such as glass jars or cans with BPA free lining. Tomatoes and olive oil not only make an ideal flavor combination, but a nutritional one as well. Studies have shown that when tomato is cooked with olive oil, the absorption of lycopene, a potent antioxidant that may protect from cancer and heart disease, is increased.
Meat and chicken are also great candidates for kokkinisto. The same concept applies: cook in tomato sauce until tender, and you have an additional nutritional benefit: the presence of vitamin C from the tomatoes increases your absorption of iron from the meat.