This one-pot zucchini and rice recipe is another delicious way to enjoy zucchini the Mediterranean way. Zucchini and rice are cooked together along with herbs for this creamy and velvety dish that will become a favorite in your house!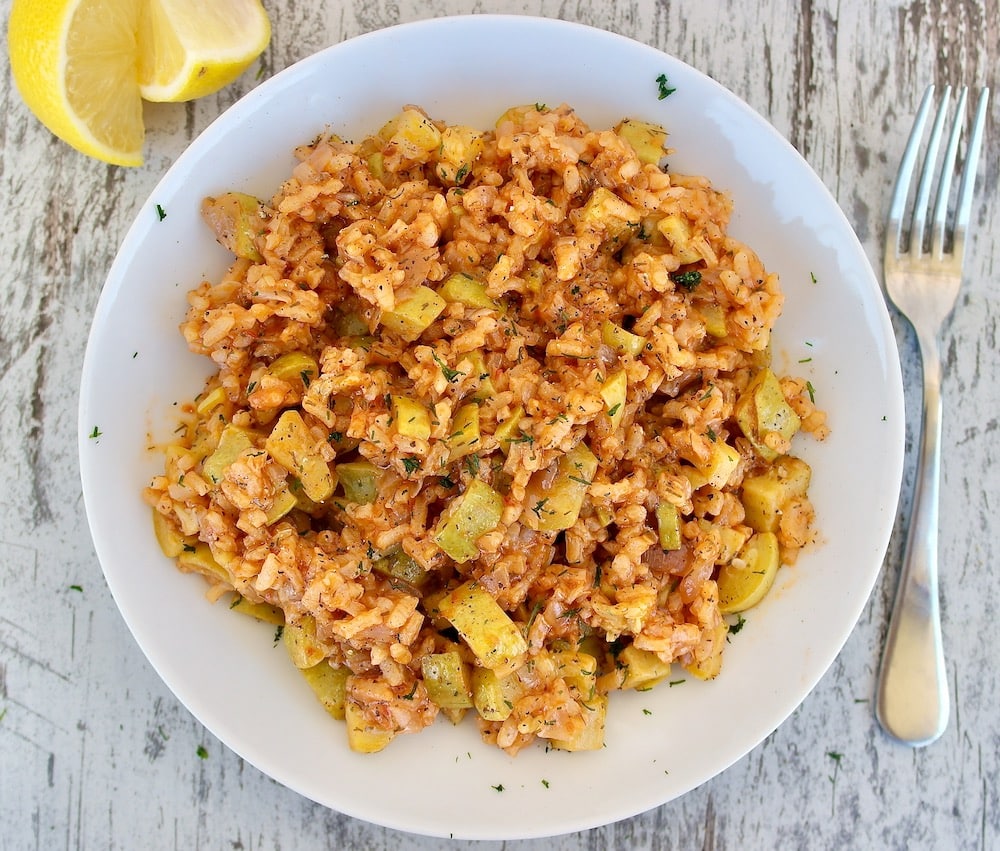 As I have mentioned before, zucchini has a special place in Greek cuisine. We don't try and turn it into pasta, nor do we drown it in cheese to hide its flavor. Instead we showcase it and bring out its aroma by cooking it with other ingredients. The choices are endless: we roast it in the oven along with other vegetables like in briami (roasted vegetables) and gemista (roasted stuffed tomatoes), we make it into a savory pie, we stuff it with garlic and tomato and my favorite: we make fritters with it. So, it is quite obvious we are really fond of zucchini here in the Mediterranean.
For this dish, zucchini is lightly sautéd along with onion and then combined with rice, tomato and a generous amount of herbs, particularly dill. It is so good and comforting, and a squeeze of lemon right before serving gives it a hint of tanginess.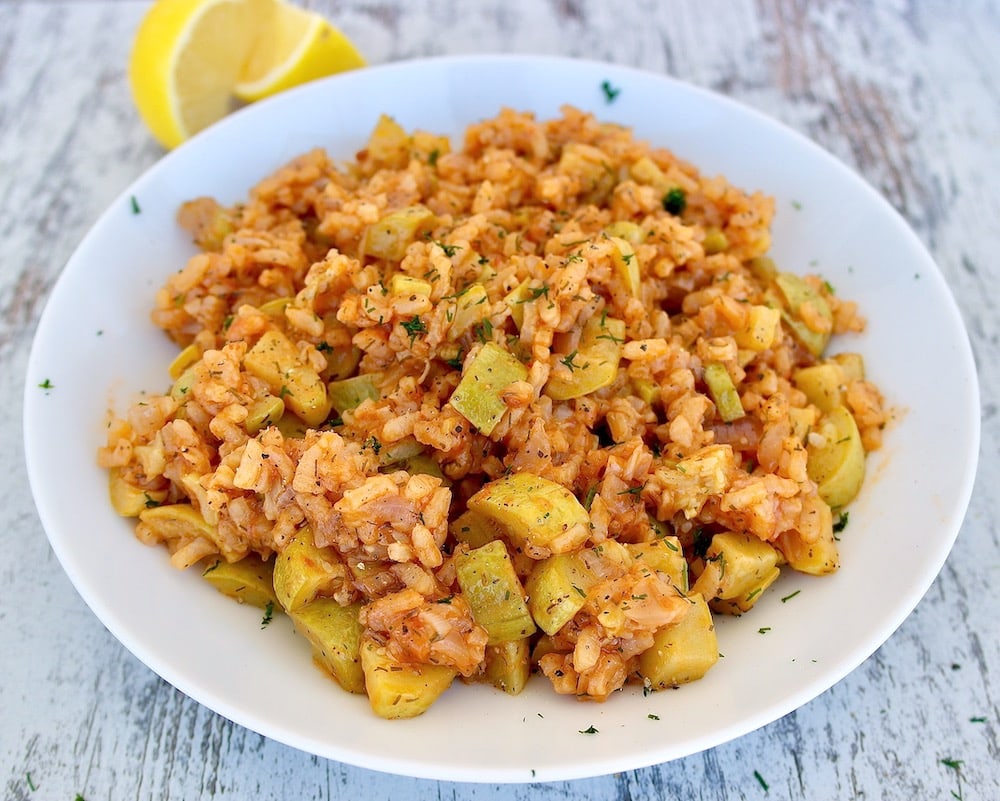 Rice with Vegetables Recipes
The combination of rice/vegetable recipes is quite common in many cultures. The rice provides the sustenance and the veggies the flavor. These types of dishes are extremely popular in Greece, particularly spinach rice (spanakorizo) as well as leek rice. Accompanied with a bit of feta, this is a complete meal.
Nutritionally, it is important to note that these recipes contain a good amount of vegetables, you will be getting about 2-3 serving of vegetables and if you accompany the dish with a salad, even more.
These rice dishes require medium grain rice in order to have a smooth, silky texture. Long grain rice does not work here. Traditionally white rice has been used in these recipes. This dish contains a good amount of fiber and good fats and is about 40% carbohydrates, so it will not raise your blood sugar quickly. However, if you do wish to use brown rice, know that it will have a different texture.
One-Pot Greek Zucchini Rice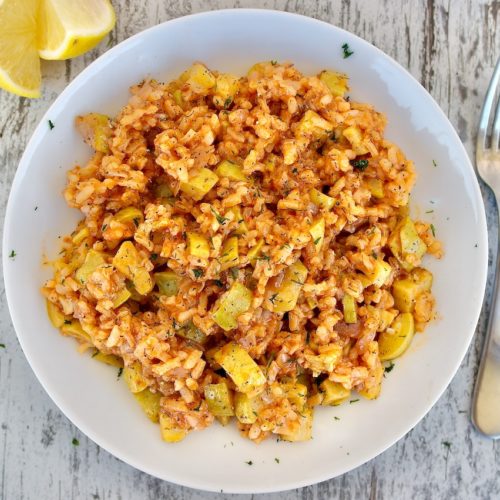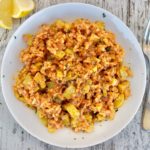 Easy and delicious one-pot Greek zucchini rice recipe. Zucchini and rice are cooked together for this creamy and velvety dish.
Print Recipe
Pin Recipe
Ingredients
¼

cup

extra virgin olive oil

1

medium onion finely diced

1

pound

zucchini chopped in 1-inch pieces

⅓

cup

medium grain rice

uncooked

5

ounces

crushed tomatoes

½

tsp

salt

1

tbsp

dry mint

A pinch of sugar

optional

2

tbsp

chopped dill

Lemon for serving
Instructions
In a medium pot heat the olive oil until it starts to shimmer. Add the onion and sauté until soft for about 5 minutes. Then add the zucchini and swirl for a 1-2 minutes and then add the rice and stir gently until the rice is coated with the olive oil.

Add the tomato, a pinch of sugar (if using), dry mint and about ¼ cup hot water, stir gently, lower heat to low, cover and let it simmer for about 20 minutes until rice is cooked. Add small amounts (2 tbsp at a time) of hot water if rice is drying out.

Once rice is cooked, remove from heat and add the chopped dill, ½ tsp fine sea salt, and a few grinds of fresh black pepper. Stir gently and cover pot again and let it sit 5 minutes.

Serve with a squeeze of lemon and a piece of feta.
Notes
Can be enjoyed warm or at room temperature.
DID YOU MAKE THIS RECIPE?
Leave a comment or share on instagram and mention @greekdiet
SAVE FOR LATER AND PIN IT!