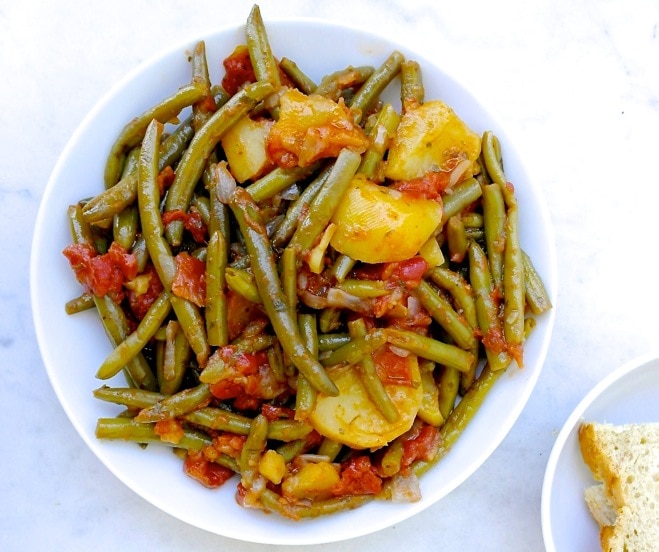 The Mediterranean diet is considered the gold standard of diets. Study after study has proven its benefits for physical and mental health. Some of the first studies noted Greece and southern Italy as the original source of the diet, with the Cretan diet believed to be the purest form of the diet.
Research has shown that it can protect from heart disease, cancer, metabolic syndrome and even maintain and improve cognitive function, but best of all it is not a restrictive diet. It is not low fat, and it does not prohibit any foods. In other words, it is easy to follow and that is the most important component of any diet. So how do you follow this diet, if it has no restrictions? Drizzle olive oil on your bread? Add feta cheese to everything? Drink wine with your meals? Well, no, not exactly. What is important is what you DO eat, as well as the pattern of eating.
Below I provide some easy, but specific guidelines and how to accomplish them that will get you following the Mediterranean diet in no time! These tips are based on the traditional Greek diet which was what the initial Mediterranean diet was based on.
Let's get started!
1. Move toward more vegetable based meals.
By this I do not mean vegetarian, that are often carb heavy -think pasta with a few vegetables- but actual main courses that are composed of almost only vegetables. How do you do this? Use the unique technique of cooking vegetables with olive oil and tomato (learn how to here). Greeks have a special category for these dishes known as the ones "cooked in oil". Almost any vegetable will work. If you were not aware, Greeks are the highest consumers of vegetables in the world, consuming almost a pound a day according to a recent Tufts study. How do they do that? By eating these vegetable casseroles (like the one in the photo above) at least 3 times a week. One serving, which is a large plate of these vegetables is equivalent to 3-4 servings of vegetables. Check out this, this and this recipe for ideas.
2. Stock your pantry and freezer with some Mediterranean Diet basics.
Yes, the Mediterranean diet is all about clean eating, using fresh food. However, there are some frozen and pantry items that will help you go Mediterranean without affecting the nutritional value of your diet:
Frozen vegetables. I keep my freezer stocked with frozen green beans and peas. That way I can make my Greek style vegetable casserole anytime of the year.
Canned tomatoes. I have tons of canned tomatoes and tomato paste. Again this, I use during the winter months to make the vegetable casseroles.
Dry oregano. Yes you need this particular herb and Greeks add it everywhere. Among common herbs, it has the highest antioxidant activity, making it a super-herb.
Frozen herbs. I keep in the freezer frozen parsley, dill and basil. Very useful when you do not have them available in fresh form.
Whole Grain Barley Cretan Rusks. You can find these in ethnic stores or order them online. They have a long shelf life and are great source of fiber. They are a basic ingredient for the Cretan style salad called dakos, but they are great when accompanied with a dip or just cheese and olives and take the place of bread.
3. Use Extra Virgin Olive Oil…Correctly.
What does this mean? Well, take it from us Greeks who are the highest consumers of olive oil in the world by far, here are some things we do:
Know that only extra virgin olive oil contains all those antioxidants, so using other types will have little benefit as well as little taste.
Your olive oil needs to be fresh, so if you have a bottle of olive oil in the cabinet since 2010, that you use here and there, you are doing it wrong. Only fresh olive oil has the nutritional value and the flavor. Which takes us to my next point…
4. Eat meat as a side dish.
You've heard that the Mediterranean diet is low on meat. How low? Well originally, red meat was limited to one serving a week. If it's hard to do that, how about trying to have red meat as a side, rather than a main course? So you could technically eat red meat two times a week in this way, an example would be a vegetable casserole with 2 ounces of meat on the side.
5. Make an effort to eat fish, even if it's canned.
We often hear about how fish is such an important component of the Mediterranean diet, but many people have a hard time with this. Well, it doesn't have to be fresh. Greek consumed small fish like sardines and anchovies, but those who lived in mountainous areas did not even eat fresh fish as often as we think because it was not available to them. Instead, they ate cured or marinated fish and consumed them on the side. With that in mind you can use canned sardines and anchovies, consume them mixed in pasta or salads, on a toast bruschetta style, heated up with some vegetables or mixed with beans Greek style. Frozen is also a good alternative, cooked in the oven. How often? Minimally 2 times a week.
Photo by Elena Paravantes