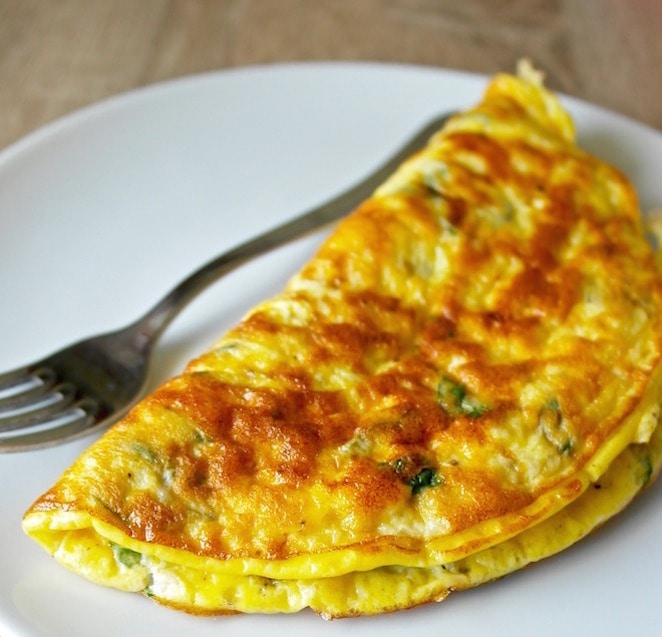 Eggs play such an important role in the Greek diet. As the diet had very little meat, eggs were a good form of protein and were consumed as a main meal. Greek familes had chickens and had a constant source of eggs. I remember when I was visiting  my grandparents in the summer, even though they lived in a large town they had a small yard with a chicken coop. Everyday I was sent to see if the chickens had laid any eggs. I am not fond of chickens, but I couldn't wait to go in the coop and find eggs in the nest, like finding a little treasure. I would bring them to the kitchen and my grandmother would make the best fried eggs.
Eggs in Greek cuisine are not really associated with breakfast as they are in the U.S. and U.K., they are more of a night food. Yes, that sounds strange, but because we have our largest meal at lunch, dinner was an easy meal that did not require much effort, and eggs were the perfect solution.
Both my grandmothers would make omelettes or fried eggs with potatoes and a salad or maybe just a quartered tomato with some salt and olive oil. We would love those dinners and actually my favorite dish that my dad used prepare for us on the weekends, was his omelette with onions. Yum! He shared it with me the other day, so I'll be making that soon. Typical Greek omelettes will include cheese or tomato or bits of smoked meat or all three or just plain.
Yes, the humble egg is an important part of the Greek diet, and it played the role of an animal protein source along with cheese in this mainly plant based diet. Eggs are a great source of protein, B vitamins, minerals, antioxidants lutein and zeaxanthin, and only about 80 calories each. As for the cholesterol, it is important to know that the cholesterol we get in our diet does not necessarily raise our blood cholesterol. The Greek dietary recommendations include 4 eggs weekly.
When it's one of those days where I realize that I have nothing for lunch, I'll whip up an omelette, prepare a salad and serve it to the kids along with bread and some cheese. This recipe is a simple recipe but I love the combination of mint and feta. It kind of resembles a cheese pie (tiropita) because it has a similar filling. If you do not have fresh (or frozen mint) you can use basil instead.
Greek Omelette with Feta and Mint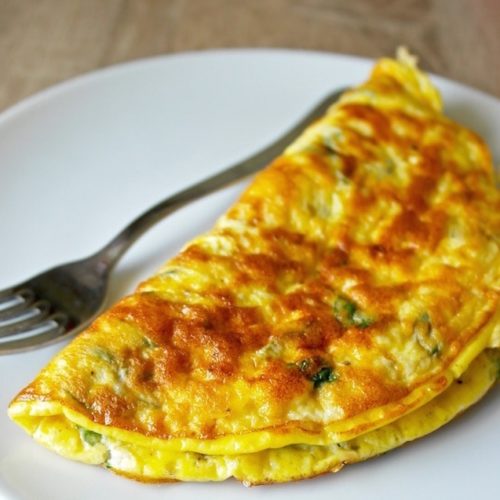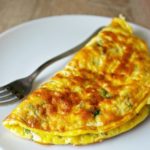 This delicious Greek omelette filled with chunks of feta cheese and aromatic mint is perfect for any meal.
Print Recipe
Pin Recipe
Ingredients
3

eggs

2

tablespoons

milk

A pinch of salt

A handful of fresh chopped mint

2

tablespoon

crumbled feta

1/2

teaspoon

olive oil
Instructions
In a bowl beat the eggs with all the ingredients except the olive oil.

Heat (low heat) the olive oil in a heavy medium sized pan.

Add the egg mixture making sure it spreads evenly on the whole pan.

Let it cook untill it starts to get solid but still liquid on top.

Carefully fold in half with a rubber spatula.
DID YOU MAKE THIS RECIPE?
Leave a comment or share on instagram and mention @greekdiet
Photo by Elena Paravantes All Rights Reserved