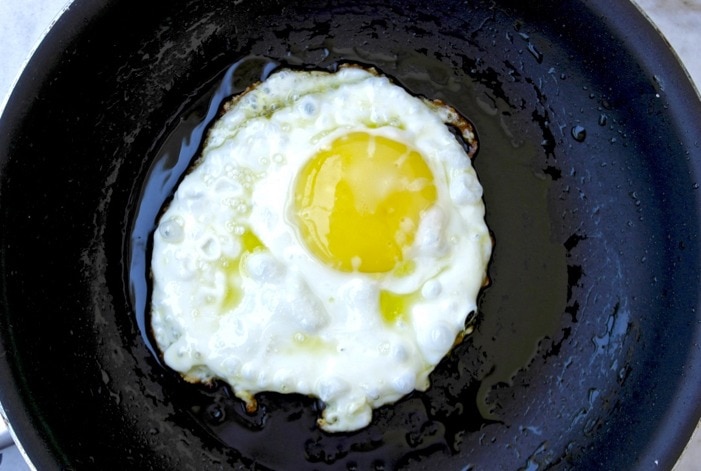 My favorite way of having eggs is fried. I don't have them all too often (a couple of times a week), but an egg fried in olive oil along with a tomato salad is a perfectly balanced meal and so satisfying.
Eggs were a typical evening meal along with a tomato salad at our home and everywhere else in Greece. Both my grandmothers would make fried eggs at night as a quick meal. Tasty eggs from my grandmothers chickens were the best. Every morning we were sent to the chicken coop in the morning to check if the hens had laid any eggs and bring them to her.
Frying in olive oil results in a flavorful egg with crispy browned edges. Once it is ready sprinkle some salt and pepper and serve with a simple cucumber/tomato salad and a slice of whole wheat bread.
How many?
We've all heard the advice of avoiding eggs because of their cholesterol content, but actually it looks like the cholesterol in the yolk will likely not increase the cholesterol levels in your body.
Research on large groups of people has shown that eating one egg a day did not affect heart health negatively. We now know that cholesterol in food is not necessarily associated with raising blood cholesterol. However, individuals who need to control their cholesterol levels should watch their intake. Generally three eggs a week should be fine. Putting cholesterol aside, eggs are rich in protein, a good source of vitamin D and the antioxidants lutein and zeaxanthin, necessary for eye health.
And of course what you eat it with makes a difference: if you are having eggs for breakfast, have them with whole wheat bread and some fruit instead of bacon, or if you are having them for a light meal, add a salad.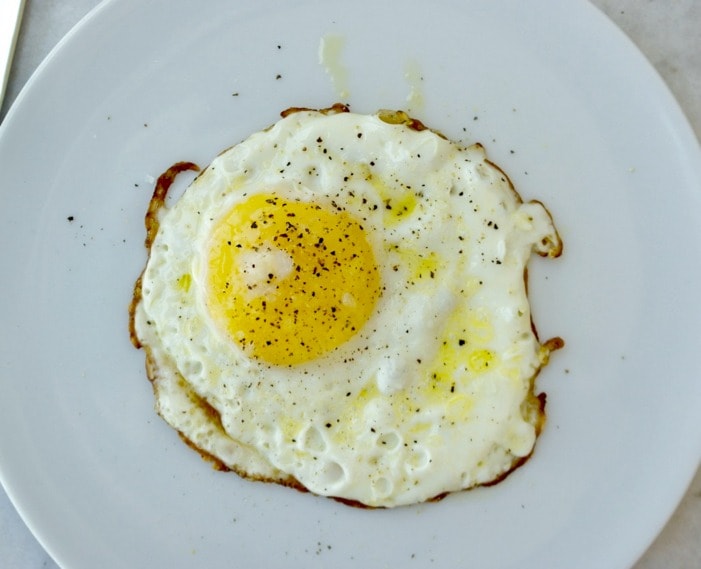 Olive Oil Fried Egg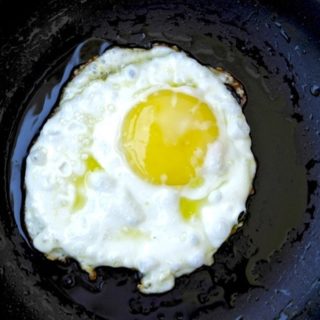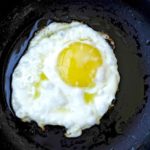 Print Recipe
Pin Recipe
Instructions
Heat about 2 teaspoons of olive oil in a medium pan (about 9 inch diameter) over medium to high heat.

When olive oil is hot (after about 1-2 minutes), crack the egg in the pan and fry for about 2-3 minutes.

Once ends have browned, remove from pan.

Sprinkle with thick sea salt and freshly ground pepper.
DID YOU MAKE THIS RECIPE?
Leave a comment or share on instagram and mention @greekdiet
Photo by Elena Paravantes © All Rights Reserved