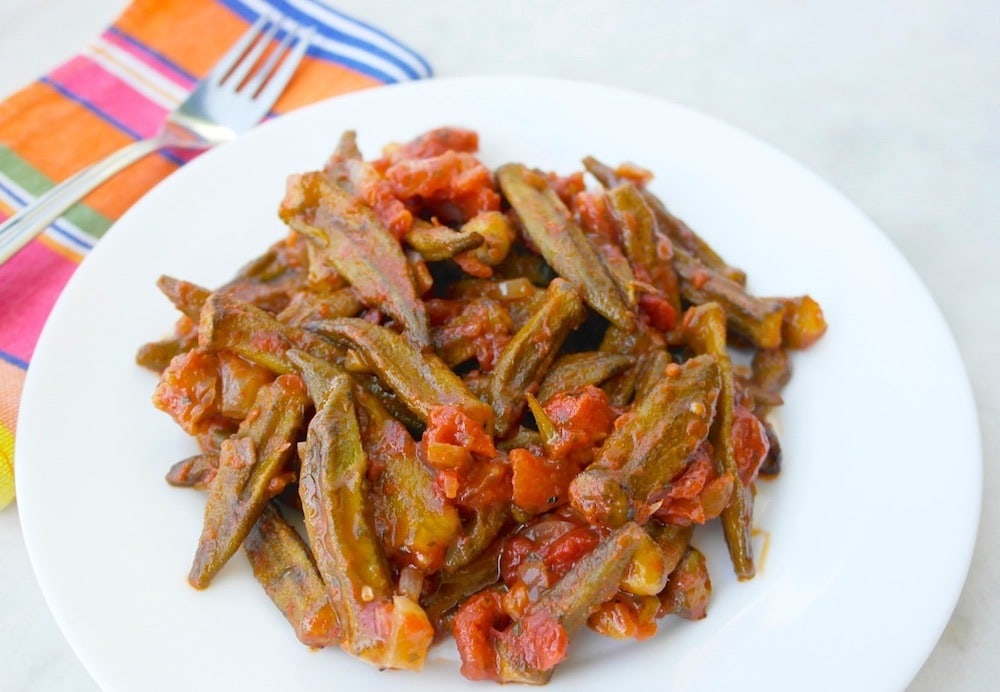 Ok I have to confess, when I was little, okra (bamies in Greek) was one of my favorite dishes. Yes, you may consider this weird, but after tasting them you will understand why. Okra combines savory and sweet along with the tomato and olive oil perfectly. It was filling and satisfying and surprisingly comforting.
While this is usually made as a stew, known as bamies latheres, (you can see the recipe here), I like the roasted version more. I'll make it during the summer when okra is available fresh, and make the stewed kind when I only have frozen okra available.
So okra in Greece is small, it is harvested when it is small, the smaller, the better. It is also important that when it is cooked, okra does not open and there is no liquid coming out, so there is no slicing like you would see with gumbo recipes where those juices are needed for the texture. The roasted version works great because it helps keep the okra intact.
Now a few words about its nutritional value: well for starters okra contains a certain type of fiber, soluble fiber. This fiber helps lower cholesterol levels in the blood and also helps keep your blood sugar levels low. It needs to be noted that it also contains the other type of fiber (insoluble) that is good for your digestive system. Of course okra has very few calories, it is a rich source of vitamin C and folate and it contains protective antioxidants. Along with the olive oil and tomato, this meal is heart healthy (and delicious).
And, this goes without saying: this dish begs for feta.
Sun-Dried Greek Style Roasted Okra in Tomato Sauce
INGREDIENTS
1 pound fresh okra
red wine vinegar
12-14 ounces chopped tomatoes
2-3 tablespoons chopped parsley
1 teaspoon sugar
1/4 cup olive oil
Salt/pepper to taste
DIRECTIONS
1. Wash okra, rinsing with water.
2. Cut around the tip of the okra, so you end up with a cone. Be careful not to cut too low exposing the inside, otherwise the liquid may come out.
3. Spread the okra on a pan and splash with the vinegar and let it sit out in the sun for about an hour.
4. Preheat oven at 350 degrees Fahrenheit (175 Celsius).
5. In a large pan, heat the olive oil and sauté the okra stirring gently on medium heat. This will help keep the okra intact so the liquids will not come out. After 5-6 minutes add the sugar and gently stir, (they will brown a bit).
6. Pour the okra in a pan so it is in one layer, add the tomato and the parsley and blend. Add salt and pepper to taste. Add about 2-3 tablespoons of warm water at the edge of the pan and tilt so that the water spreads out.
7. Cover the pan with aluminum foil and bake in the oven for about 45 minutes, until okra is very soft. Check after 20-25 minutes, if dry, add more warm water.
This meal tastes better at room temperature and the next day. Serve with bread and feta.
Photo by Elena Paravantes