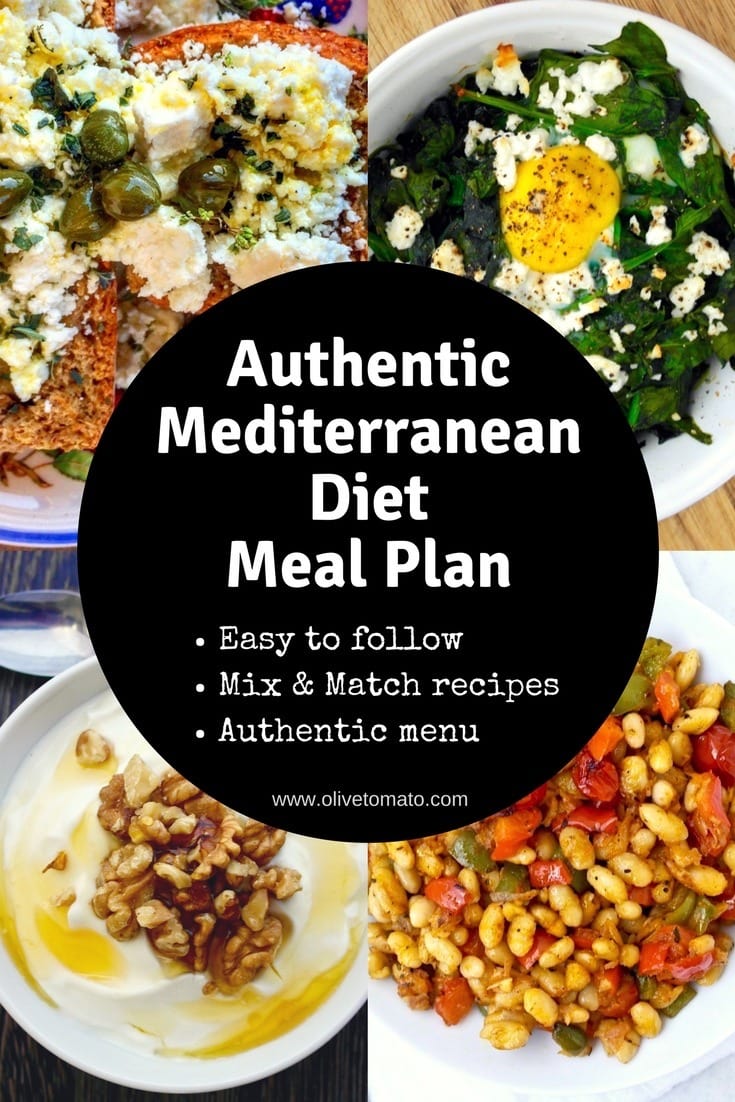 I've been asked many times to provide an authentic Mediterranean Diet meal plan. I have to say, I am not a supporter of rigid plans, however it is important to eat at somewhat regular times so you don't end up feeling very-very hungry at any particularly moment of the day. Having said that, I also think it is important to be able to actually feel hunger, and look forward to eating a meal.  While adding a snack here and there is good to keep blood sugar and hunger levels in balance, snacking can also backfire. Many times we eat a snack without being hungry or we depend on ready-made snacks such as granola bars, juices, smoothies etc. which not only add quite a few calories but also are a processed food with all that entails.
Now, I did mention in my title the word "authentic", the reason for this is that most "Mediterranean Diet" meal plans I see online are anything but. Sorry, but edamame beans, minuscule amounts of  olive oil, canola oil etc. are not part of a Mediterranean Diet.
Below is a meal plan of a traditional Mediterranean diet, it is the same meal plan that I also follow. I provide a variety of choices for meals that you can mix and match with links to the recipes.
Enjoy!
Authentic Mediterranean Diet Meal Plan
-Breakfast-
Coffee
+
*Whole grain bread with an unsweetened nut butter (I use tahini)
or
*Barley rusk with olive oil, crumbled cheese and olives
or
*Greek style scrambled egg with tomatoes (Kagianas) or other egg dishes with veggies. Click here for egg recipes.
or
*Full fat Greek yogurt with nuts, fruit and honey
or
*Whole grain bread + a piece of cheese + tomatoes
---
-Mid-Morning Snack-
*A seasonal fruit
---
-Lunch-
*Lathero Dish (seasonal vegetables or beans cooked with olive oil, herbs, and tomato sauce accompanied by bread and cheese). Typically this is green beans, peas, legumes, spanakorizo (spinach-rice) and cauliflower cooked in this way. This is accompanied by a slice of bread and feta. Click here for lathera recipes. Please note that one serving consists of 3-4 servings of vegetables.
or
*Pita like spanakopita with a salad on the side. Click here for pita recipes.
+
1 fruit
---
-Snack- (if hungry)
*Tomato with a rusk and sometimes cheese + a serving of fruit
or
*1/2 cup Greek yogurt with fruit
---
-Dinner-
Wine (1 – 1 ½ glass)
+
*A small meze platter (2-3 olives, a few pieces of cheese, tomato or carrot sticks)
+
*A smaller serving of lunch
or
*A large salad (in the winter mainly greens, in the summer tomatoes) with an olive oil salad dressing, grated or crumbled cheese, and nuts (walnuts, pine nuts or almonds).
or
*Roasted vegetables in olive oil (cauliflower or a mix –like briami)
*Once a week chicken and once a week another type of meat or fish, accompanied by salad or greens (horta)
*One or two meals a week contain some sort of pasta.
Notes:
Beverages: Aim to drink 1 ½ liters of water (6 cups) + herbal beverages a day. Avoid any other beverages except wine.
Olive oil is the main source of fat, do not skimp. Olive oil provides satiety (among many other benefits) which is important if you are eating a meal made only with vegetables.
Lathera dishes usually last 2-3 days (in fact they taste better the next day). I also use frozen peas or green beans in the winter for my lathera.
Pites can be assembled (and baked) and frozen.
Try and eat your main (largest) meal as early as you can.
Cheese and yogurt are your main dairy sources.
So there you have it, a typical Mediterranean diet menu. This menu is based on the official Greek Nutrition Guidelines which basically represent the Mediterranean diet. Go here to check the Greek Diet guidelines.
Photo by Elena Paravantes