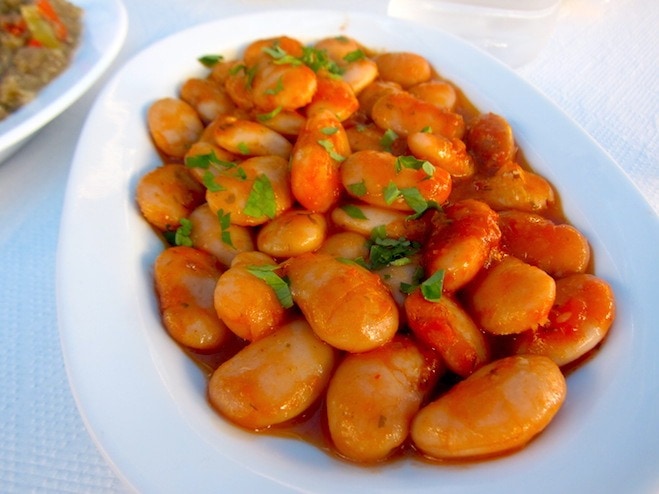 Last week the new Dietary Guidelines for Americans were presented and I, along with many others presented my comments and opinion on these new guidelines. Among many of the comments going around was the fact that once again politics influenced some of the recommendations. They also recommended a Mediterranean style eating pattern that was not exactly Mediterranean.
Now about a year and a half ago, Greece also published their own updated dietary guidelines, and I saw it fit to publish them here. I took the initiative of translating them in English and I am presenting them here on olivetomato.com.
The guidelines (as the previous ones as well) basically follow an almost true Mediterranean diet, the Greek diet. With the exception of some details, such as only 2 servings of low fat dairy (instead of 3) or a slightly higher consumption of white meat (it recommends 1-2 serving of white meat a week-I would limit to 1 serving white meat) a week, these recommendations are spot on!
5 Reasons the Greek Dietary Guidelines are Better than the American Guidelines
They recommend at least 4 cups of vegetables (as opposed to the U.S. 2 ½ cups)
They recommend up to 5

Tablespoons

of fats (mainly olive oil)-as opposed to 5

teaspoons

in the U.S. guidelines
The recommend 3 cups of legumes (beans) a week, as opposed to only 1 ½ in the US guidelines
The clearly state to avoid processed meats, the U.S. does not
The specifically recommend limiting red meat to only 1 serving a week
And notice how none of the recommendations seem to be influenced by "politics" either.
Now one may say "yes but the U.S. is not Greece", but really when you look at these guidelines, they are not "exotic" or difficult, this eating pattern can be followed by anyone, anywhere.
They also provided examples of meals one can have in order to follow these recommendations. Here are examples of dishes that are suggested:
Grilled sardines with boiled greens and a glass of wine
Briami (a Greek version of ratatouille) a mixture of vegetables cooked in olive oil with feta cheese and bread
Chicken cooked with okra and a cabbage-carrot salad
Bean soup with a tomato-cucumber salad
Octopus with pasta and boiled vegetables
Veal with rice and a tomato-cucumber-lettuce salad and a glass of wine
Sadly, I have to say that many Greeks do not follow these guidelines, but what is more concerning is that even colleagues of mine who have their own nutrition practices do not follow these guidelines. Unfortunately, you will still see in many dietitian offices and even in schools as well as presentations here in Greece, the U.S. plate or even the old U.S. Pyramid being used. I have no idea why. It is such a shame that here in Greece, even though we have a such a great nutrition legacy (Mediterranean diet) and good, evidence based nutrition guidelines of our own, that health professionals here are not using them, but prefer the American guidelines.
The Dietary Guidelines for Greek Adults were developed by the non-profit organization Prolepsis who was commissioned by the Ministry of Health. They are similar with the previous guidelines (1999) which were in the form of pyramid, also presented here.
-How Do You Follow a Greek Diet-
Dietary Guidelines for Greek Adults
1. Consume a variety of fruit and vegetables everyday.
2. Consume a variety of grains everyday. Prefer whole grains.
3. Opt for low fat dairy.
4. Reduce the consumption of red meat. Choose lean cuts. Avoid processed meat.
5. Consume Seafood (fish and shellfish) often. Choose fatty fish and prefer small fish.
6. Consume legumes often.
7. Choose olive oil as your first choice of fat.
8. Reduce consumption of sugar, salt and products that contain them.
9. Engage in physical activity everyday. Maintain a normal weight.
10. Drink plenty of water.
Here are the serving amounts of each food group: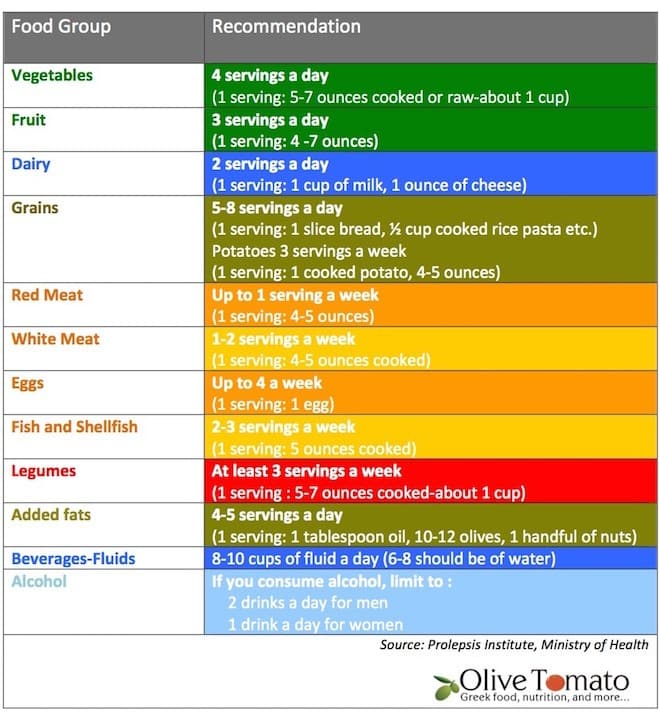 *Table above has been developed and translated by Elena Paravantes. Unauthorized use of this table is prohibited.
And here is the original Greek Diet pyramid, which is essentially a Mediterranean diet: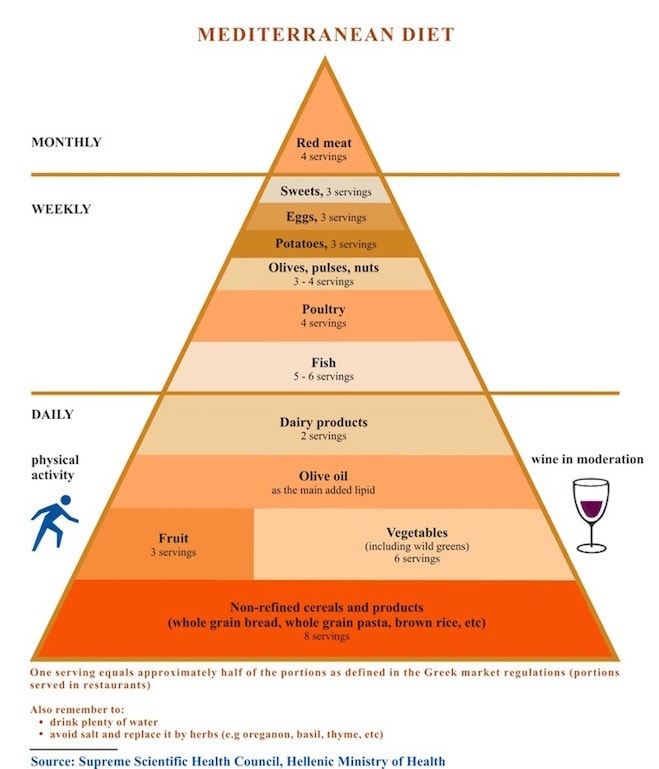 Photo by Kirk K for flickr