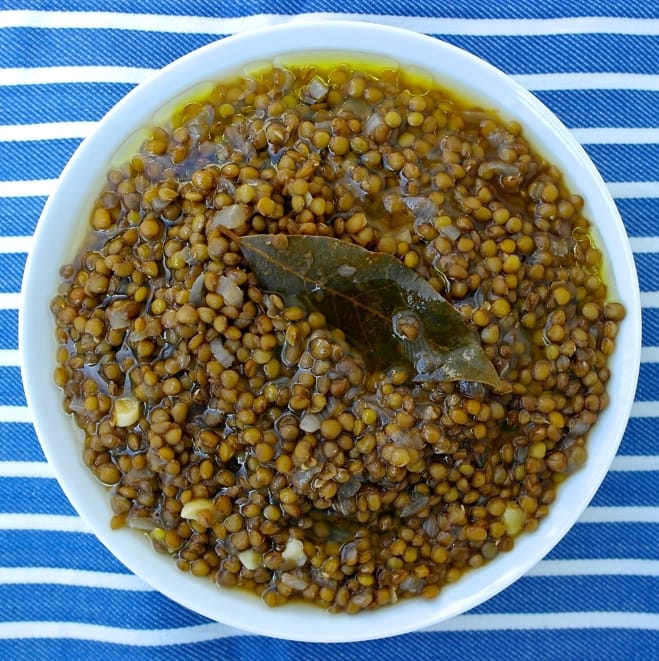 Lentil soup known as fakes (pronounced FAH-kess) is one of the most popular dishes among Greek children. I kid you not. Kids go crazy for these plain brown legumes. I also enjoyed them as a child, but kind of forgot about them later on. As a parent I put it off and just assumed that they could try it later when they were older, especially the younger one who is at that picky stage.
One day my older son, came home from school, he eats lunch there occasionally, and told me how he ate two bowls of the stuff and how he likes it so much. A few months later my younger one was at his cousins and raved about the lunch he had: fakes, he exclaimed! And he too had ate two bowls.
So as you can understand we started including fakes on our menu. Nowadays we eat them 1-2 times a week.
Lentil Soup the Greek Way
This lentil soup is really tasty and the vinegar added after cooking is what really makes them great. Traditionally they are served with something salty such as cured sardines, feta or salty olives. It is not necessarily a winter dish, don't let the word "soup" fool you, and we eat it all year, warmish not really hot. It is truly a comfort food, there is just something about that I cannot pinpoint, but it satisfies.
This is a simple dish to make and while you may see recipes that include olive oil while simmering, I add it after. This is what my grandmother used to do; she would add a tablespoon of olive oil to each bowl while serving. You also need to add red wine vinegar as well, as this is what makes them so special in my opinion.
One of the Most Nutritious Soups
Nutritionally, this is a great dish obviously. Protein, antioxidants as well as fiber are key components of lentils, this not only makes them healthy but very filling.
Iron has been mentioned, although it should be noted that only a small percentage of iron is absorbed from plant sources, combining with vitamin C aids with absorption, and since there is tomato paste in it that helps.
Greeks also consume this sou traditionally with small cured fish such sardines and cured anchovies .
This dish tastes great the next day, just gently warm before serving.
Greek Lentil Soup-Fakes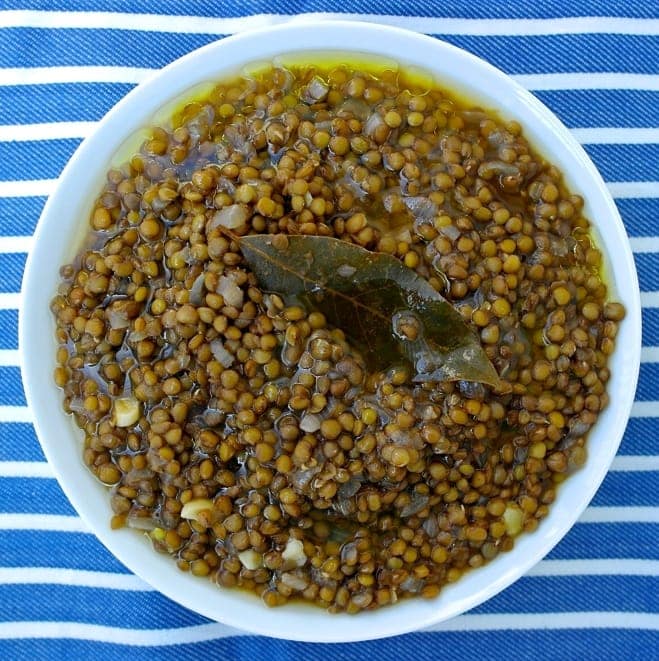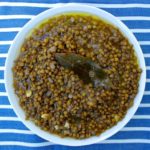 A delicious yet simple lentil dish is a Greek classic all year round. Tender lentils cooked with onion and served with extra virgin olive oil and red wine vinegar.
Print Recipe
Pin Recipe
Instructions
If you have time soak the lentils.

In the meantime sauté onion in 1 ½ tablespoons of olive oil until soft.

Place lentils in a pot adding just enough water to cover them well. Bring to a boil and then dump the water.

Place lentils in the pot with about 4 cups fresh water, the onion, garlic, bay leaf and pepper. Add the tomato paste and mix until well blended.

Simmer for about 40 minutes (it maybe more) until soft and thick.

Serve with a spoonful of olive oil and a drizzle of red wine vinegar, add salt as needed. You may accompany with feta cheese or cured fish or olives.
DID YOU MAKE THIS RECIPE?
Leave a comment or share on instagram and mention @greekdiet
Photo by Elena Paravantes